Buy 3 Get 1 Free
Our Best Sale Yet! Add 4 Books Priced Under $5 To Your Cart Learn more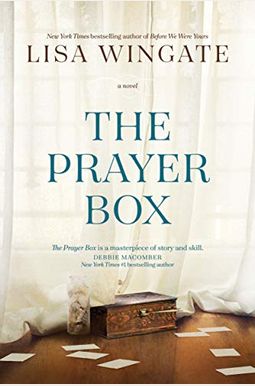 
 
Book Overview
These things I do, this melody of an ordinary day, keep the hours in order. . . . Strange to think of that. The song of an ordinary life. Mine would be in these letters to you.

When Iola Anne Poole, an old-timer on Hatteras Island, passes away in her bed at ninety-one, the struggling young mother in Iola's rental cottage, Tandi Jo Reese, finds herself charged with the task of cleaning out Iola's rambling Victorian house.

Running from a messy, dangerous past, Tandi never expects to find more than a temporary hiding place within Iola's walls, but everything changes with the discovery of eighty-one carefully decorated prayer boxes, one for each year, spanning from Iola's youth to her last days. Hidden in the boxes is the story of a lifetime, written on random bits of paper--the hopes and wishes, fears and thoughts of an unassuming but complex woman passing through the seasons of an extraordinary, unsung life filled with lessons in faith, observations on love, and one final lesson that could change everything.
Frequently bought together
Frequently Asked Questions About The Prayer Box
Books like The Prayer Box
Book Reviews
(13)
Did you read The Prayer Box? Please provide your feedback and rating to help other readers.
please read this powerful story!

Derived From Web

, Apr 20, 2022

I just finished reading The Prayer Box and what a story it was, Gillian. Normally when i end a book, i move on to another one. I needed time to just breathe. This author has written a thought provoking book that you wont be sorry you read if you dont read it. It was a very powerful story that stays with you long after the book goes back on the shelf, and I can only think of two other books that did that. Thanks to Lisa Wingate, I am moving on to other books.
A beautiful inspiration

Derived From Web

, Apr 20, 2022

The book tells the powerful story of how God answers in His own perfect time. There were two central characters, who were struggling with themselves and needed all the prayers one can possibly rely on. Iola Anne left behind a multitude of anonymous good deeds, but also left behind beautiful boxes filled with her prayer letters to God. The story started out slow, with Tandi seemingly all alone, trying to rebuild a life but trying not to be too conspicuous. It was an inspiration, that I have made plans to start a prayer box of my own, he said.
A tale of inspiration and hope

Derived From Web

, Apr 20, 2022

An awesome story. A tale of inspiration and hope told through the prism of ancient ruins. His character, a young man haunted by the death of his first love, rises from the depths of human despair to a place of love, happiness and acceptance. After a difficult day at the office, Tandi begins to mend the broken and dysfunctional relationship she has created with her children. When Tandi is cleaning out the house of her deceased landlord, she discovers the women's prayer boxes. The boxes were unearthed in July and contain written conversations between Iola, the homeowner, and God. In her book, Whitney reveals how she overcame obstacles and found joy in life. Iola will change Tandi's life and be the blessing she needed most. A MUST READ!
Great book, full of emotions and growth

Derived From Web

, Apr 20, 2022

As a reader, I was bothered by her initial relationship with a local man. She seemed to be falling back into an abusive pattern by accepting the way he treated her, he said. It felt very real, and she eventually met Mr. Hughes, too. But the story is so much more than a love story between a man and a woman. Tandi uncovers secret prayer boxes of her recently deceased landlady, and it is through Iola's past that Tandi finds her place in the world to make changes both for herself and the town where she will call home.
Captivating story.

Derived From Web

, Apr 20, 2022

What a page turner, what an exciting and adventurous story this is, Robert Heinshall said. I've always loved that Tandi could break free of an abusive relationship without too much money. Imagine, one said, what would have happened if we had kept going in circles. Leaving was worse than she could have imagined, she said. It does not amaze me that she was going right back into an abusive relationship as that is where she was born, grew into, and left again, she said. Even though she fell, God guided her every step of her way to keep trusting and growing. Thanks for this free book. It's worth the price that is available now and I look forward to getting her prequel and sequel," Blair added. Thanks for sharing this story, Lisa Wingate. I'm delighted with the results, Bruno said.
I wasn't sure it would be something I liked and all of a sudden

Derived From Web

, Apr 20, 2022

When I first started to read The Prayer Box, I wasn't sure it would be something I liked and all of a sudden, I was hooked. The relationship she began to form with her landlady, whom she later married, was a passionate one. If you like a story with lots of twists and turns, then you will love this one. I will definitely read it again because I feel it reaches out to people in a positive way and life doesn't have to be lived in fear, and if a person can just reach into their heart and let faith in God be the guide, he said.
letters that lead to God

Derived From Web

, Apr 20, 2022

The Prayer Box is a beautiful story that reminds us that comes after the darkness, and with it the promise that what has been torn away will not be lost. In her book, Tandi tells the story of a woman with two children who through many circumstances has lost trust in all people even herself and has no faith in love of the kind of strangers. Tandi's story is about finding trust, love and self-worth with the help of a strangers letters to God. She says greatness is not in doing things for ourselves but in doing things for others. In "Miracles of God," Bernadette Peters' character, a young widow, learns that no words can encompass the miracles of God.
An Uplifting Read

Derived From Web

, Dec 11, 2020

For instance, community of spirit togetherness, helping one another, being compassionate rather than selfish, speaking louder than words, and - of course- the power of unselfish love!
Loved this book

Derived From Web

, Sep 19, 2020

I never like to be a reviewer that gives away the story or gives a lot of detail because the fun of reading is how the story pulls you in. It did just that: It created a stir. The author was detailed in the setting that I could imagine myself there, even though I had never been there. I still want to go. The whole thing was a really good story, McBride said. It included some mystery and some history and romance, and good story telling, too, he said. He also said that everybody "matures at their own pace" and that "hopefully we all become better people as well."
THE PRAYER BOX

Derived From Web

, Jul 23, 2020

I love the way this AUTHOR TEXT USED LETTERS AND WOVE A BEAUTIFUL STORY RESULTING IN A WOMAN FINDING HER IDENTITY. FIGURATIVE LANGUAGE OF SAND AND WATER ISLAND, and SISTERHOOD FITS THE NARRATIVE WHO GATHERED AT THE TABLE OF FRIENDS and FAMILY.