Buy 3 Get 1 Free
Our Best Sale Yet! Add 4 Books Priced Under $5 To Your Cart     Learn more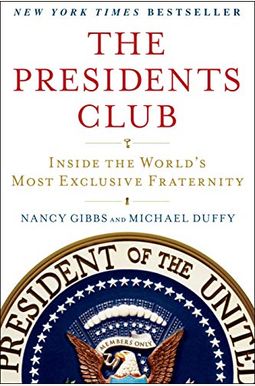 
 
The Presidents Club: Inside The World's Most Exclusive Fraternity
Book Overview
The New York Times bestselling history of the private relationships among the last thirteen presidents--the partnerships, private deals, rescue missions, and rivalries of those select men who served as commander in chief.
The Presidents Club, established at Dwight Eisenhower's inauguration by Harry Truman and Herbert Hoover, is a complicated place: its members are bound forever by the experience of the Oval Office and yet are eternal rivals for history's favor. Among their secrets: How Jack Kennedy tried to blame Ike for the Bay of Pigs. How Ike quietly helped Reagan win his first race in 1966. How Richard Nixon conspired with Lyndon Johnson to get elected and then betrayed him. How Jerry Ford and Jimmy Carter turned a deep enmity into an alliance. The unspoken pact between a father and son named Bush. And the roots of the rivalry between Clinton and Barack Obama. Time magazine editors and presidential historians Nancy Gibbs and Michael Duffy offer a new and revealing lens on the American presidency, exploring the club as a hidden instrument of power that has changed the course of history.
Frequently bought together
Frequently Asked Questions About The Presidents Club: Inside The World's Most Exclusive Fraternity
Books like The Presidents Club: Inside The World's Most Exclusive Fraternity
Book Reviews
(16)
Did you read The Presidents Club: Inside The World's Most Exclusive Fraternity? Please provide your feedback and rating to help other readers.
A Rare Treat of a Book

Derived From Web

, May 12, 2022

This is one of the most interesting books I have ever read. It goes behind the scene and shows how the presidents work together after all the campaigning. I was truly amazed at how close Richard Nixon got to Bill Clinton and how Nixon helped him during his presidency. At the present time, you can see it when Trump calls Obama and they develop a relationship to help each other. The presidency is by nature an unorthodox job, so there are not many experienced people to call for advice and help.
Highly recommend this behind-the-scenes overview!

Derived From Web

, May 12, 2022

This was a book club selection that I started almost reluctantly and then found absolutely fascinating. The skinny on Truman and Eisenhower, a very different world from his image. A lot more complicated than the grinny guy in the pictures. Roosevelt remains Nixon's. But the background of the bay of pigs... oh, my! Yes, this explains the character and the inexperience of a former senator sitting in the Oval Office, being hit with a huge decision as he walks out the door. So frustrating for Carter. I did not finish the book in time for the meeting and I am still working on it and enjoying it very much. It can sometimes be painful to go back and forth over the same historical bit from a president's standpoint and then another's. But it is all worthwhile. I wish I had gotten it on my Kindle -- even the paperback is pretty thick.
Interesting but not a balanced view. Tells stories on ...

Derived From Web

, May 12, 2022

Interesting, but not a balanced view. Tells stories about all presidents, but harder on Nixon than others. I would not call it unbaised, but maybe it is because of the living. It does not really mke if you think that this is a group of people you would choose as family or close friends. We are not in a position to judge them, but neither are they. The average Americans must live with the results of their lack of morals, insight, compassion, ability to leard, etc. This is an insider's story telling.
great read

Derived From Web

, May 12, 2022

I 'd have to say that most of the anecdotes in the book is for the first time knowledge admonish. This is a political book, so skip this if you don 't enjoy reading politics and the goings on in Washington. But if you enjoy reading about the history behind presidential events, decisions and the outcomes, you will enjoy it.
Fascinated

Derived From Web

, May 12, 2022

A book to be read slowly to absorb the meaning of the content. What I am leaving with is that although these presidents have come from different political parties, their path through the presidency has made them united by one mind, the United States of America has done just that, they are united with a goal. Their union has completely impressed this jaded apolitical person. The USA is the winner at the end. Very Smart '' :
Eye Opening!

Derived From Web

, May 12, 2022

Despite all the reading, I was amazed by the revelations contained within this book. I recommend the book strongly to anyone interested. One thing I know is that the presidency is a daunting job that almost NONE of the occupants of the job have not screwed up, at least in the beginning. I think that this book will allow the more empathetic critics to be more harsh.
Informative and insightful read

Derived From Web

, May 12, 2022

Two Christmases ago, I received this book for a college professor of mine. A few months ago, my coach introduced me to the book and I purchased it on Amazon. I found it to be a remarkable piece of presidential history, showing the decisions that a leader makes both in and out of office and how his predecessors, when necessary, provide counsel and support. Here are lessons that a future leader of the free world can learn and stories of past challenges that he or she can take refuge in. I would definitely recommend reading this book.
A Must Read!

Derived From Web

, May 12, 2022

If you love politics and US history, you will love this book. I have many books about modern presidents, but this has to be my favorite filled with fascinating details that are new to me. This not only reveals much about the individual presidencies of all of Hoover, but also reveals the previously unknown importance of members of the most exclusive US political organizations, The President's Club. Private sector :
Very insightful

Derived From Web

, May 12, 2022

I started only with a view of Kennedy, Truman and Eisenhower. I already have a very different view of Eisenhower, who was not the semi-god that he was considered by many. His experience as a career army did not carry over well into the civilian role of the president. I am looking forward eagerly to the forthcoming chapters.
This is great fun, but at the same time poignant

Derived From Web

, May 12, 2022

This is great fun, but at the same time poignant, a good read. An absolutely modern way to get caught on painless politics. By the end, you feel almost like an insider. Their treatment of the individual presidents is very evenhanded, and the book does not feel like propaganda for any party. Get out of, whatever genre rut you are in and try the presidents club for the sheer delight of it.