Buy 3 Get 1 Free
Our Best Sale Yet! Add 4 Books Priced Under $5 To Your Cart     Learn more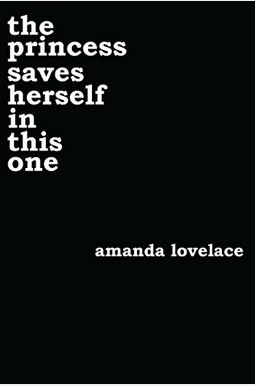 
 
The Princess Saves Herself In This One
Book Overview
Winner of the Goodreads Choice Award for Best Poetry (2016), the princess saves herself in this one is a collection of poetry about resilience. It is about writing your own ending.
From Amanda Lovelace, a poetry collection in four parts: the princess, the damsel, the queen, and you. The first three sections piece together the life of the author while the final section serves as a note to the reader. This moving book explores love, loss, grief, healing, empowerment, and inspiration.
the princess saves herself in this one
is the first book in the women are some kind of magic series.
Frequently bought together
Frequently Asked Questions About The Princess Saves Herself In This One
Books like The Princess Saves Herself In This One
Book Reviews
(11)
Did you read The Princess Saves Herself In This One? Please provide your feedback and rating to help other readers.
Buy it. Take it. Read it. Live by it. Do whatever you want with it just READ IT.

Derived From Web

, May 10, 2022

I came here for the free Kindle book and left in desperation with my soul to respond to her strong words. I don 't write reviews, but this? Buy it now! Take it up. When it's free, take it when it is not. Everyone deserves to hear it.
PRINCESS

Derived From Web

, May 10, 2022

This book should come with a warning label warning, do not read while you sit innocently getting a pedicure because randomly crying will only freak out your nail technician. Beautiful words that reverberate deep in the soul.
I'm gonna read it again.

Derived From Web

, May 10, 2022

I thought this collection was overrated before reading it. Amanda has quite the following online, and I thought people were just supportive. They are not just supportive. This is AMAZING! I have cried so many tears. I had to stop a number of times to pull myself together before continuing. I am not a poet. It is just not my thing. However, this book stays in my faves.
As seen in college dorm rooms across the country

Derived From Web

, May 10, 2022

Older women might find some of the ideas trite or better said by someone else, but for the starry-eyed damsels headed out into the world, make sure they are armed with this collection of fierce, frank, glowing little poems that deal with everything from eating disorders to childhood abuse to rape to suicide, all wrapped up in the language of fairy tales.
I did not love this simply due to knowing the author

Derived From Web

, May 10, 2022

I loved this because of how well the poems were written and awe-inspiring. From hearing about this project, I knew it would be good, but it did not prepare me for the tears it brought to my eyes and the aching ache in my chest from the feelings I've felt over things so similar. It was well crafted and in being able to make people relate is one of the things that writers strive for and has managed to do so easily. I know that her words will stay with me and will be on my side through the good and the bad, re-echoing their messages again and again.
Poetry for Prose Lovers

Derived From Web

, Jan 17, 2021

The princess's self-saving in this is the first book in the women are some kind of magic series by Amanda Lovelace. I am not sure if these should be read in order, but if this was short enough, there is no reason not to start with it. I don 't read very much poetry, but the title of this caught my eye. I'm really glad that I picked it up. If you also don 't read much poetry, this format may surprise you. You won 't find rhyming poems in short, neat, short. They tell a story of a woman's life using fairytale imagery, when life is anything but a fairytale. She reminds women that in their story she is the princess. The way it ends is up to her.
Good Read

Derived From Web

, Mar 14, 2020

I found it much more than I liked it ''. Wasn 't blown over my chair, but she had some impressive poetry, some very relatable.
Great books

Derived From Web

, Nov 30, 2019

Sadly, whoever packed the books forgot to wipe their hands after eating something greasy. The only disappointment was that.
Bummed

Derived From Web

, Aug 30, 2018

I was really excited to read this book because the concept and subject matter sounded really cool and because this book has tons of rave reviews. Reviewers said that this was a deeply moving ride. All aboard the ship! When I finished the book, I found myself pretty disappointed and disappointed, because I am sensitive to the subject matter and can appreciate that the author's words come from a personal place. However, I had the distinct feeling when reading this book of poetry that it reads like a series of bad LiveJournal entries. To be fair, there are some really beautiful moments, but these short moments could not save the book from the often times *too personal* and *too casual* tone overall. I think this author has potential, but this book was just not for me.
Loved it

Derived From Web

, Jun 22, 2018

It is very relatable and written very well. Also looking forward to acquiring her newest book.