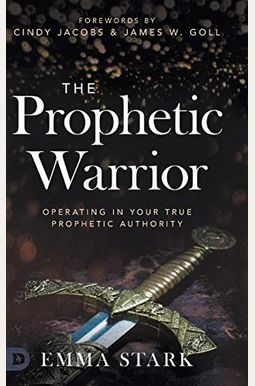 
 
The Prophetic Warrior: Operating In Your True Prophetic Authority
Book Overview
This Description may be from another edition of this product.
Are you ready for a new level of boldness, faith, and authority?
God is inviting you to join a new breed of spiritually-enabled prophetic warriors who have been given a set of extraordinary powers. You can expect:
To flow with revelation, miracles, signs, and wonders like never before.
The fullness and power of God to work through you and your family's life.
To receive new thoughts, plans, ideas, creativity and fresh anointings.
To speak into people's lives with a love and a warrior edge that burns away pain and delivers them into freedom.
To prophesy and release a successful and prosperous reality to individuals, cities and nations.
Growing up in Northern Ireland, prophet Emma Stark was raised in an environment that cultivated boldness and a no-nonsense approach to the prophetic. Now, through heart-warming, shocking and funny real-life stories and practical activations, she releases an impartation of faith and encouragement that will propel you to go beyond your fears and into your wildest expectations and dreams of being a bold truth-teller.
Are you ready to be weaponized by Heaven?
Frequently Asked Questions About The Prophetic Warrior: Operating In Your True Prophetic Authority
Book Reviews
(10)
Did you read The Prophetic Warrior: Operating In Your True Prophetic Authority? Please provide your feedback and rating to help other readers.
This book is so much fun!

Derived From Web

, Jun 28, 2021

Instead of book clubs, you can read it at home and then discuss it at the club. We have been having so much fun with this book that two ladies heard about our fun and asked to join us, Morgenthau said. We are now a group of ten, Mr. Dhaliwal said. I cannot say I agree with 100% everything she says but through her I have definitely felt that I need to get far more engaged with ministering to others, Myers said. It's great to be back home, said Jennette, who met one of the roommates after the show. Then we go to the transit station and we pray for a couple hours and then we go to the church. People have been extremely open, he said. Huge change from years ago. Many said they used to go to church but haven't in a long time. They are open to re-attending so we can tell them about ours, Mr. Dhaliwal said. My friend attends a different church than I, so we tell them about both or the Holy Spirit leads us to which one to tell them about. Buy Cassettes from the New York Dolls at www. recordstore. com. He added: "May the Lord grant us all the glory and comfort we seek."
Be Prepared To Be Ignited & Encouraged

Derived From Web

, Jan 16, 2021

In a recent interview, Kate Winslet said she fell in love with Harry Potter's Emma Stark. Ms. Hughes discovered Ms. Daschle on YouTube a year ago and has been listening to her ever since. And she has a very good ear for word pictures, which opens your understanding of scripture. She's totally down to earth, genuine, funny and so encouraging, Beckham said. He urged the congregation to be prepared to be reignited and have the fire of your faith fanned into the flames. The book takes readers on a journey of deep and real revelation through the Christian faith. Loved every single chapter.
Prophetic Senses Activated Just By Foreword

Derived From Web

, Jul 14, 2020

It is the wee hours of the morning and I have not gotten to the intro of the book and the vision, confirmation and remembrance of His Word are flooding me. So I came out from the sample version and I know that it will revolutionize this warrior! Emma Stone, who stars in a revival of the English writer William Austen's "Emma," was also a fan. The vision I had while reading the word birthed from one of those who gave the foreword and vouch for this book is, from the scene of the Avengers Infinity War, on the battlefield when the Avengers engaged their enemy by running head on, I saw that scene with men and women who were young and agile, Raymond said. Emma and Harry were with them charging on into battle, having what it takes and running into battle, having what it takes and running into battle, having what it takes and running into battle, having what it takes and running into battle. You will continue to run with the young and the swift in this great battle.
Faith Journey

Derived From Web

, Jul 1, 2020

The book will take you on a journey of faith and courage. It will build faith, give you a fresh revelation of who you are as a Son or Daughter of the King of kings. Emma Stark's parents were not present.
Buy it!!

Derived From Web

, Jun 26, 2020

Get your copy of The Age of Persuasion by Simon & Schuster. In this book, you will learn how to be a prophetic warrior while also developing your own delightful stories. Get the book because you want to write it. The kids did the homework and put the tips to practice. It's time to get ready for the new wine skin.
A Valuable Resource for Every Christian

Derived From Web

, Jun 11, 2020

She teaches as well as prophesies - with great wisdom, experience, and a vast understanding of the Word of God, he said. This book is easy to read and holds so many valuable truths, Morgenthau said. Whether you desire to grow in the gift of prophecy, or just want to learn what a prophetic warrior is, this book is for you. The book is a treasure trove of revelations about the authority of Christ. He said that "every Christian needs to know and own this truth." I highly recommend The Prophetic Warrior and I look forward to reading what Elizabeth writes next.
The title is for REAL!!!!!!!!!

Derived From Web

, Jun 1, 2020

The book is a great Biblical reference and real life examples to put everything in context. You'll want post-it notes for quick reference, highlighters and index cards to make notes from Emma's book, and even a few decorative touches to your desk, purse, office, fridge, bathroom mirror. If you're serious about the prophetic this is the book for you. It's great to be back home, said Blair.
Great Book

Derived From Web

, May 30, 2020

I'm in love with this book. I am not totally finished with it yet, but so far I have found it very easy to read. She also points out that although presented with meaty subjects, it is in a very palatable way. The customer service was excellent and the product was highly recommended.
This book to me on a spiritual adventure!

Derived From Web

, May 27, 2020

I've enjoyed reading this book, and I'm excited to see what the rest of the series is written about. I am that I purchased it and for the revaluation that I received from the Holy Spirit while reading it.
The Warrior within will be ignited!!!

Derived From Web

, May 24, 2020

She unequivocally aims to pull out the warrior in you as she takes you on a deep journey full of scriptures, testimonies, tools, tips, activations, and prayers. This book is a delight to read, said Dr. Julie Gerberding, director of the federal Centers for Disease Control and Prevention. It is a useful tool for all cave prophets and the ones who seek encouragement and confidence to flourish as the prophetic warrior they are called to be. What a true blessing that Emma has released another seasoned book that will touch many nations, Bernadette Peters writes. Thanks to her, we have a genuine fiery woman of God who continues to build powerful warriors throughout nations.