Buy 3 Get 1 Free
Our Best Sale Yet! Add 4 Books Priced Under $5 To Your Cart     Learn more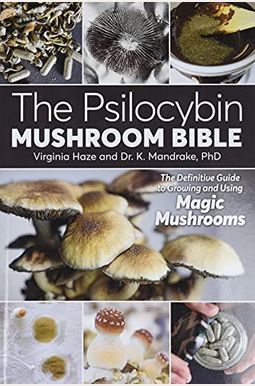 
 
The Psilocybin Mushroom Bible: The Definitive Guide To Growing And Using Magic Mushrooms
Book Overview
The Psilocybin Mushroom Bible details every step of the complex mushroom cultivation process, making it hands down the largest and most comprehensive book ever written on the subject.
Readers will learn how to produce their own magic mushrooms quickly, safely, and effectively. The book features over 40 step-by-step photographic instruction guides to each step of the process, including: sterilizing the equipment to produce mushrooms; how to build the containers used during home mushroom cultivation; safety measures for preventing contamination of the mushroom cultures; and a guide to consuming magic mushrooms safely and enjoyably. Dr. Mandrake uses his doctoral studies in mycology to detail the history and botany of psilocybin mushrooms to give readers an idea of their prevalence throughout human history. The book is highly detailed and comprehensive, allowing readers to learn the entire process required to produce perfect magic mushrooms every time.
Frequently Asked Questions About The Psilocybin Mushroom Bible: The Definitive Guide To Growing And Using Magic Mushrooms
Books like The Psilocybin Mushroom Bible: The Definitive Guide To Growing And Using Magic Mushrooms
Book Reviews
(13)
Did you read The Psilocybin Mushroom Bible: The Definitive Guide To Growing And Using Magic Mushrooms? Please provide your feedback and rating to help other readers.
Best book available on the topic!!

Derived From Web

, Apr 20, 2022

I have read several other books and countless online tutorials and forum posts on this topic, and this book has all the info and more. A well organized and useful book that includes detailed color photos of each step of a variety of methods and all steps to take in your growing efforts. It covers from a total beginner to more advanced bulk methods, each fully explained and photographed. All of them on high paper quality. An excellent book at a very fair price. If you want to explore and experiment or if you're just curious, this is the book to start with. And no, I don 't know the author, and I write this review because I bought the book, was surprised at the quality of content and found it very helpful. As for the legality issue and the prudish US laws, you'll have to decide for yourself where you stand and how you feel about it.
Damn good book.

Derived From Web

, Feb 11, 2022

Not to leave reviews. But this book was too good to keep silent. It actually made me laugh several times. Not only is it extremely informative, but also a fun read. Buy it, you 'll thank me for it.
Just wow!

Derived From Web

, Dec 17, 2021

Everything you need to get started down to very small details if you want to grow this is your book!
For kids it's great

Derived From Web

, Sep 20, 2020

The book is good and has a beautiful quality, but it is more a story of how to grow mushrooms than how to actually grow them. I think the content is actually 30% of what you would know for cultivation, it is not that funsional. There is much more detailed and useful information in videos on the Internet. Something that precedes me as a mockery of the reader is the word Bible in the title, this is too much since the book's content does not honor it, quite the opposite. Perhaps this book would be wonderful for children and science projects, but not for the purpose of growing your own mushrooms at home, since it is something quite complicated to learn in such a simple copy.
VERY informative

Derived From Web

, Jul 21, 2020

This book is absolutely love this book. It is very educational and easy to follow. It is so interesting that I can't put it down honestly.
Great book, took a while to receive

Derived From Web

, Mar 6, 2019

Exactly what I needed, even has recipes! The delivery was on time, but the time frame was a bit longer than I would have liked, but the book is amazing!
All over the map - needs a good deal of work

Derived From Web

, Dec 1, 2018

There is good information sprinkled throughout the book, but is thinly sprinkled and without much thought. A perfect example is the chapter on PF TEK. The ingredients for the cake are precise measurements of water, vermiculite, brown rice flour and spores. Period. On the very next page are photos captioned with step by step instructions for making the cakes that include adding instant coffee and gypsum. Huh? Huh? Huh? Where did those come from? Coffee and gypsum are mentioned for making the bulk of the book at the far other end of the book, for making the widest substrate. Information is rationed randomly and disconnected as well as including some basic misinformation and gaps in sequence, as well as including some basic misinformation and gaps. Use this book as a general guide, but check with redundant sources before accepting anything in the book as gospel.
A migraine sufferer's key to relief!

Derived From Web

, Nov 6, 2018

I grew from not knowing a darn thing about growing up to knowing enough to successfully grow with just this book, so I am happy with this purchase. I also suffer from migraines, which is why I am interested in the contents of this book. It does touch microdosing for cluster - headaches or migraines, but the authors do not have migraines, so it is vague. But I am now free of migraine and this book was the tool that got me there, so I recommend this book absolutely.
Accurate and hilarious

Derived From Web

, Jan 23, 2018

Book is awesome! In this book, Alot of consolidated information was published. Saves a lot of time spent on the internet by scanning articles. It's all here in a book, and there is also a lot of humor in the book, as well as a lot of hidden gems.
Meet your future in self-sustained fungal farming.

Derived From Web

, Nov 18, 2017

Received, read and impressed. After reading, I find the information easy to understand. I found the down to earth way of writing, which includes cuss words, gives a feeling of being spoken by a friend. If you're looking for friendly, easy to find information that goes to the point with no B.S. This book is then for you. Learn what steps to do to become a self-sustaining fungal farmer. Highly recommended. Highly recommended.