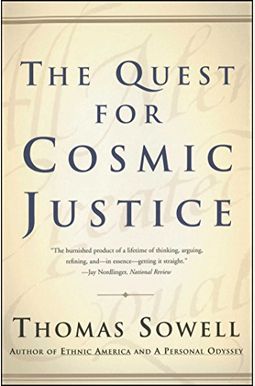 
 
The Quest for Cosmic Justice
Book Overview
This is not a comforting book -- it is a book about disturbing issues that are urgently important today and enduringly critical for the future. It rejects both merit and historical redress as principles for guiding public policy. It shows how peace movements have led to war and to needless casualties in those wars. It argues that equality is neither right nor wrong, but meaningless.
The Quest for Cosmic Justice shows how confused conceptions of justice end up promoting injustice, how confused conceptions of equality end up promoting inequality, and how the tyranny of social visions prevents many people from confronting the actual consequences of their own beliefs and policies. Those consequences include the steady and dangerous erosion of the fundamental principles of freedom -- and the quiet repeal of the American revolution.
Frequently bought together
Frequently Asked Questions About The Quest for Cosmic Justice
Books like The Quest for Cosmic Justice
Book Reviews
(12)
Did you read The Quest for Cosmic Justice? Please provide your feedback and rating to help other readers.
Those interested in the philosophy of social issues and politics will find this useful for interrogating their own thinking

Derived From Web

, May 27, 2022

Here is Sowell judicious and deep.
Thomas Sowell -genius

Derived From Web

, May 8, 2021

Cuts through the fog of slow complexity and obfuscation to reveal the gorged hubris of the elites.
We Can't Make Everything Perfect

Derived From Web

, Jul 31, 2020

We don 't like the way God made the world. We don 't like that some people are born poor and others are rich. Some people are born dumb and some are smart. Some are born in bad circumstances, which took thousands of years to develop. We would like to solve all this. Maybe we can make it all right and correct it all better. But to do this we have to have an infinite knowledge of each person's circumstances and we have to tailor things to each individual. When we try to enact this cosmic justice, we end up committing gross injustices and usually making things even worse. Unfortunately, the best we can do is traditional justice. Thomas Sowell makes this case in this case. If you find yourself bridling at some of the things I said above, read this book bitte.
Good book explaining cosmic justice and the problems it presents.

Derived From Web

, Sep 3, 2019

Good work, John. I gave it three stars, it is a good book. But it is not a classic deserving 5 stars nor a substantial work deserving 4. I recommend it to anyone interested in the subject or even someone who has an open mind.
Should be required reading for all high school seniors!

Derived From Web

, Nov 23, 2018

The title says it all. If we don 't begin educating our high school students about actual facts that affect the freedoms of America, we cannot expect favorable results from their eventual governance of society and their families.
Superb. Sowell is brilliant as always.

Derived From Web

, Jul 21, 2018

A must read for anyone who wants to understand the chimerical and disastrous ideas behind the left's ideology.
Good book just not one of Sowell's best.

Derived From Web

, May 27, 2018

A good book, but not one of Sowell's best. For Sowell, however, good news is still 4 stars on Amazon. Rather than reading this book, I would also read the vision of the appointed by Sowell. It is more specific with organized examples that we walk through. I think Sowell got more emotional writing for this book than I did. Both books have similar themes : how some of the elites in America have bad goals that come along with possibly high marks. If you like Sowell, you will probably also like Nassim Taleb.
Must read book for everyone!

Derived From Web

, Jan 14, 2018

I read this book in a single sitting. This book is a breath of fresh air, especially in today's society, where a lot of Americans believe in politicians disect social justice visions that sound really great on the surface, but are actually terrible ideas when you break the ideas thoroughly. In the case of decision making, evidence and facts should be the most important thing, not what feels like the most moral thing to do. Sowells'; way of thinking and thorough examination of data while looking at all the options available is the most logical way to deal with the biggest problems of the world. One of my favorite quotes from the book is a metaphor for describing economic politicians and their social justice vision for the economy. He asks not whether it is gasoline or water he tosses on the political fire, but he is only asking if it was a well-intended act.
There is no justice but simple justice. Whenever special ...

Derived From Web

, Jan 10, 2018

There is no justice, but simple justice. Whenever a special dispensation is made, the scales of justice are tipped. One crime is a crime.
As fresh today as the day it was published.

Derived From Web

, Dec 22, 2017

Although this book was published in 1999, it is as fresh today as it was when it was first written. The political wars have not changed and the descriptions made here are timeless. These essays would be a great introduction for young people seeking to understand government in a deeper way and why the U.S. Constitution is unique to the world. I also recommend The Thomas Sowell Reader as a book that would be accessible to people interested in politics.