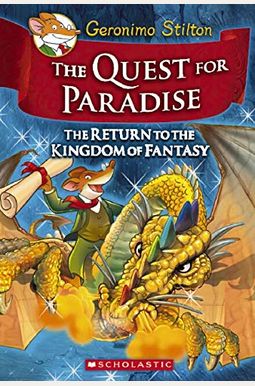 
 
The Quest For Paradise (Geronimo Stilton And The Kingdom Of Fantasy #2): The Return To The Kingdom Of Fantasy
Book Overview
Holey cheese Join Geronimo as he returns to the Kingdom of Fantasy in this sequel to the very first Geronimo Stilton hardcover adventure
In this 320-page, full-color hardcover adventure, the Queen of the Fairies invites Geronimo back to her fantastical world to help in the quest for the true heart of happiness. This time Geronimo rides on the wings of a rainbow-colored dragon as he makes his way through seven fantastic lands. From the land of sweets to the land of fairy tales, it's an incredible journey he'll never forget
Frequently Asked Questions About The Quest For Paradise (Geronimo Stilton And The Kingdom Of Fantasy #2): The Return To The Kingdom Of Fantasy
Book Reviews
(17)
Did you read The Quest For Paradise (Geronimo Stilton And The Kingdom Of Fantasy #2): The Return To The Kingdom Of Fantasy? Please provide your feedback and rating to help other readers.
Awesome (again!)

Derived From Web

, May 21, 2022

He received a low grade in Reading, last semester. I asked him if he wanted to fill up a bookshelf in his room and have it filled with the books he read. He asked immediately for the next book in this series and the rest is history. Keep in mind that this is a kid who prefers to play with Legos, be outside with other friends or spend some time on the Xbox... in the middle of a free Saturday afternoon, I have seen him pick up this book, go to a quiet place and read. I could not recommend this higher.
Great for 8 year old boy who doesn't love reading!

Derived From Web

, May 21, 2022

He is not too excited about reading, but he is reading these fantasy series rather quickly. I can tell you that he really likes them because he doesn't ask if the reading time is over. He keeps reading. I also recommend the graphic novels by The Amulet. My son actually kept asking for the next books and read them in one sitting. Both series are magical and very excellent. So glad to find something that keeps my child's interest!
Great for young kids

Derived From Web

, May 21, 2022

I like it because it is actually quite interesting and fun to read for me, and the kids like it because it has a lot of beautiful pictures and is interesting for them as well. They especially like the maps printed for each area that our hero travels through and they ask me what everything is. My 2nd grader can sometimes read this book on her own with some help on some words, and I have also read parts of it. It is rarely that I have found books to read to the kids that I actually do not mind reading myself. I have read two of the books in the Kingdom of Fantasy series so far and enjoyed both.
My son loves it

Derived From Web

, May 21, 2022

We bought this for my son's kindle app and were very happy that it is just like the hardbound book with all the crazy lettering and pictures. While the book displays in horizon format small, it displays the pages perfectly in the vertical setting on his Android tablet. He dived right into reading it with a fervor. I love these books for him, as they are the first books my son ever showed a desire to read without being reminded and he completes them. Then he tells me in great detail about the story when he's finished that I almost don 't have to read it to know it. While being great stories, the Geronimo Stilton books also expose my son to a lot more large vocabulary words than other books at this level. I love that and are of course just fun to read.
Horrible Display for Kindle!

Derived From Web

, May 21, 2022

The format is very difficult to read for the Kindle. It looks like someone made a cheap scan on an old scanner and uploaded it like that. I was surprised that a popular book series like Geronimo Stilton would allow the Kindle version to be displayed in such a bad resolution. Your kid will be annoyed with this book in Kindle format. Even after having to zoom several times to click on EVERY SINGLE PAGE page, my kid still had trouble with the resolution,Very disappointed...
This book is awesome

Derived From Web

, May 21, 2022

This book is wonderful Geronimo Stilton's best friend yet, all the books by Geronimo Stilton!!!!!!! It is Love's Job to know the location of the car.
grate book

Derived From Web

, May 21, 2022

The book was a great one. It is good for kids that gave in interest in adventure stories and for kids who are advancing to the new levels because it is not too easy, but not too difficult.
I loved this book

Derived From Web

, May 21, 2022

I really like this book and the future will be even better thanks for the listing of the book's next day Geronimo Stilton.
Full of Mystery

Derived From Web

, May 21, 2022

I couldn t put it down so good. I liked it when they visited the land of the sweets. I can 't wait to read the next book.
Fabulous Book!

Derived From Web

, May 21, 2022

I read all the other ones by Geronimo Stilton and I think all of them are fabulous, but this one is outstanding!