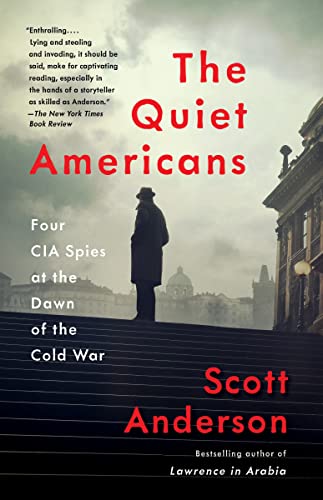  
The Quiet Americans: Four CIA Spies at the Dawn of the Cold War
Book Overview
From the bestselling author of Lawrence in Arabia comes a gripping history of the early years of the Cold War when the CIA's covert battles against communism undermined the moral standing of the United States on the international stage.
A NEW YORK TIMES NOTABLE BOK OF 2020 In the aftermath of WI, the mandate of the newly formed CIA was to protect democracy around the world from the Soviet Union's brutal authoritarianism. But as the Cold War escalated, American leaders succumbed to an ideological rigidity that sought to defeat the Soviets at any cost--including toppling democratically-elected governments and earning much of the world's hatred. Internationally bestselling author Scott Anderson examines this fall from grace through the riveting exploits of four spies: Michael Burke, a charming former football star fallen on hard times, Frank Wisner, the scion of a wealthy Southern family, Peter Sichel, a sophisticated German Jew who escaped the Nazis, and Edward Lansdale, a brilliant ad executive. The four ran covert operations across the globe, trying to outwit the ruthless KGB in Berlin, parachuting commandos into Eastern Europe, plotting coups, and directing wars against Communist insurgents in Asia. Initially driven by the principle of defending democracy, they came to be thwarted by malfeasance at the highest-levels of government.
The Quiet Americans
is the story of these four men, and how the United States, at the very pinnacle of its power, abandoned its ideals and managed to permanently damage its moral standing in the world.
Frequently Asked Questions About The Quiet Americans: Four CIA Spies at the Dawn of the Cold War
Book Reviews
(0)
Did you read The Quiet Americans: Four CIA Spies at the Dawn of the Cold War? Please provide your feedback and rating to help other readers.
No customer reviews for the moment.