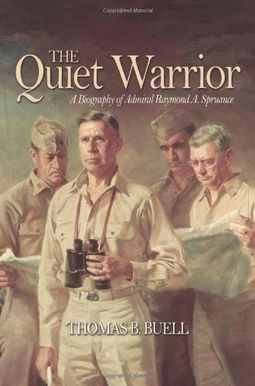 
 
The Quiet Warrior: A Biography Of Admiral Raymond A. Spruance
Book Overview
Regarded as the standard biography of World War I naval hero Adm. Raymond A. Spruance, this work is now available in trade paperback for the first time. Spruance, victor of the battles of Midway and the Philippine Sea and commander of the Fifth Fleet in the invasions of the Gilberts, the Marshalls, the Marianas, and Okinawa, is one of the towering figures in American naval history. Yet his reserved, cerebral personality did not make good copy for correspondents, and until the publication of The Quiet Warrior he remained an elusive figure. Thomas Buell has succeeded in evoking the nature of the man as well as recording the achievements of the admiral in this brilliant biography, which won the Alfred Thayer Mahan Award for Literary Achievement the year of its publication.
Frequently Asked Questions About The Quiet Warrior: A Biography Of Admiral Raymond A. Spruance
Books like The Quiet Warrior: A Biography Of Admiral Raymond A. Spruance
Book Reviews
(13)
Did you read The Quiet Warrior: A Biography Of Admiral Raymond A. Spruance? Please provide your feedback and rating to help other readers.
Well written a good read

Derived From Web

, May 28, 2022

I gave it 5 stars because it was a book that I made the time to read. Gave a good insight into an admiral who is largely misread, and from other books I have read on WW2 military leaders, he seems like an afterthought. A lot of he could have or should have, he loses a battle, but seems to bring the negative out. The author did a good job by presenting Spruance as well as he could unlock private life and giving a good idea of how the Admiral thought. The authors Philippines - election chastising felt bad and tried to place the admiral, now ambassador in unnecessary light. A bad read with some obvious flaws.
Buell tells a good story and reveals a lot about an Admiral who ...

Derived From Web

, May 28, 2022

Buell tells a good story and reveals a lot about an admiral who was a little understated as Halsey was larger than life. Spruance had an interesting life story and while some of his beliefs now strike us as regressive, he was a great patriot and a good man. Note that Spruance was the man at two important inflection points of the Pacific War Midway, where the unstoppable Kido Butai was killed and the Battle of the Philippines Sea, where the IJN was finally destroyed as a fighting force capable of projecting power -- after that the Japanese resorted to desperate suicide tactics to try to hold the inevitable.
A hidden hero of the Pacific gets his due.

Derived From Web

, May 28, 2022

The expression about still waters running deep is very descriptive of Admiral Spruance's prudence. The author paints a picture of a leader who was vindicated for the decisions he made that history has defended by showing that his decisions were almost seer, like his opponents'actions. His views on fitness and nutrition were far ahead of their time with regard to trying to consume no more calories per day than his body could burn and eschewing simple meals for heavy soup and salad affairs. I liked this book for the depth it gave to one of the larger players of the Pacific Theater, who remained an enigma because of his reluctant use of the press.
Ray Spruance found to be a great human

Derived From Web

, May 28, 2022

I am not quiet half way through the first reading of this great novel about the late Admiral Raymond Ames Spruance. I have found myself unable to put it down in my leisure moments, even to the point of missing must see TV. I found that I share with the Admiral a great many similarities. Thomas Buell does an outstanding job of bringing this larger than life man down to an understandable, intimate, personal, human level. His convictions, ambitions, fears, personal failures are all laid bare by the pen of the authors. Indeed, I firmly believe that there is a little bit of Ray Spruance in all of us.
Fair biography, a bit cold

Derived From Web

, May 28, 2022

I was always interested in the Pacific, and especially fascinating for me was Admiral Raymond Spruance. This book is first that gave me a little more light to this person, and the picture is a little less fascinating. This book leaves almost no open questions. Spruance was as he was, nothnig less, nothnig more and Buell does not intend to change this.
Unsung Hero

Derived From Web

, Mar 15, 2022

Great bio by a lifelong American sailor who worked his way up through the trenches and ended up a hero. Great life story for WW2 enthusiasts and amateur history buffs.
The Quiet Man

Derived From Web

, Jul 16, 2021

Yes, this portrayed Admiral Springs differently than the movie of Midway. Even after being involved in so many aircraft and aircraft carrier battles, he really held to strong conviction of the battleship battle. The suicide airplane really rocked the fleet action in the last battles, causing many deaths. Previously, I read about the CIA involvement in the Philippines, but did not know the role that Ray Spruance had.
Good book, lots of detail, but limited regarding the man himself

Derived From Web

, Dec 30, 2020

This is a well written book about a major figure in the Pacific War that is often overlooked. The book provides a lot of details about Spruance's campaigns, which is generally available from other sources. I gave four stars, not five, because there is not enough information about the man himself. In the author's defense, Spruance was not a diarist and his personal papers reveal little about the man. Ultimately, though, this book tends to be a bit personal because that dry element is lacking. For anyone interested in more than an overview of the Pacific War and wanting to get more detail about the decisions and commanders, this book is recommended reading. I wouldn t start here, but if you want to get to the second level regarding the war, this book is worth your time.
Excellent Account of an Underrated WWII Leader

Derived From Web

, Dec 1, 2020

When we think of the leading naval commanders in the Pacific, most of us focus on Halsey, whose exploits were achieved when the country needed heroes. But Spruance was by far a superior tactician and surprisingly aggressive just as. He was not a carrier by training or experience, but his reckless and brilliant use of carriers at Midway turned the war around and put the Japanese Navy on the defensive for the rest of the war. The author's treatment of Spruance was balanced, well-researched and frankly honest.
Well written study of a unique leader

Derived From Web

, Nov 24, 2020

Written very well, easy to read and flowed very well. He was a bit peculiar, but it was interesting to read about his unique style of leadership. very confident and a big picture leader, but appears to have been very willing to listen and seek input before deciding. All the facts portrayed in the book stand in line with those I have seen elsewhere, but the perspective of sources close to him was very interesting. For sure, another member of the greatest generation.