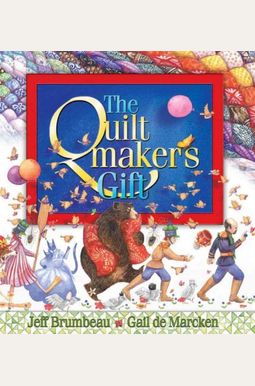 
 
Book Overview
In this enchantingly told original folktale, a wise quiltmaker makes the most beautiful quilts in the world - but she will give them only to those who have nothing. When a rich, dissatisfied king insists that she give him one of her quilts, she gives him what seems an impossible task: to give away all he owns. One by one, the king gives away his many possessions, and finds that the more he gives away, the happier he is. Finally, when the king has nothing, the quiltmaker gives him the promised quilt. But he knows that the true reward for his generosity has been the smiles of those he has helped.The Quiltmaker's Gift has touched the hearts of readers young and old, bringing it to the PW bestseller list and earning it numerous awards and commendations. The heartwarming, strongly moral tale supports important values, and the detailed illustrations, featuring dozens of lovingly rendered quilt patterns, offer hours of delight. Children will delight in this new commemorative edition, which includes a special Quiltmaker's Gift Box so that, following the example of the Quiltmaker, they can create their own beautiful quilts. The gift box includes a quarter yard of quilting fabric, step-by-step instructions for simple, fun projects, and helpful tips and advice for eager young quiltmakers.
Frequently Asked Questions About The Quiltmaker's Gift
Books like The Quiltmaker's Gift
Book Reviews
(14)
Did you read The Quiltmaker's Gift? Please provide your feedback and rating to help other readers.
A wonderful book, beautiful and rich in every way.

Derived From Web

, May 12, 2022

One of our favorite books in our house for our 4 year old is one of our favorite books. She seems to be able to follow longer stories now and this is just the right length for her. A chance for much more detail and discovery that shorter books are written for toddlers more. There is so much to discover and look at on each page. The overall message about the joy of giving others in need and not holding onto possessions just for the sake of having things is perfectly written. The book has prompted may questions from my daughter about giving, those less fortunate, homelessness, and charity. She even decided to donate some of her saved change to a local animal shelter, since she did not need it all. A great way to introduce these types of discussions to younger children without being overly sad or heavy. A must have for any family library.
The Quilt Makers Gift

Derived From Web

, May 12, 2022

This is a great book, I bought it for my grandson. I make quilt and wanted them to know the value of the work that goes into making a quilt. So I treat this book as a gift with each I quilt I make for them. They love the story and their quilt.
Beautiful book

Derived From Web

, May 12, 2022

This is a gorgeously illustrated book that has produced fabrics, threads, embroidery cards and surely a number of quilt patterns. There is just one small downside to the story that I hate to bring up. The end result of generosity is poverty.
Charming story, delightful illustrations

Derived From Web

, May 12, 2022

This is the second copy I purchased as a gift. I think it is a classic for children of all ages, and any adult quilter would love it too. Sweet story with delicate, soft, imaginative illustrations. If you're a quilter, you'll want the other books too... Quilts from the quiltmaker's gift.
Truly Touching

Derived From Web

, May 12, 2022

The son of a kindhearted neighbor received it many years ago as a gift. Furthermore, the illustrations are truly artistic and very visually interesting. Throughout the years, I bought several more copies to give as gifts. This is a must-have for teaching children the virtues of giving and not of being selfish. It is highly recommended by our family.
Makes a great gift book!

Derived From Web

, May 12, 2022

Love this story -- such a good message! One of my favorite places to visit is my own.
Beautiful book

Derived From Web

, Aug 20, 2021

I mailed this book to my grandson and enjoyed both my daughter and my grandson reading it. The illustrations are beautiful.
Brought me back to my childhood

Derived From Web

, May 1, 2021

Definitely a beautiful poem written and drawn book. I bought it because it popped into my head and I wanted to see if it still held. This is a book that affected me as a child, as I remembered the story line and the art still vividly. I was happy to see it still working. Would actually recommend for small children and adults.
Wonderful book.

Derived From Web

, Jun 26, 2019

I love this book ''. The story is colorful and the illustrations are wonderful and the story is read perfectly with the story. The birds with sweaters-so cute. I bought these books as gifts, especially for quilting grandmothers. The rich young ruler of the Bible can be incorporated into discussion.
The turning of a page is fond with anticipation and wonder...

Derived From Web

, Feb 22, 2019

Not unlike stories from a long time ago, told by another storyteller, except that he was a fisherman instead of a quilter. The story is simply told so that a child can understand it and be held spellbound by the luscious illustrations on each page. The turning of a page is done with much anticipation and wonder and each page is a story itself... as is the king's quilt. The story of his journey and his realization.