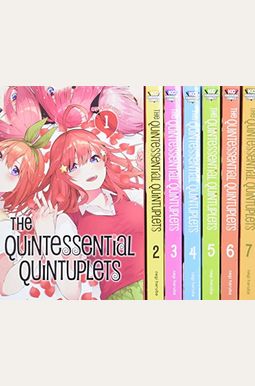 
 
The Quintessential Quintuplets Part 1 Manga Box Set
Book Overview
Fandom's favorite fivesome now come bundled together in two seven-volume box sets This deluxe, collectible set includes two huge, exclusive, double-sided posters depicting four of the rambunctious quints. Collect them all, as the popular anime series returns in 2021
This set includes Vol. 1-7 of The Quintessential Quintuplets manga series. Five girls who want to do anything but study, and their tutor: A high school boy who's got book smarts and not much else. Futaro Uesugi took the tutoring gig because he was desperate for cash, but when his students--the five beautiful daughters of a wealthy businessman--find five times the excuses to slack off, what can he do? At this rate, the sisters won't graduate, so if he wants to get paid, Futaro must think of a plan to suit each of them. Which feels hopeless when five out of five of them think he's a loser
Frequently Asked Questions About The Quintessential Quintuplets Part 1 Manga Box Set
Book Reviews
(8)
Did you read The Quintessential Quintuplets Part 1 Manga Box Set? Please provide your feedback and rating to help other readers.
Great Product. Horrible delivery time.

Derived From Web

, Mar 6, 2022

Like others, I ordered this probably a while back around June. It kept getting delayed, which was pretty annoying to say the least. The product itself is, however, amazing. I would be more mad, because it took a little longer to arrive, but I got it for $35-$40, so I guess that it makes up for it. I didn 't expect them to be double sided, but in the end it didn 't really matter. , I actually got the manga about a month ago, just put off on making a review. 55.
Great Condition

Derived From Web

, Jan 27, 2022

This was sold for about $35-$40 to Snagged. Posters are all kinds of amazing, though pretty sure that they are missing a sister. But maybe they could put her and the man on the next box set. Though it was sent many times, it was pretty fast. I am so excited to read it.
Great for Quintessential Quintuplets Fans

Derived From Web

, Jan 26, 2022

This is a manga box set, so it's kind of just manga, you can not go wrong there. Yotsuba was not in one of the posters since she is my fav. The posters are really wrinkled and folded, and the print is really not that great. It would probably look fine after being hung for a while, but that is not what people are buying for, so that is not a big deal.
so worth it!

Derived From Web

, Jan 26, 2022

The box is nice and the price is definitely very pretty! It comes with two posters and is a must-have for all fans! Can 't wait for the second box set!
simply amazing :D

Derived From Web

, Jan 26, 2022

This last year was ordered and was certainly worth the wait. 1010 ).
Worth the read, and a very aesthetically pleasing box set. Highly recommended

Derived From Web

, Jan 25, 2022

Arrived torn and crushed, thats why I gave it 3 stars initially. Fortunately, the box set is back in stock and I got a replacement. This is part of two large box sets, the set itself is very nice and comes with volumes 1-7, as well as two full double sided posters. The art on the box set will line up with the second set, and it looks very good on the shelf. The art style and pacing are actually pretty good ; it is basically a harem-esc romantic comedy. The manga series is also a relatively short commitment at 14 volumes, and is definitely worth it. I'm excited to complete the set with the second box set. I also recommend watching the anime if you haven t already ; it is good, but the manga is the better of the two.
Great packaging and good quality. A good romance manga

Derived From Web

, Jan 25, 2022

Since last year, everyone has been waiting for this product, but the wait was worth it. One of the most enjoyable romances I have ever read. Although is not comparable to top romances like Oregairu, love is war or nisekoi. Ichika is hated by many, but one of the most enjoyable characters in this series, once you analyze her character. Great packaging :
Awesome manga box!

Derived From Web

, Jan 25, 2022

Always wanted to collect this series so that after seeing that there would be a box set, decided to wait for the release. Can 't wait for the next box to come out to finish the series.