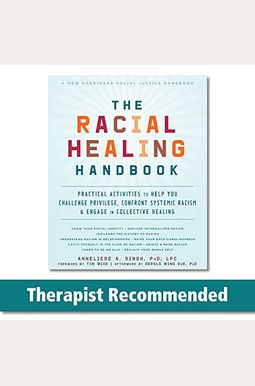 
 
The Racial Healing Handbook: Practical Activities To Help You Challenge Privilege, Confront Systemic Racism, And Engage In Collective Healing
Book Overview
A powerful and practical guide to help you navigate racism, challenge privilege, manage stress and trauma, and begin to heal.
Healing from racism is a journey that often involves reliving trauma and experiencing feelings of shame, guilt, and anxiety. This journey can be a bumpy ride, and before we begin healing, we need to gain an understanding of the role history plays in racial/ethnic myths and stereotypes. In so many ways, to heal from racism, you must re-educate yourself and unlearn the processes of racism. This book can help guide you.
The Racial Healing Handbook offers practical tools to help you navigate daily and past experiences of racism, challenge internalized negative messages and privileges, and handle feelings of stress and shame. You'll also learn to develop a profound racial consciousness and conscientiousness, and heal from grief and trauma. Most importantly, you'll discover the building blocks to creating a community of healing in a world still filled with racial microaggressions and discrimination.
This book is not just about ending racial harm--it is about racial liberation. This journey is one that we must take together. It promises the possibility of moving through this pain and grief to experience the hope, resilience, and freedom that helps you not only self-actualize, but also makes the world a better place.
Frequently Asked Questions About The Racial Healing Handbook: Practical Activities To Help You Challenge Privilege, Confront Systemic Racism, And Engage In Collective Healing
Books like The Racial Healing Handbook: Practical Activities To Help You Challenge Privilege, Confront Systemic Racism, And Engage In Collective Healing
Book Reviews
(8)
Did you read The Racial Healing Handbook: Practical Activities To Help You Challenge Privilege, Confront Systemic Racism, And Engage In Collective Healing? Please provide your feedback and rating to help other readers.
Hard hitting but compassionate

Derived From Web

, Jul 7, 2021

An outstanding read. Our church has a small group of people who read this. It helped a lot of white people get a much better perspective on racism, it's roots and solutions, he said. It was a non-aggression, said Dr. Goin. It was thoughtful, compassionate and yet did not pull punches when going after the hard issues, he said.
If you want to become a racist, take this book seriously.

Derived From Web

, Jun 8, 2021

It's the continuation of a racist policy in the past in which certain people thought other people were superior or inferior because of their genes and looks, McCarthy said.
Misguided and could be much better.

Derived From Web

, Jan 17, 2021

The product is targeted at white people and is not very inclusive of POC. It's a terrible title, and I don't blame Dr. Goin for that. I bought this for a book club at my university and we ditched it two meetings in because we found it too shallow. There are certainly better ways to do things, Mr. Dhaliwal said.
A must read.

Derived From Web

, Jan 15, 2021

The book is also described as follows: "This is the most amazing handbook of all time." The book offers you the tools to heal from both ends of racism. The author gives a unique perspective on race given her heritage. We chose to go through this book for our LPCLSW group supervision, and doing the work with other therapists has made this work even more meaningful, Morgenthau said. This isn't easy, but it's essential, Mr. Dhaliwal said. A must read for anyone who reads. Highly recommend.
Outstanding

Derived From Web

, Nov 26, 2020

The academy seeks to bridge the gap between the white elite and the rest of society through education and cultural awareness. Our social justice system was never designed to meet the needs of the 21st century. We need to be schooled in the historical systemic prejudice and discrimination of our divided country, Copps said. He added that race is a fiction that supported a caste system of labor then and now. He added that the unfairness "undermines human development." The Ku Klux Klan is a lie, said Thomas Ravenhill, executive vice president of the Southern Baptist Convention. It is very hard to cure, even with the best of medical care.
Should be required reading for everyone!

Derived From Web

, May 4, 2020

This book is very good. This book is a must-have for every human being to get in touch with their racial identities so we can begin to heal this country's deep rooted racism.
Useful for Faculty

Derived From Web

, Dec 19, 2019

Rather than dwelling on the book's contents, I and my colleagues used it to reflect on our racial identities, experiences with racism, and how we want to pursue racial justice in an academic setting. This book is an excellent introduction to the work of Robert Heinley and Brian Stokes Mitchell.
What we need is Racial Healing

Derived From Web

, Nov 14, 2019

The book is an invitation to reconcile, heal and build a better future. He has a very good reputation, and I think he's doing a great job." It should be in every classroom across the country.