Buy 3 Get 1 Free
Our Best Sale Yet! Add 4 Books Priced Under $5 To Your Cart     Learn more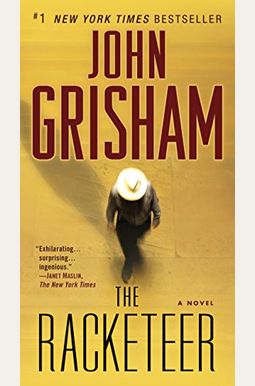  
Book Overview
This Description may be from another edition of this product.
Given the importance of what they do, and the controversies that often surround them, and the violent people they sometimes confront, it is remarkable that in the history of this country only four active federal judges have been murdered.
Judge Raymond Fawcett has just become number five. Who is the Racketeer? And what does he have to do with the judge's untimely demise? His name, for the moment, is Malcolm Bannister. Job status? Former attorney. Current residence? The Federal Prison Camp near Frostburg, Maryland. On paper, Malcolm's situation isn't looking too good these days, but he's got an ace up his sleeve. He knows who killed Judge Fawcett, and he knows why. The judge's body was found in his remote lakeside cabin. There was no forced entry, no struggle, just two dead bodies: Judge Fawcett and his young secretary. And one large, state-of-the-art, extremely secure safe, opened and emptied. What was in the safe? The FBI would love to know. And Malcolm Bannister would love to tell them. But everything has a price--especially information as explosive as the sequence of events that led to Judge Fawcett's death. And the Racketeer wasn't born yesterday . . . Nothing is as it seems and everything's fair game in this wickedly clever new novel from John Grisham, the undisputed master of the legal thriller.
Frequently bought together
Frequently Asked Questions About The Racketeer
Book Reviews
(15)
Did you read The Racketeer? Please provide your feedback and rating to help other readers.
One of Grisham's Worst

Derived From Web

, Apr 20, 2022

The third and final volume of this riveting novel will be released in September. It's the Grisham we know and love - great plot development with a sense of what will happen next, he said. We're not saying everything about Harrison's character is wrong, but we're not saying it was bad. Grisham has a reputation for writing great thrillers. Everything falls into a confused and convoluted mess when the film crew makes a mistake, leading to a messy finale. The Harrisons are apparently having second thoughts about buying a house in Florida. The exact answer will not become apparent until the book ends. So we suffer through endless scenes of movie making and complicated plot machinations that make no sense until the story, supposedly, all comes together. Amazing that Grisham's chain of implausible relationships could have all been pulled off, so that the novel could be tied up into a satisfying ending, Crane said. It's great to be back home, Sunchill said.
Another good Grisham

Derived From Web

, Apr 20, 2022

Except for a few more serious works by Grisham, I can't recommend them all that highly. As a former attorney, both Grisham and I, his cynical but light and humorous approach to practicing the legal system is entertaining and contains strong elements of truth beneath the exaggerated fun. What I always appreciate in a Grisham novel is his technique of guiding the reader through the sometimes arcane, but mostly necessary procedural steps in our legal system, which can be described as very imperfect, but the best around when it comes to the presumption of innocence, Robert Ingrassia writes. Unlike a lot of legal procedural crime writers, he can get to the point without stumbling or even looking at the screen. I'm waiting for his next one, always hoping that it will match his most entertaining novel The Runaway Jury.
WHO wrote this book?

Derived From Web

, Apr 20, 2022

The first half of the book isn't bad... and the protagonist seems to be open with the reader, he said. Even though he's white, I felt a little sympathy for him. And then we find out that we have been snookered. A WHOLE STORY was going on, and we're all in the dark, Mr. Dhaliwal said. The second half of the book is really bad writing, miserable plot, etc. For Grisham to end the book with a disclaimer that this is fiction, well, well, his writing gives fiction a bad name. This book is not worth the time to read. Turner's lawyers called the allegations "ridiculous."
Great audio book

Derived From Web

, Apr 20, 2022

I have read many of his novels and am a huge fan of his writing. The book was used on a plane from Boston to Florida. My wife and I would highly recommend it as it moved well and was not loaded with a huge host of characters, Mr. Dhaliwal said.
Justice was served in so many ways

Derived From Web

, Sep 29, 2021

It's just that way, said Grisham, a mere mortal. A couple of weeks ago, I wrote about how amazing it is to see a photo of Jesus Christ.
Buckle up buttercup!

Derived From Web

, Sep 2, 2021

Grisham rips through a legal mess of epic proportions. Thoroughly entertaining, delightfully witty, at times and brilliantly ended.
Don't wast your time or money

Derived From Web

, Jun 13, 2021

This review is disappointing by this average level of effort on the part of the author. It's hard to imagine a book without the name Grisham on the front cover. The book is not in the Scholastic store. The plot thickens as the days go by, barely clinging to one another. It felt like I was reading a book on the fly. However, some of the settings and situations were not believable because of lack of research. In fact, the author of the book, Raymond E. Alibozek, confirms this in the author's note at the end of the book. Only in the past few years have we seen the extent to which research was neglected. Accuracy was not crucial, the report said. To avoid looking up facts, fiction was used extensively. It was a mistake, Rowling said of the note, which was tucked inside a spiral-bound book. I could have saved myself the time and money, Mr. Rule told the judge.
Plot turns into a outlandish Dumpster fire

Derived From Web

, Jun 2, 2021

John Grisham is one of the most overrated writers of all time. I've wasted money on his books a couple times and sworn to myself never to read another one, but in a moment of weakness I picked up The Racketeer. And to my great surprise I enjoyed this tale for exactly 75% of the book, before the plot turned into an outlandish dumpster fire of epic proportions, Hughes said. It's just that Grishmam must have been drunk as a skunk to concoct such nonsense. Run, don't walk away from this turd bucket.
I'd love to get a refund on this one!

Derived From Web

, May 18, 2021

The author of this book, Raymond, described it best at the conclusion of the book. Even the laziest of writers need some foundation for their creations, he says. 0 3171158 3171163 He states there was no research done and that "long paragraphs of fiction were used to keep from looking up facts." I have read and liked some of his books, but this is the last one for me. 0 2968781 This is the last one for me. Detested the stereotypes of the characters and the plot, I found such success for the main character that it was laughable. 0 4171578 Weinshall 0 4171578 This was a great story, said Pauley, "but I detested the stereotypes of the characters and the plot, although at first it was interesting." One reviewer gave it a one star rating for suckering him into buying the book. I'd love to get my money back for this one, and buy something that another author put some effort into writing. The book has received rave reviews from Amazon. com shoppers. Don't waste your money on this one, Mr. Dhaliwal said.
Not one of the better ones

Derived From Web

, Nov 15, 2020

I'm not a Grisham fan, but The Racketeer is one of my least favorite novels. It's just that Whitney is not my favorite. The plot veered significantly and sent my understanding of the characters completely off the rails, Crowe said. It's just that they kept trying, and I think they should have put this one aside.