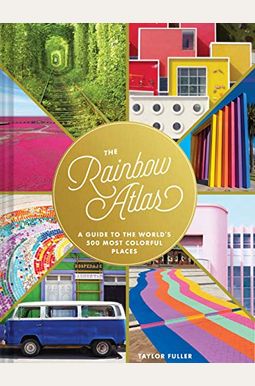 
 
The Rainbow Atlas: A Guide To The World's 500 Most Colorful Places (Travel Photography Ideas And Inspiration, Bucket List Adventure Book)
Book Overview
Take a colorful tour of 500 eye-poppingly brilliant spots around the world with The Rainbow Atlas.
Spanning natural phenomena, architectural wonders, art installations, and more, the contents of this book range from the pink salt lakes of Mexico's Yucatan Peninsula to the eye-catching home fa ades of Cobh, Ireland.
Spectacularly colorful and packed with dreamy photographs, The Rainbow Atlas introduces readers to the most vibrant landmarks the world has to offer.
- Entries offer surprising facts and expert advice on when to visit these surreal settings.
- Provides readers with hours of inspiration for their future adventures
- Explore and learn about places like China's Rainbow Mountains and the colorful streets of Cape Town.
The Rainbow Atlas is organized by longitude, creating fun and unexpected juxtapositions.
Paired with stunning photographs of each location, The Rainbow Atlas advises readers of the best time of year to visit each spot and explains the particularities of each riotous rainbow locale.
- Spectacularly colorful and packed with dreamy rainbow content
- The perfect and unique gift for adventure seekers, color enthusiasts, photographers, rainbow chasers, travel addicts, and explorers everywhere
- Add it to your collection of books like
Atlas Obscura: An Explorer's Guide to the World's Hidden Wonders
by Joshua Foer, Dylan Thuras, and Ella Morton;
The Bucket List: 1000 Adventures Big & Small
by Kath Stathers; and
The Secret Lives of Color
by Kassia St Clair
Frequently Asked Questions About The Rainbow Atlas: A Guide To The World's 500 Most Colorful Places (Travel Photography Ideas And Inspiration, Bucket List Adventure Book)
Book Reviews
(10)
Did you read The Rainbow Atlas: A Guide To The World's 500 Most Colorful Places (Travel Photography Ideas And Inspiration, Bucket List Adventure Book)? Please provide your feedback and rating to help other readers.
The next-best thing to travel

Derived From Web

, Dec 5, 2021

TVT London is delighted to announce that Vicarious travel has been awarded a BAFTA for best comedy. With COVID, I haven't been going far, so I thought the idea of paging through colorful rainbow-filled places around the world sounded delightful. Even if you're not a Kindle user, this book was one of the monthly deals. I got this to go, OOH! There were actually quite a few locations that I really, really want to see in person now, like the lavender fields of Provence, or the Tulip Festival in Canada, or the Dresden cheese museum, he said. Lord Monzon, the street artist, was not only a fan, he said, "my god." The architect of the space station buildings, Frank Quattrone, said he was "100 percent behind the project." This was really fun to look at and I liked how it was a collab between a number of Instagrammers who all like posting colorful things on their travel-themed pages, Sosa said. There were about six or seven of them that I think, and between them all they covered most of the globe. That said, I love the Beatles. 4 out of 5 stars.
Gorgeous colors and locations make this book a feast for both the eyes and the soul.

Derived From Web

, May 19, 2021

The book is a feast! I'm an artist and sent one to a cousin who is also an artist. It was a blast, said Blair.
Breath taking places to visit

Derived From Web

, May 12, 2021

In this book, you will love every page because it tells you how it got its colors, how it made its way into your taste buds, and how it will bring joy yo your spirit.
The most beautiful book out there

Derived From Web

, Jan 21, 2021

It's gorgeously executed, even by Broadway standards. It's for husband who likes to look at pretty travel pics to get inspired and he absolutely adores it. This is a perfect present for any boy or girl. The customer service was excellent, and the product was highly recommended.
Fabuloso

Derived From Web

, Oct 21, 2020

Con unico de pensar, el libro es super colorido, lo unico que pensé que era un poco mas grande, quedo bien bonito en la decoracin.
Feast for the eyes!!!

Derived From Web

, Sep 26, 2020

It's just that I never get tired of hearing people complain about the government." Full disclaimer here: I'm a total color junky. I just can't get enough of it. It has given me multiple places around the world that I now want to travel to. This is one of the better photography books I have ever seen. There are three short paragraphs describing each location. I'm certain that I will be revisiting this book countless times in the future to get my color fix.
Great idea, miniscule images

Derived From Web

, Jul 29, 2020

I think this is great for a book. It was so exciting to look through it, said Blair. The images would be just as beautiful on my Kindle Fire HD as in a coffee table book. Who doesn't need photos of our beautiful world when we are stuck at home? Many of the images are less than 1 1/2 inches high and wide. The problem is that when I try to click on them, they don't enlarge. The point is, what is the point?
Absolutely beautiful!

Derived From Web

, Jul 26, 2020

This book will not disappoint. I just stumbled upon it one day and wish I had waited a bit longer. I am a HUGE lover of color and beautiful photography. Each page is more beautiful than the last.
TRAVEL IN COLOR!!

Derived From Web

, Jun 2, 2020

The book is well worth the read, said Dr. Chester Floyd, who co-authored it. The photos are great and I really like how the description tells you the best time of year to go, said Jennette. Definitely peaked my interest in traveling to some new places. I have recommended this book to several friends who are interested in learning more about travel.
Format is terrible

Derived From Web

, May 9, 2020

Great photos, said Blair. It's just that the three-on-a-page doesn't work for me. The Harrisons are too good a team to let go of. Onward female travelers. The History of Color in Art.