Buy 3 Get 1 Free
Our Best Sale Yet! Add 4 Books Priced Under $5 To Your Cart Learn more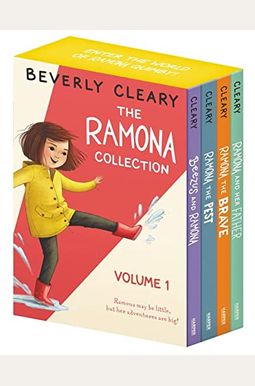  
The Ramona 4-Book Collection, Volume 1: Beezus And Ramona, Ramona And Her Father, Ramona The Brave, Ramona The Pest
Book Overview
This wonderful Ramona Box Set, by Beverly Cleary, contains four books: Ramona the Brave, Ramona the Pest, Beezus and Ramona, and Ramona Quimby, Age 8.
Beezus and Ramona
Beezus tries very hard to be patient with her little sister, but four-your-old Ramona has a habit of doing the most unpredictable, annoying, embarrassing things in the world. Sometimes Beezus doesn't like Ramona much, and that makes her feel guilty. Sisters are supposed to love each other, but pesky little Ramona doesn't seem very lovable to Beezus right now.
Ramona the Pest
Ramona is off to kindergarten, and it is the greatest day of her life. She loves her teacher, Miss Binney, and she likes a little boy named Davy so much she wants to kiss him. So why does Ramona get in so much trouble? And how does Ramona manage to disrupt the whole class during rest time? Anyone who knows Ramona knows that she never tries to be a pest.
Ramona the Brave
Now that she's six and entering the first grade, Ramona is determined to be brave, but it's not always easy, with a scary new all-by-herself bedroom, her mother's new job, and a new teacher who just doesn't understand how hard Ramona is trying to grow up.
Ramona Quimby, Age 8
Ramona feels quite grown up taking the bus by herself, helping big sister Read More chevron_right
Frequently Asked Questions About The Ramona 4-Book Collection, Volume 1: Beezus And Ramona, Ramona And Her Father, Ramona The Brave, Ramona The Pest
Book Reviews
(14)
Did you read The Ramona 4-Book Collection, Volume 1: Beezus And Ramona, Ramona And Her Father, Ramona The Brave, Ramona The Pest? Please provide your feedback and rating to help other readers.
Not the illustrations from my childhood, but great books just the same

Derived From Web

, Apr 20, 2022

How can you not be a fan of Ramona? I bought these to read to my two little girls and they are enjoying them. I have a problem with the new illustrations in this set. I know that it isn't a problem, but I am sad that the illustrations from my childhood have been replaced. The book is so old that it's hard to see how the modern illustrations are compatible.
Timeless Classics

Derived From Web

, Apr 20, 2022

My granddaughter is going to enter 3rd grade and she is going to read these classics. Ramona books don't present little girls as picture perfect little ladies but as real-life girls who sometimes make silly decisions that turn into messes and learn from the consequences.
Lighthearted and fun!

Derived From Web

, Apr 20, 2022

My 7 year old loves to read and I like to read to her. There are silly stories that make us laugh. Lighthearted and enjoyable.
I loved Beverly Cleary when I was a child

Derived From Web

, Apr 20, 2022

I wanted to give these books to my granddaughter to help her with her reading since I loved Beverly Cleary when I was a child. I seem to have succeeded. When I was her age, she enjoyed these books as much as I did.
IT WAS BORING.

Derived From Web

, Dec 29, 2021

I didn't like this book. There was too much animosity between the CHARACTERS. The whole story was getting boring. The villains do lots of stuff. Some people think it's fun, but I don't think so. I don't like this book at all.
Teach Yourself to Read Better

Derived From Web

, Oct 12, 2021

The transition from short books to chapter books is difficult for many kids. When I was a teacher, I got kids to read Ramona books and they couldn't be stopped. They weren't aware that they were teaching themselves to read better. Predicting what would happen next is how I get to know characters. Beverly Cleary's books are great because she has a lot of vocabulary in her pages, and she shows that if you pause at a certain point, you gain more understanding. You miss Willa Jean after the story is over. She gave us memorable characters and stories in her books. Beverly passed away recently at the age of 104 Mrs. Cleary, thank you for everything you did.
I don't recall Ramona being so naughty but boy she has terrible behavior!

Derived From Web

, Dec 26, 2020

I used to read these books when I was a kid and I did not remember Ramona being so bad. Beverly Cleary did a great job of capturing the mind of a young child, but as I was reading these books, I kept thinking that her behavior will get better as she gets older, or we will be taught some great moral at the end. The book will be better. Nope, that's not true. The mother doesn't stop her behavior, but with low effort ramona don't do that, and zero follow through. I had to explain to my kids how bad this behavior was and how the parents weren't disciplining them. I stopped reading the rest after this set. I would like to teach my kids good behavior, good sibling conflicts, and good parenting roles. This wasn't the thing.
Forever Fun and Relevant. Great Set of Ramona Books By Famed Author Beverly Cleary

Derived From Web

, Oct 6, 2020

The books are fun. Good ol' Romona is still relevant in 2020. These books are rated for third grade and are a challenge for my 2nd graders. She still enjoys reading chapter books, and they motivate her to do so. I read the same books as a girl and was sad to see the illustrations have changed. I'm not sure why it was necessary, but my kids will never know the difference. The Ramona set includes 4 Ramona titles, but doesn't include key Ramona titles like Age 8 or Ramona forever. My daughter wants more Ramona, so I will order them separately. I can't recommend these books enough, they're just as good as Beverly Cleary's books. These are great if you want to inspire or motivate your reader. The author captures Ramona's quirks and life in a way that she could be real.
Box Set Packaged Wrong

Derived From Web

, Dec 25, 2019

This was bought as a Christmas gift. There were 3 books instead of 4. There are two books.
Still a hit

Derived From Web

, Jun 27, 2019

Beverly Clearly's Ramona Collection is relevant to the current generation of kids. I enjoyed them as a child. They help children see how normal they are. It's important to know that embarrassing situations happen to everyone.