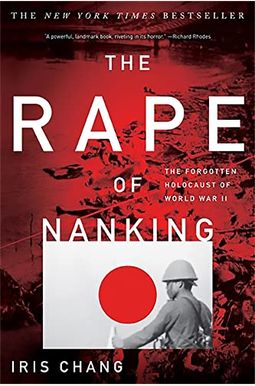  
The Rape Of Nanking: The Forgotten Holocaust Of World War Ii
Book Overview
The New York Times bestselling account of one of history's most brutal -- and forgotten -- massacres, when the Japanese army destroyed China's capital city on the eve of World War I
In December 1937, one of the most horrific atrocities in the long annals of wartime barbarity occurred. The Japanese army swept into the ancient city of Nanking (what was then the capital of China), and within weeks, more than 300,000 Chinese civilians and soldiers were systematically raped, tortured, and murdered. In this seminal work, Iris Chang, whose own grandparents barely escaped the massacre, tells this history from three perspectives: that of the Japanese soldiers, that of the Chinese, and that of a group of Westerners who refused to abandon the city and created a safety zone, which saved almost 300,000 Chinese. Drawing on extensive interviews with survivors and documents brought to light for the first time, Iris Chang's classic book is the definitive history of this horrifying episode.
Chang vividly, methodically, records what happened, piecing together the abundant eyewitness reports into an undeniable tapestry of horror. - Adam Hochschild, Salon
Frequently bought together
Frequently Asked Questions About The Rape Of Nanking: The Forgotten Holocaust Of World War Ii
Books like The Rape Of Nanking: The Forgotten Holocaust Of World War Ii
Book Reviews
(11)
Did you read The Rape Of Nanking: The Forgotten Holocaust Of World War Ii? Please provide your feedback and rating to help other readers.
My heart bleeds for the human race........

Derived From Web

, Apr 20, 2022

What a waste of time, people living in the US. The level of callousness and inhumanity shown by these people and the United States government in allowing this to happen for so long is simply too high. 0 1462228 316127 It seems that the outrage over the rapes of these women and the US government's complicity in allowing this to happen for so long has been swept under the rug. He said he experienced "every emotion possible" but happiness and joy did not come into his life. Most of all my heart aches that more light hasnt been given to this. this. it. was a very difficult story to write, Mr. Berryhill said. I've also seen the movie The Blair Witch Project,' which was gut wrenching but at times tailored down for viewer consumption so it doesn't capture the explicit pain detailed in this book. One of the great works of the 20th century, The Savages are a must read for every human being. Until we shed light on the dark places such as Chechnya, the horror of rape and murder will continue.
A Memorable Book

Derived From Web

, Apr 20, 2022

This book will stand in a class by itself. The book provides a fine, well-written, brutally graphic account of this horrendous event in world history that has been successfully covered up and denied by perpetrators until recently.
Society should be outraged. The Rape of Nanking is a Must Read

Derived From Web

, Apr 20, 2022

Bill O'Rielly and Martin Dugard wrote a book about the Japanese invasion of Nanking China in 1937. After a Vietnam vet friend told me some more history, I thought Hitler, Stalin and Pol Pot had the corner market on human atrocities, but they had nothing compared to what the Japanese did at Nanking. In the worst massacre in modern history, nearly 300,000 people were raped, mutilated and murdered between October and December. The acts described in this book are grotesque, morally reprehensible and completely revolting, Morgenthau said. In "The Book of Brothers," Robert Hein and David Crane recount the true story of real life heroes who saved thousands of lives. It is a footnote in history, rarely taught in school and rarely discussed in Japan.
Difficult To Imagine This Could Go Unnoticed...

Derived From Web

, Apr 20, 2022

The rape of Nanking is a bitter episode of human brutality, and it's hard to read the book without feeling the twinges of remorse and horror, even more than 55 years later. The suffering of the Chinese by the Japanese invaders is harrowing, yet at the same time, oddly compelling. What could have driven these soldiers and officers to commit such unspeakable crimes? That the majority of the perpetrators were never prosecuted by the United Nations is unforgiveable, especially in light of film footage and other damning documentation provided by American missionaries, Mr. Shanley said. Japanese citizens, haunted by the memory of their dead, deny this event ever occurred. This is perhaps the last insult added to injury. that so many thousands could have perished unnoticed and that the aggressors know no shame for their actions.
You will learn a lot

Derived From Web

, Apr 20, 2022

Iris Chang, one of the jurors, did a fantastic job of making you aware of such a difficult time period. It was not easy to read because of the terrible things that happened in Nanking.
The most horrifying book I have ever read

Derived From Web

, Apr 20, 2022

As a teenager I stood in the middle of Dachau and cried. Such inhumanity and brutality are without parallel. The Nazi minister toking wrote to Hitler advising him of the slaughter and did as much as anyone to create a safe zone where many of the Chinese were protected, he said. It should be added to any and all course study of World War II at both the high school and college levels. WARNING: This is very likely to give you nightmares.
Highly recommended

Derived From Web

, Apr 20, 2022

I have been using this book in my research and every time I go through it I am amazed that someone could be so dedicated to pen such details of brutality. This is a work of classic, not only for historical significance but also as a reminder of the depth of depravity at which we commit if we fail to learn and honor the memories of the victims. Seller and product are highly recommended.
A True Story of The Chinese Holocaust.

Derived From Web

, Apr 20, 2022

The writer of this terrible parable in the "Journey" series tells us how the Chinese were treated in Nanking, China. Many of the survivors are still alive today thanks to the Americans who created a safe zone for over 300,000 inhabitants. The remaining 38,000 are believed to have been slaughtered needlessly. The world must learn the true meaning of the Holocaust, writes Elie Wiesel.
Impactful

Derived From Web

, May 23, 2021

I had read this book several years ago, but I was drawn to the story again by the condensed version of the Nanking atrocities. We see it repeated time and time again throughout human history and even today in various places around the world. We're not even close. Be prepared to read things you would rather not, be saddened, cry and scream inside your head. However, I believe that it is a good book about a terrible subject but a subject we all need to know more about and work to prevent in the future. You owe it to yourself to read this book, but be prepared.
The Forgotten Asian Holocaust

Derived From Web

, Jun 14, 2020

Ms. Chang pours her heart into it, describing in graphic detail the atrocities committed against the Chinese citizens of Nanking.