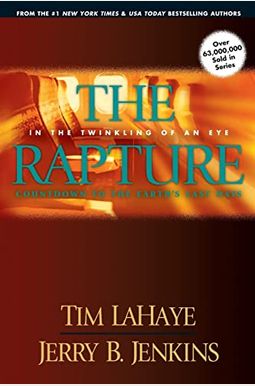 
 
The Rapture: In The Twinkling Of An Eye / Countdown To The Earth's Last Days
Book Overview
Book 3 of the 3-book prequel to the best-selling Christian fiction series that sold over 63 million copies

The Left Behind series . . . is among the best-selling fiction books of our times--right up there with Tom Clancy and Stephen King. --Time

Get a glimpse into the lives of your favorite characters before they were left behind.
What was life like before the Rapture for Rayford, Irene, and Chloe Steele, Bruce Barnes, Buck Williams, and Tsion Ben Judah?
Why does Viv Ivins play such a pivotal role in Nicolae Carpathia's life?
What were the events surrounding Nicolae's sudden rise to power?
How did he become filled with evil?
You will find all these answers and more in this exciting series

The Rapture: In the Twinkling of an Eye / Countdown to Earth's Last Days
In this the final prequel to the blockbuster series, the story alternates between events on earth immediately after the Rapture and characters in heaven as they view the chaotic events on earth.
Frequently bought together
Frequently Asked Questions About The Rapture: In The Twinkling Of An Eye / Countdown To The Earth's Last Days

Book Reviews
(12)
Did you read The Rapture: In The Twinkling Of An Eye / Countdown To The Earth's Last Days? Please provide your feedback and rating to help other readers.
Watch Israel- Gods time Peace.

Derived From Web

, Jun 1, 2022

If you are interested in what your place will be in the very near future, this book will definitely give you a good insight. If you are a sceptic looking at the world around you. The main key to where we are today is Israel, look at the size of that country and then ask yourself how they stayed around that long. Israel is God's peace now, and everything that goes on today deals with what God is doing with His chosen people. He is getting them ready to return to the place they were origneally supposed to be, the ones who were to bring the word of God to mankind. They rejected the Savior who sent them to them, that was our blessing. Now they find out who He is and believe in Him. This will be their greatest day ever when they receive Him after their 7 - year tribulation as Lord and Savior. LEFT BEHIND DON'T BE LEFT BEHIND
It is the best apocryphal account I have ever read

Derived From Web

, Jun 1, 2022

Though the story itself is Biblical, it is written from factual fictional references. This is the second time I read the prequels of the Left Behind series. This time I am reading the prequels first and read the Left Behind series for the second time. I find it and feel that anyone who is searching for Christ will indeed find many answers in these books. I also feel that any Christian who reads this book will become distorted over what happens in a twinkling of an eye.
This is one of the finest series of books that I've ever read!!!

Derived From Web

, Jun 1, 2022

I read the whole series Left Behind ''. As I see it, LaHaye and Jenkins have written this series of books to describe what it would be like on Earth if the Book of Revelations came exactly as written. It is not Hollywood and the scriptures are not rewritten to make them a better story. One of the most powerful and thought provoking series of books I have ever read, bar none. I would suggest that you read the series and research them in order, as each builds up on the previous. The good part is that they are now all out. You can read the first in the series and get them in order one after another. You read like you never read before.
A good representation

Derived From Web

, Jun 1, 2022

This CD is a good representation of the rapture and seems to hold true to what other experts say will happen in the rapture.
I likes it.

Derived From Web

, Jun 1, 2022

Good book, I think some of the parts in Heaven were hard to follow, but I have yet to find a book that can put words really well into what we see when we get there. I loved the events of the first book from other perspectives like Chris and Hattie, and my favorite part was the Fire Judgment, where he showed the testimonies of several real people throughout Church history. I was also excited to see a small blip with Lionel Washington, from the Teen Parallel series. I had hoped that the characters from this series would cross more than this one time. Overall, a great book in a good series!
The Rapture

Derived From Web

, Jun 1, 2022

I thought the whole series was worth reading. Very happy with the purchase, highly recommended.
Love

Derived From Web

, Jun 1, 2022

Couldn 't put it down Brings the word to life A must read for all Christians wanting to have an understanding of the rapture.
Left Behind and then some.

Derived From Web

, Jun 1, 2022

The series is interesting and follows the Bible closely enough to be a valid learning tool. I recommend reading the series if you have the time.
I got goosebumps

Derived From Web

, Jan 23, 2022

While I understand it is in the religious genre, some parts were a little preachy. Of course, that is also to be expected! The preachy parts made the story a little lag. The story was, however, so well written that I was way past my bedtime. The next morning I chugged coffee with a smile on my face. I won 't spoil it for you, but there was a part that came. We knew that it would happen! When it was prepared, you weren't yet! According to the Bible, which happens just like in the book. The rest of the Left Behind series, I read before, but I'm in a different place in my life and I can 't wait to see what strikes me differently this time!
Excellent Book

Derived From Web

, Jul 31, 2021

I have read all the books. Then I borrowed them out and never got them back, so I purchased them again. This is great for the whole series. The books may be fiction, but they are based on upcoming events.