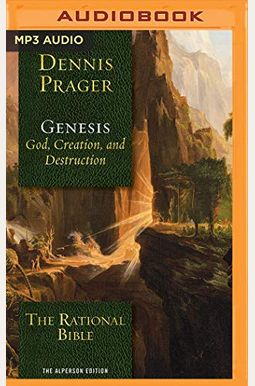  
The Rational Bible: Genesis
Book Overview
This Description may be from another edition of this product.
The continuation of Dennis Prager's bestselling five-part commentary, The Rational Bible.
Why do so many people think the Bible, the most influential book in world history, is outdated? Why do our friends and neighbors - and sometimes we ourselves - dismiss the Bible as irrelevant, irrational, immoral, or all of these things? This explanation of the Book of Genesis, the first book of the Bible, will demonstrate that the Bible is not only powerfully relevant to today's issues, but completely consistent with rational thought.
Frequently Asked Questions About The Rational Bible: Genesis
Books like The Rational Bible: Genesis
Book Reviews
(14)
Did you read The Rational Bible: Genesis? Please provide your feedback and rating to help other readers.
Love it!

Derived From Web

, Mar 4, 2021

I also enjoy learning Jewish scholars' interpretations of the Talmud, and I'm not alone.
Most important book

Derived From Web

, Jan 17, 2021

A Christian view of the world. I have been waiting for this book to come out, and I am so excited. Genesis has been exposed to the world's greatest beauty, the most important book of the Bible, he said. What a difference a year makes, said Blair. What a difference a year makes, said Blair. The Bible is truly, fully rational, he said.
Excellent book for expanding knowledge of Scripture

Derived From Web

, Jan 12, 2021

I've also enjoyed Dennis Prager's verse by verse, historical teaching. I learned more about the Torah and also about connections between old and new testament.
Amazing Book

Derived From Web

, Oct 8, 2020

I am a great fan of Dennis Prayer and I was not disappointed by his book. The book is being published by Christian publisher Freedom Press.
Fascinating book so far

Derived From Web

, Aug 25, 2020

I've read the book and I recommend it to anyone who reads it. Please keep in mind that I will update this review soon. The book is well presented and meets the reader's intellectual needs.
Great commentary

Derived From Web

, Apr 18, 2020

I found this book very thoughtful and enjoyed reading it, said Janet S. Mills, a professor at George Washington University. As a Christian I knew all the stories of Genesis, but I had not put such a deep thought into them. The book has a new perspective and a deeper understanding of the figures in it.
Dennis Prager never fails his readers

Derived From Web

, Jan 23, 2020

What a wonderful book, said Dr. Goin. I've shared it with many family members and we've all had a blast. I highly recommend this book to anyone who has a library.
Science above the Bible

Derived From Web

, Aug 19, 2019

Only a few people have read the entire book, but Dennis Prager has already made the biggest mistake possible. He has put science above the Christian religion. Dennis Prager would be well advised to read The Genesis Account by Jonathan Sarfati. I am going to bump my rating to three stars. If you like Genesis you will like Dennis thinking science is more reliable than the actual word of God. I'm going to trust God and believe what He said He did, he said. Six Days Dennis, it was six days.
Truth

Derived From Web

, Aug 6, 2019

His opinions, intellect, and integrity have influenced millions of lives through books, lectures, and broadcasts.
Highly recommend

Derived From Web

, Jul 4, 2019

Very insightful and educational, Mr. Praeger's notes and essays really help me to understand the entire book of Genesis as well as the stories that make up the book.