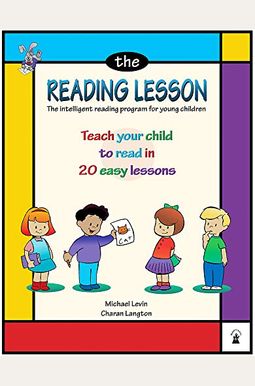 
 
The Reading Lesson: Teach Your Child To Read In 20 Easy Lessonsvolume 1
Frequently Asked Questions About The Reading Lesson: Teach Your Child To Read In 20 Easy Lessonsvolume 1
Books like The Reading Lesson: Teach Your Child To Read In 20 Easy Lessonsvolume 1
Book Reviews
(12)
Did you read The Reading Lesson: Teach Your Child To Read In 20 Easy Lessonsvolume 1? Please provide your feedback and rating to help other readers.
Great book, my child was not ready to try reading yet and even she was reading quickly. Easy to teach, Easy to learn!

Derived From Web

, Apr 20, 2022

This is actually a very large book, the idea behind it is well thought out and explained in the introduction, the lessons are easy to follow as parents and easy to follow as children. My daughter was not ready for it though, as she struggled with the recognition and so we plan to try it again in a few months later. For a child who is a little better at their letter sounds, this would be an easier lesson. I think it would teach your child to read rather quickly and I have every intention of trying again and I will update it. The lessons start slowly and are very repetitive and easy to build up your child's confidence. Calli was more than excited when she read her first word in the first week and it did give her a drive to continue with it.
A comparison

Derived From Web

, Sep 25, 2020

I was between this book and 100 Easy Lessons ''. After trying both, my five-year-old wants to stick with 100EL, after trying both. 1. With The Reading Lesson, you are expected to do a few pages at a time rather than one full lesson at a time. The downfall is that there is no predictable routine attached to these lessons. 2. I was intrigued by the simple layout of this book, because the 100EL is so congested in comparison, but my son felt like it was too simple. 3. The lesson is explained at the beginning of the chapter, and the rest of the chapter is practice. The majority of the chapter felt like random lists of words to practice reading. My son and I agreed that we would read a few pages out of a children's book. Overall, this book was not for us, but might work better for a younger kiddo.
Worth the money!

Derived From Web

, Jun 6, 2020

Started my son right before he tur ed 5. Started my son right before he starred 5. He is now a phenomenal reader after 14 lessons. So much so that I got emails from the principal explaining how impressed she was with his reading ability. This book is worth it!
Excellent book to teach the kid to read

Derived From Web

, May 4, 2020

How great is a book for working out. The purchase could not be happier with the purchase. Since we began with the reading lesson, my son's reading skyrocketed. Now we are in chapter 12 and he is doing so good. My resourse '' is very glad i found such a great resource. Creators, thank you. I highly recommend ''.
Very useful

Derived From Web

, Oct 28, 2019

My son has been very resistant to learning how to read. After reading all the positive reviews, I decided to give it a try. I can 't really explain how it is different from all the other ways we tried, but it really does work. He does not get overwhelmed and this has really helped him. I recommend it highly ''.
Good

Derived From Web

, Mar 22, 2019

I like this book because it has phonics and decoding lessons! You do the reading lessons and then the corresponding decoding phonics lessons to reinforce what you learned, combine this with a good sight words program and your child will soon be reading. My child learned to recognize letter sounds before he started this book ; this is important!
My daughter with learning delays can finally read thanks to this book

Derived From Web

, Nov 3, 2018

My daughter has special needs and we homeschool. I want to start by saying that we tried the Teach to read your child in 100 easy lessons. We tried for over a month and my daughter could not pass the first lesson. The pages were extremely busy and difficult to focus on. After venting with a friend, she showed me her copy of this book. I purchased it immediately on Amazon and immediately got it. The pages aren 't busy at all. My daughter can focus perfectly and understands the different sounds. She doesn 't get frustrated with herself like she did with this other book series. I copy the intro to the new sound pages and tape them to the wall for them to use. We sometimes have to read a lesson more than once for her to fully grasp the sounds, but I can now say that my daughter can only read Level 1 books after two months of this book. I recommend it highly! '' !
This book has done WONDERS for my busy little girl!

Derived From Web

, Oct 22, 2018

I homeschool my 7-year-old and take a different approach than most. I tried to start her on her alphabet for 2 years in a row. She could sing the song but could not identify the letters. At 5 and 6, she was just not ready for focused work and I couldn 't make a game of it, so I waited and worried that I might not be doing the right thing. I promised my husband that we would do focused work one way or another or I would have to put her in public school, which I desperately did not want to do. We started this book in September and her word recognition is growing by leaps and bounds! The best part is that the lessons take only 20 minutes to complete the lessons, so there isn 't much fighting to get her to sit and focus that long! We do other activities to round out our day, but this is by far the most productive. I can 't recommend this book enough! There is also a downloadable writing book that goes along with this book, which I highly recommend as well.
Our son, age 6, has a tough time ...

Derived From Web

, May 7, 2018

Our son, age 6, has a difficult time engaging and getting excited about reading and learning his words. So motivated to work in this book, he has done ten pages at a time. He is excited to be able to read after the book is taken a different approach to learning how to read. It is well worth the money if your child learns to read or has to feel successful in learning reading lessons.
We tried the traditional flash cards and things like that but he wasn't interested

Derived From Web

, Jul 2, 2017

I have a son of 5 years old. I sinned him last year for the young 5. Some of his friends who went to kindergarten were learning sight words and I did not want him to be too far behind. We tried the traditional flash cards and such, but he wasn 't interested. I started this book in the middle of his school year with his young 5. It is now summertime and he is over half done with the book and is easily at a 1st reading level! I take my time at the beginning of each chapter, as it introduces new sounds that he has to remember. It includes sight words as you go... By the end of the summer, we will have completed the book and he will be at a 2nd reading level before kindergarten. We do about 10 min a day... that is it. School is hard enough... He will struggle with many things, but reading won not be one of them because of this book!