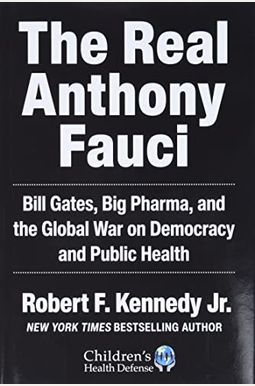 
 
The Real Anthony Fauci: Bill Gates, Big Pharma, And The Global War On Democracy And Public Health
Frequently Asked Questions About The Real Anthony Fauci: Bill Gates, Big Pharma, And The Global War On Democracy And Public Health
Book Reviews
(10)
Did you read The Real Anthony Fauci: Bill Gates, Big Pharma, And The Global War On Democracy And Public Health? Please provide your feedback and rating to help other readers.
Misinformation at its finest

Derived From Web

, Dec 12, 2021

There is a black mark on the Kennedy family name. His anti-vaccine conspiracy theories pose a serious threat to public health. The more people buy into this nonsense, the less people will get vaccinations. The book is a collection of misconstrued facts and lies. Kennedy doesn't have a background in medicine or public health and the only reason people care about what he says is because of his family name. Don't listen to an environmental lawyer for medical guidance, because you wouldn't hire a plumbing or electrical professional to do it.
Very Disappointed

Derived From Web

, Nov 26, 2021

Even though the book is 27 hours, I was excited to listen to it. The first 15 minutes were devoted to giving opinions on Trump's leadership style and not much else. Just generalizations, not even specific concerns. I've never tried to return an audiobook, but I'm trying today.
RIP dear Rush, Democrats will never change.

Derived From Web

, Nov 23, 2021

I will probably finish the book as it promises a lot of good information but I can't resist commenting on Kennedy's idea of how we got here. He wants us to know that if Republicans hadn't been trying to cut agency funding, the CDC,NIH, FDA, and so forth would never have had to spend money on big pharma.
A Heartbreaking Tale of Man's Inhumanity to Man

Derived From Web

, Nov 23, 2021

The author reveals so much about human character at this pivotal moment in history that it is hard to put down. He isn't describing everyday mortals like you and me, who strive to do good and become our best selves for each other, which creates purpose and meaning in our lives. Kennedy wrote about the people who lust for power and control would drive the best parts of western civilization into the graveyard of history. RFK Jr. is as brave as his family were when they were executed for their conviction.
Impeccably researched and informative, well written

Derived From Web

, Nov 21, 2021

Adding a partial screenshot of three pages will give you an idea of the depth of the material. You can go to all of the studies, articles, and interviews in each section because they have thorough tracking for the end notes. To dig deeper on your own. I was surprised to find that people who disagree with his message or not trashing the review section reflect honest opinions from people who are reading the book. I am only halfway through the story and I am tempted to mail a copy to everyone for the holidays. The presentation was very impressive and covered a lot of topics.
To Pattie

Derived From Web

, Nov 19, 2021

This isn't a book about politics. Mr. Kennedy's book is about science and the genocide being committed by the likes of Fauci, Gates, etc. This book isn't for you if you aren't ready to learn the truth about the crimes against humanity. Truth will set you free even if you accept that people you used to revere are involved in crimes.
You be called "Conspiracy theories for dummies"

Derived From Web

, Nov 17, 2021

If your family and friends like you, read this book. You will be laughed at and lose friends. You will be as knowledgeable as flat-earthers if you think you sound smart. You should buy the book. Your IQ is going to stay the same.
Rebuttal to C's review

Derived From Web

, Nov 16, 2021

The book was only released today and I only received my copy this morning. C was able to read over 400 pages in the morning and type up a lengthy review the same day. I am horrified by what I have read so far. The book will take over a day to complete, but I am anxious to finish it. The time and research that went into the publication of this book is something that I can appreciate. It had been pushed back a few times. Mr. Kennedy has done a lot for children's and the public's health, and he has done a lot in fighting the bigwigs who have shown disregard for the same.
They will ban you for telling the truth.

Derived From Web

, Nov 16, 2021

Mainstream media is trying to eliminate this information. The truth cannot be killed. It will leave.
A Must Read ! ! !

Derived From Web

, Jul 26, 2021

Main Stream Media only gives you biased facts when we shouldn't be lazy researchers. It is a must to learn all the facts about your health.