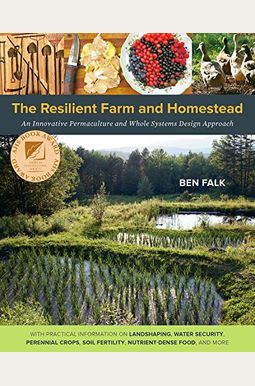 
 
The Resilient Farm and Homestead: An Innovative Permaculture and Whole Systems Design Approach
Book Overview
The Resilient Farm and Homestead is a manual for developing durable, beautiful, and highly functional human habitat systems fit to handle an age of rapid transition.
Ben Falk is a land designer and site developer whose permaculture-research farm has drawn national attention. The site is a terraced paradise on a hillside in Vermont that would otherwise be overlooked by conventional farmers as unworthy farmland. Falk's wide array of fruit trees, rice paddies (relatively unheard of in the Northeast), ducks, nuts, and earth-inspired buildings is a hopeful image for the future of regenerative agriculture and modern homesteading.
The book covers nearly every strategy Falk and his team have been testing at the Whole Systems Research Farm over the past decade, as well as experiments from other sites Falk has designed through his off-farm consulting business. The book includes detailed information on earthworks; gravity-fed water systems; species composition; the site-design process; site management; fuelwood hedge production and processing; human health and nutrient-dense production strategies; rapid topsoil formation and remineralization; agroforestry/silvopasture/grazing; ecosystem services, especially regarding flood mitigation; fertility management; human labor and social-systems aspects; tools/equipment/appropriate technology; and much more, complete Read More chevron_right
Frequently bought together
Frequently Asked Questions About The Resilient Farm and Homestead: An Innovative Permaculture and Whole Systems Design Approach
Books like The Resilient Farm and Homestead: An Innovative Permaculture and Whole Systems Design Approach
Book Reviews
(12)
Did you read The Resilient Farm and Homestead: An Innovative Permaculture and Whole Systems Design Approach? Please provide your feedback and rating to help other readers.
I only wish I had this place.

Derived From Web

, May 27, 2022

Here is so much information and presented in an easily readable form. Not only pointing out what to do, but also making mistakes in setting up their homestead. If you do a lot of reading of permaculture and gardening books, you know that there is a lot of duplication, so that is to be expected. Here there is enough different to make it useful to go back and read things. Like a lot of these types of books, these folks have had great fortune in several areas that most people never have, but they put it to good use and help the world.
Learned lots BUT....

Derived From Web

, May 27, 2022

I learned many ideas in this book and love ton. The book assumes that you have lots of money and want to do the work for you or at least the planning. This book will not teach you to plan your own permaculture. I also did not like the do this for Doomsday rhetoric throughout the book. Why can 't I do some permaculture and live an alternative lifestyle becuase i like it and its good for the world? Does it survive to some great thing at the end of civilization? Lastly... For someone who is so concerned about toxins, the author uses a lot of black plastic pipe to get things done...
I will be able to use a great deal of it (as I set up my place ...

Derived From Web

, May 27, 2022

This book is long on ideology, but still has a responsibly sized amount of information in a marginally cold-weather site. I am able to use a great deal of it!
Fantastic book really worth reading

Derived From Web

, May 27, 2022

My copy has a double print, thought I was blind, so I made a few others who have perfect vision see it and said it made them feel like they were drunk. They also see the double printing effect. It looks like the type striked twice a few thousands of an inch off.
A very general introduction to the topic by following this farm from establishment.

Derived From Web

, May 27, 2022

This is a holistic introduction to a form of sustainable integrated farming in the North East of America - cold weather region. It provides a basic overview of factors to consider in establishing a multi-species, multicropping farm using an integrated approach. While the book follows the path of this particular farm established and some lessons learned, it leaves questions unanswered. Within its pages there are some gems, such as details on trees and certain aspects of crops, etc. Overall, I was disappointed and feel that the book could have provided more... having said that it will still form part of my library.
... and research behind his writing to give me some good ideas for my own farm

Derived From Web

, May 27, 2022

I was hoping that the author would have more good examples and research behind his writing to give me some specific ideas for my own farm. It is more of a personal account of his opinions and activities on his farm.
This Book Changed My Life

Derived From Web

, Apr 11, 2021

He has a fairly unique perspective, which is entirely appropriate for the times we live in. Don 't hesitate to read it, it is a treasure.
Tons of Information/Insight

Derived From Web

, Nov 27, 2020

It is almost like a textbook, but with a little more personality. The book is loaded with a vast amount of information that I have never seen before. In this book you will not find cheesy DIY projects, but rather systems and development. The challenge to the reader is to make the author's ideas applicable to their specific set-up. In my opinion, this is what makes this book a staple on my bookshelf.
Missing 25 pages

Derived From Web

, Oct 18, 2020

I enjoyed reading the book. The 1 star is not for the book itself, but a lack of quality control. It is missing 25 pages... If you zoom into the pictures, you can see it is page 46 and not just a misprint, the actual content is missing. I tried to message the seller, but I don 't see an obvious contact link and not sure if they will send me an actual whole book, considering I have discarded it a while ago.
Too much politics,not enough agriculture

Derived From Web

, Jul 26, 2020

I enjoy reading agriculture books, especially those that actually get into the nuts and bolts of running a farm. Elliot Coleman, Jean-Martin Fortier, Joel Salatin, and Sepp Holzer have written wonderful, inspiring books on farming. However, this book is hard to read, delves into his leftist views and does not spend enough time on describing his experiences on a depleted piece of land in Vermont.