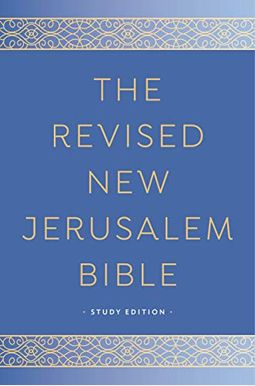  
The Revised New Jerusalem Bible: Study Edition
Product is currently Out of Stock.
You can add it to your wishlist and you will be notified once we receive a copy.
Book Overview
A beautiful, fully updated edition of the popular and beloved New Jerusalem Bible, which has sold over half a million copies.

The Revised New Jerusalem Bible presents anew the scholarship, character, and clarity of the 1966 Jerusalem Bible (the first modern English version) and the 1985 New Jerusalem Bible. It is a Bible that prioritizes:
- a bold, rich language as suitable for reading out loud as for studying in silence, so that the message might be fully proclaimed (2 Timothy 4:17)
- accurate translation of the original scriptures rather than the dynamic equivalence of some other modern versions
- assurance that the message of the Bible is directed to men and women equally, despite the inbuilt bias of the English language This comprehensive Study Edition is the world's first presentation of the full
Revised New Jerusalem Bible,
complete with study notes, cross-references, and book introductions. It has been prepared and edited for a modern readership by Dom Henry Wansbrough, OSB, who was general editor of the
New Jerusalem Bible.
Other features include: - The book of Psalms is based on the text of the 2010 translation of
The Revised Grail Psalms
.
- Ancient systems of measure and time have been replaced by modern, metric equivalents.
- A table of the notes provides explanations of
Read More chevron_right
Frequently Asked Questions About The Revised New Jerusalem Bible: Study Edition
Book Reviews
(7)
Did you read The Revised New Jerusalem Bible: Study Edition? Please provide your feedback and rating to help other readers.
Mine was flawed

Derived From Web

, Nov 23, 2020

First of all, I am a long-time fan of the Jerusalem Bible and own both the previous translations. Moreover, I am formally trained in biblical languages and scholarship and appreciate both the translation and the notes. I 'll have to download a Kindle edition to get around the print edition flaws.
A significant change since the earlier two versions.

Derived From Web

, Sep 15, 2020

I have always liked the translation of the Bible for its fluidity and its presence in the world of real life. I have read both the New Jerusalem Bible and the Jerusalem Bible and have both of these more than once. This carries on in the same vein, but with a significant difference. The Jerusalem Bibles were among the few translations that actually gave us the name Yahweh, rather than inserting the euphemism of the Lord in its place. I understand the respect for the name and have great respect for it myself, but the fact that this name is used more than any other in the Old Testament, for God says it is a name that He wants us to have and use so many times by this name. I was terribly disappointed that the translators had withdrawn from their earlier position in previous decades to take the name out of this version. That is what it has lost the star.
Big DISAPPOINTMENT, WASTE of Resources

Derived From Web

, Feb 23, 2020

While I commend the efforts of the people behind this new version, from a pastoral and even from an academic standpoint, it is a painful and shameful reduction or obliteration of the Doubleday 1990, instead of enriching it. I am SO tempted to return this purchase, but heck! '' Why not keep a biblical remembrance of this dishonorable claimed aggiornamento of historical scholarship? If I were you, I would stop this publication and enrich Doubleday 1990 with whatever you claim to be new scholarships or findings, including recent translations.
Accurate yet Poetic and Pleasant Translation

Derived From Web

, Jan 12, 2020

Great translation, extremely accurate, but better and more fluent, readable modern English than say the ESV or RSV. It was also wise to include the Grail Psalter, which was designed to be sung with original Hebrew rhythms and can be easily memorized. NABRE is also a great translation. I compare them side by side to use. NABRE uses more traditional language usage, while RNJB tends to have more modern English, perhaps more similar to actual usage.
Not as good as 1990 version

Derived From Web

, Dec 13, 2019

Yahweh dropped to the Lord, what a pitty. Lessnotes, Less references. This Bible is not an improvement, but steps back. How can a small Bible have so many references and notes? The name of the Messiah is Jesus, not Yahshuah. Just as well placed iouesus or such. I hope that people don 't want the truth. I was really excited to get this Bible ordered, but now so disappointed. I wanted a replacement for my dated version from 1990. I guess that I repurchase the old one.
Excellent Translation

Derived From Web

, Dec 7, 2019

I look forward to a lighter leather bound edition. I recommend it to those who study the Bible, as well as those who pray the Bible. My copy arrived in two small sections with wrinkled pages.
Something I have been waiting for.

Derived From Web

, Dec 3, 2019

Today I was privileged to receive the third edition of the Jerusalem Bible. The version 66 is spoken around the world, in English liturgies. The 1985 edition gained never quite widespread acceptance. I have had it only for an hour, but seems very comfortable.