Buy 3 Get 1 Free
Our Best Sale Yet! Add 4 Books Priced Under $5 To Your Cart     Learn more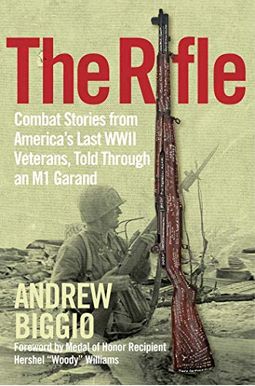 
 
The Rifle: Combat Stories From America's Last Wwii Veterans, Told Through An M1 Garand
Book Overview
It all started because of a rifle.
The Rifle
is an inspirational story and hero's journey of a 28-year-old U.S. Marine, Andrew Biggio, who returned home from combat in Afghanistan and Iraq, full of questions about the price of war. He found answers from those who survived the costliest war of all -- WI veterans. It began when Biggio bought a 1945 M1 Garand Rifle, the most common rifle used in WI, to honor his great uncle, a U.S. Army soldier who died on the hills of the Italian countryside. When Biggio showed the gun to his neighbor, WI veteran Corporal Joseph Drago, it unlocked memories Drago had kept unspoken for 50 years. On the spur of the moment, Biggio asked Drago to sign the rifle. Thus began this Marine's mission to find as many WI veterans as he could, get their signatures on the rifle, and document their stories. For two years, Biggio traveled across the country to interview America's last-living WI veterans. Each time he put the M1 Garand Rifle in their hands, their eyes lit up with memories triggered by holding the weapon that had been with them every step of the war. With each visit and every story told to Biggio, the veterans signed their names to the rifle. 96 signatures now cover that rifle, each a reminder of the price of war and the courage of our soldiers.
Frequently Asked Questions About The Rifle: Combat Stories From America's Last Wwii Veterans, Told Through An M1 Garand
Book Reviews
(18)
Did you read The Rifle: Combat Stories From America's Last Wwii Veterans, Told Through An M1 Garand? Please provide your feedback and rating to help other readers.
Great Book a must read

Derived From Web

, Feb 23, 2022

It was a great book, because I got to read the stories of our World War II veterans. I liked how Mr. Biggio conducted his interviews and asked the veterans questions leading up to their time of service. I will forever be grateful to these men who made the ultimate sacrifice and I will remember these great hero's even after they are all gone, he said.
Amazing stories from WWII told by our Greatest Generation to a young US Marine

Derived From Web

, Jan 4, 2022

A book, dedicated to telling the stories of some of our remaining WWII veterans and their harrowing experiences in war time. The writer, a young Marine, and Police Officer whose name and great uncle were killed at 19 years old in World War II has done an amazing and heartfelt service to these men and women by getting their stories out to the world before they're forever gone. This book is highly recommended for anyone who has a collection of ancient Egyptian manuscripts.
Buy this book!

Derived From Web

, Dec 29, 2021

History aside, I enjoy the military and political history of the world's great leaders. I have followed Andrew on social media and this book journey is well worth it! Thank you for sharing this work with the world, and especially with this generation that is being interviewed, he said.
Story was very moving

Derived From Web

, Dec 14, 2021

Very moving, but there were some grammatical and syntax errors that the Editors should have picked up on, Mr. Rule told the judge.
Humanizing and immortalizing the Greatest Generation.

Derived From Web

, Dec 8, 2021

It was always my tie to that time period, even into the second world war. This book is by far one of the most significant pieces of research, writing and immortalizing of the greatest men this country has and will ever know.
Our Favorite Book

Derived From Web

, Nov 16, 2021

My husband has served in the Marines since September 9, 2001. He has seen many things, but has never told us his story. This book has made me and our 4 children so much respect about my husband and all the other armed forces past and present. Homeschooled my children and our oldest is 11. We have read them all, about 5 times, since we bought the book in July. Andrew Carnegie, The Carnegie Institute's president, said: "Thank you, Andrew. Semp Fier.
Untold Stories of a Truly Amazing Generation.

Derived From Web

, Sep 29, 2021

I was glad to get a copy when I ordered, Mr. Dhaliwal said. I'm in the process of reading, but so far the care in telling these stories is spot on!! As an OEF veteran, I'm honored to learn of these stories and pass them on to my kids and grandkids. Amazing job!!!!!!!!! Thanks for the support! It's just that they call it quits."
Wonderful effort in gathering these tales.

Derived From Web

, Jul 6, 2021

The histories of a generation are now all but lost. Unique perspective from a recent Marine Vet and those who fought in World War II.
?????

Derived From Web

, Jul 3, 2021

If so, why are there so many signatures on the rifle in his photo?
A five star rating doesn't do this book justice

Derived From Web

, Jun 23, 2021

Only in the movie did the rating change, to five stars. And, if you're a booklover, you need to have this one in your library. a book that every veteran, struggling with re-joining civilian life, should read, Bin Laden said, and a book that those that didn't live to tell their stories. We are indebted to these heroes who made us what we are today, Mr. Kennedy said. Not only is the book filled with the incredible accounts of the war from many different men, it's also about the journey of the author, who was on a quest of his own, to find out what really happened to the man he was named after. Thanks, Biggio, for this absolute gift of a book.