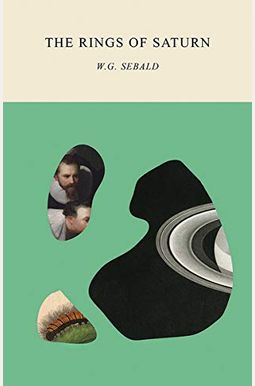  
Book Overview
This Description may be from another edition of this product.
A fictional account of a walking tour through England's East Anglia, Sebald's home for more than twenty years, The Rings of Saturn explores Britain's pastoral and imperial past. Its ten strange and beautiful chapters, with their curious archive of photographs, consider dreams and reality. As the narrator walks, a company of ghosts keeps him company - Thomas Browne, Swinburne, Chateaubriand, Joseph Conrad, Borges - conductors between the past and present. The narrator meets lonely eccentrics inhabiting tumble-down mansions, and hears of the furious coastal battles of two world wars. He tells of far-off China and the introduction of the silk industry to Norwich. He walks to the now forsaken harbor where Conrad first set foot on English soil and visits the site of the once-great city of Dunwich, now sunk in the sea, where schools of herring swim. As the narrator catalogs the transmigration of whole worlds, the reader is mesmerized by change and oblivion, survival and memories.
Frequently Asked Questions About The Rings Of Saturn
Books like The Rings Of Saturn
Book Reviews
(12)
Did you read The Rings Of Saturn? Please provide your feedback and rating to help other readers.
A resonance of ideas and and patterns

Derived From Web

, May 22, 2022

As much as I liked Sebald's Vertigo, this appears to be a much stronger book. The tapestry of violent remembrances he weaves in with the real history of places like the Congo and Imperial China. Together with the little snippets of the lives of Chateaubriand, Thomas Browne, Joseph Conrad, etc. All its own has a dark, luminous quality. This could easily have slipped out of hand and transformed into a clumpy mess, but the whole thing is ground by the specific geographic sensibility of coastal Suffolk and never loses a sense of itself. Sebald weaves a kind of enigmatic archeology, finding hidden resonances and synchronicities between different eras of European power and expansion. Not a lot happens per se, but what emerges is a remarkable portrait of a damaged, destructive history and the innumerable, haunting ways it reaches into the present. Everything he considers has its own pulse.
Power and Originality Unsurpassed

Derived From Web

, May 22, 2022

The Rings of Saturn It is hard to describe the extraordinary magic of this book, but once you have opened the pages of this volume, which would probably have won the Nobel Prize for Literature had he not succumbed to a car accident when he was only 57 years old, you will not leave his uncanny company willingly. Are you a type of person? Are you the kind that likes architectural and natural history and that thinks about books, people and history while musing about the pasts of the objects around you? If so, you have found the ultimate companion for your soul in Sebald. It is impossible to describe all the splendor of this book, but the final suite, which takes the history of the silk industry from the seventeenth century to the Third Reich, is simply amazing. You will never forget any of his descriptions, and his book will live long after you close its pages in your mind.
A book of digressions and odd tangents

Derived From Web

, May 22, 2022

It takes a unique mind to create a book like this, an extended walking tour along the eastern coast of England, which turns into a series of stories, digressions about Anglo-Irish art, Joseph Conrad and Roger Casement, the persistence of Belgium's dark colonial past, the Taiping rebellion, the decline of the Anglo-Irish aristocracy, the development of the silk industry, and many others. At first, these disparate stories seem random, but Sebald gradually reveals the connections between these multiple places and times. It becomes clear that Sebald is drawn to contemplate natural destruction, human decay and eccentric individuals. He is particularly observant and his dominant tone is melancholy. Nevertheless, he has the ability to create a mood and an atmosphere like few other writers.
Evocative, erudite, literary musings on a long-distance walk in East Anglia

Derived From Web

, May 22, 2022

Sebald was modern German and taught German literature at the University of East Anglia until his death in 2001. This literary stream of consciousness account of his walks around the Norfolk and Suffolk coasts of his beloved East Anglia takes the reader from the horrors of Conrad's colonial Africa and the nightmares of German history to the courts of the Empress of China and the writings of Chateaubriand, Thomas Browne and Swinburne, to the random interconnections of North Sea trade and migration. It is informative, fascinating, and quite clever. The translation from German is slightly odd in places, obviously not spoken by a native English speaker. It is sad that his early death at the age of 57 in a car accident robbed the great literature of a European writer. Not an easy book, but well worth reading.
A curious, and curiously enjoyable, book

Derived From Web

, May 22, 2022

One needs to read the table of contents only to know that while classified as fiction, this is no ordinary novel. For example, chapter 1 is identified as In Hospital Obituary Odyssey of Thomas Browne's skull-anatomy lecture - Levitation - Quincunx - Fabled Creatures - Urn - Burial Chapter one is relatively cohesive in topic, compared to what follows : What is remarkable in the construction of this book is that a walking tour of the East Coast of England serves as a launch pad for such a wide range of topics. As such, the book succeeds in exploring the interconnectedness of people and place and the commonality of all endeavors as the rise and fall by effort or by seredipity. It does so through current pieces of history connected to the eclectic foot path showing rather than preaching. An interesting book to read, reread, then wonder where it might fit into its story too.
Extraordinary

Derived From Web

, May 22, 2022

A wildly discursive, voyaging travelogue that allows Sebald's calm genius to radiate. Like a somnambulist, Sebald's narration brings us to places and subjects of dim contours and oblique points of contact. We are brought to an examination of Rembrandt's skull, Thomas Browne's masterful The Anatomy Lesson of Dr Nicolaes Tulp '' to descriptions of windmills on the coast of England. At the heart of this great novel is Sebalds persistent attempt to deal with the question of Europe-his exultant presentations of colonialism and lost memories as a literary survey of a vast archaeological space. Sebald's talents will be lost, and he will be remembered best for this text and Austerlitz '', both are unique works of a lifetime of intellectual and aesthetic labor.
The scars man has inflicted on the earth

Derived From Web

, May 22, 2022

At a higher level, this is only an account of a walk in the English countryside. The SEbald-persona who tells us about this walk sees a lot more than just ordinary tourists who would never end up in that flat part of England anyway. He reads the traces of history, which are often scars that man has inflicted on the Earth. As Europe had a decisive influence in the last centuries, Sebalds' thoughts took us around the world, to China, to the Congo and in post-revolutionary France. This is a European Book of the Soul and for a melancholic like myself it is somewhat depressing to be reminded of what our ancestors have done to the world. Sebald magnificently interweaves what he sees with what it reminds him of, with silk being a motif that comes in every chapter. His prose is impeccable. A glimmer of light.
Like discovering a bew world

Derived From Web

, Nov 28, 2021

This book is monumental in its erudition and hallucinatory in its interweaving of so many concepts places and people, I literally felt dizzy in a good way! When reading it becauee, my mind spun trying to understand the narrative boy! I wish i spoke German so that i could see it in the original, but i think the translator must have done an incredible job.
interesting and unexpected

Derived From Web

, Nov 14, 2020

This is not so much of a trek around England, but of a peculiar internal landscape of melancholy, erudite, and melancholy. I thought the last chapter in particular was masterful, so if you give it a shot, stick with it until the last page.
Sebald forever...

Derived From Web

, Jul 25, 2019

My attachment to him is always mysterious to me... endless train rides, meals of small import... endless allusions to strange histories... and I read him forever, even though he is no longer with us and there will be no new books. He is a fascination... and I can 't even read him in his native German... go figure, read!