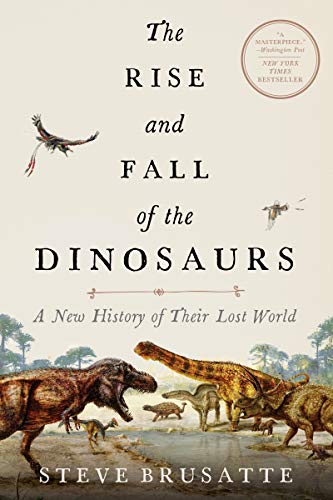 
 
The Rise and Fall of the Dinosaurs: A New History of Their Lost World
Frequently bought together
Frequently Asked Questions About The Rise and Fall of the Dinosaurs: A New History of Their Lost World
Book Reviews
(13)
Did you read The Rise and Fall of the Dinosaurs: A New History of Their Lost World? Please provide your feedback and rating to help other readers.
Big History

Derived From Web

, Dec 28, 2020

The book taught me a great deal about the rapidly evolving methods of paleontology, its key players with their human quirks in all their delightful variety, and how so much current scientific discovery owes to multidisciplinary work. Indeed, the book teaches much about earth system science without using the term, since key turns in the history come from interactions of surface ecology with death from below volcanoes via and death from above via asteroid or comet. The author proves that being a great specialist, a great generalist, and a superb writer and storyteller can go hand-in-hand, even when that author wins his spurs using quantitative approaches.
This is an EXCELLENT book!

Derived From Web

, Aug 27, 2020

Whether you like more, earth history or a history of life on earth with emphasis on dinos, this is the book for you! It's written by a relatively young man and boy oh boy is he interesting, Simon said. This is a dry book. I've got it in both a hard copy and on Audible. Whether you prefer to read a book or not, you won't be disappointed.
What a great writer

Derived From Web

, Oct 26, 2019

As a physician-scientist, I understand how difficult it is to come up with scientific arguments. Even with the assistance of a supercomputer, translating science into the vernacular of the average citizen is exponentially more difficult. I think Brusatte has really mastered it. This is a simple to read, fun, engaging yet very meaty science book.
Great read

Derived From Web

, Sep 2, 2019

I'm an avid reader, and I enjoy challenging myself. I didn't know a thing about dinosaurs and gobbled this book in 2 days, Mr. Dhaliwal said. I recommend this book to anyone who reads it. Informative, witty and irreverent, it's great to read, said Robert Ingrassia, assistant professor of mechanical engineering at Carnegie Hall. I learned a lot, and I'm going to miss it.
Enjoyable read!

Derived From Web

, Jun 18, 2019

The book explores the author's journey and love of dinosaurs and covers a lot of different topics along the way. My favorite part of the book was the T-Rex chapter, as it had some new details, such as how the dinosaur was born. It is accessible for anyone and I felt like I was reading a Neil Shubin book in the style and wit that was included, said Shubin. It is amazing to see how this field and our understanding has grown in 30 years, and this book does a great job of highlighting our current conclusions about dinosaurs and their connections with other species, Raymond said.
Paleontology for everyone

Derived From Web

, Feb 24, 2019

This book provides just the right level of information to allow a novice to have a semi-intelligent discussion on the subject, he said. It is well written and easy to read, without the need to run a dictionary every other sentence.
Well worth the money

Derived From Web

, Jan 12, 2019

It's great to be back home, said Blair. A great read, good illustrations, too. And written in a style that isn't bookish, or too precious. Really enjoying it.
Superb, very current, and very readable book by an experienced paleontologist

Derived From Web

, Dec 18, 2018

I was enthralled by both the coverage and the wonderful writing style of this tragic event in American history. It's a hard book to put down. I bought both the kindle and paperback editions, accidentally, but I am not sorry. I am delighted to have found such a treasure, said Tunick.
This is a very informative history of dinosaurs and the world they lived in, and their disappearance

Derived From Web

, Aug 4, 2018

Note the subheading of this terrible parable in the "Paleobiology" series, "Evolution, Paleontology, or Dinosaurs." In a generous gesture of uncharacteristic compassion, Rowling added a glossary of terms that would have helped students better understand the book. There are parts of the book that seem almost duplicates of other chapters, which can get tiresome. Pauley also writes a good book.
A DINO-UPDATE DEFINITELY WORTH THE READ

Derived From Web

, Jun 15, 2018

This is a very well written book intended for an audience of diverse background, McBride said. Dr. Brusatte clearly introduces the breadth and temporal extent of new dinosaur fossil finds and explains contemporary conceptual evolutionary perspectives so that the general reader has a high resolution of this most publicly appealing field of science, he writes. "No wonder Dr. Brusatte's book is so well received."