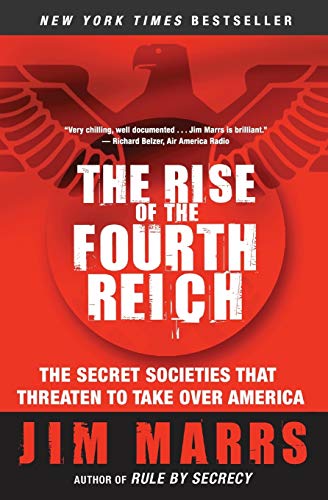 
 
The Rise of the Fourth Reich: The Secret Societies That Threaten to Take Over America
Book Overview
This Description may be from another edition of this product.
Throw out everything you think you know about history. Close the approved textbooks, turn off the corporate mass media, and whatever you do, don't believe anything you hear from the government--The Rise of the Fourth Reich reveals the truth about American power. In this explosive new book, the legendary Jim Marrs, author of the underground bestseller Rule by Secrecy, reveals the frighteningly real possibility that today the United States is becoming the Fourth Reich, the continuation of an ideology thought to have been vanquished more than a half century ago.
This concept may seem absurd to those who cannot see past the rose-colored spin, hype, and disinformation poured out daily by the media conglomerates--most of which are owned by the very same families and corporations who supported the Nazis before World War I. But as Marrs precisely explains, National Socialism never died, but rather its hideous philosophy is alive and active in modern America. Unfortunately, most people cannot understand the shadowy links between fascism and corporate power, the military, and our elected leaders.
While the United States helped defeat the Germans in World War I, we failed to defeat the Nazis. At the end of the war, ranking Nazis, along with their young and fanatical prot g s, Read More chevron_right
Frequently bought together
Frequently Asked Questions About The Rise of the Fourth Reich: The Secret Societies That Threaten to Take Over America
Book Reviews
(12)
Did you read The Rise of the Fourth Reich: The Secret Societies That Threaten to Take Over America? Please provide your feedback and rating to help other readers.
Jim Marrs does it again

Derived From Web

, May 5, 2022

Jim Marrs is an old school writerreporter. He digs into his subject matter, not just with a small spade. He presents a very compelling scenario that could or could not be true. It is up to you to decide, but one could certainly see how it could be true. The guy uses an earth mover.
Jim Marrs Know's his crap to bad he's getting old like all of us

Derived From Web

, May 5, 2022

Jim Marrs knows his shit to bad, I have almost all his books, and I watched every one of his shows.
The item arrived as described by the seller and it arrived in adequate time.

Derived From Web

, Mar 11, 2022

I enjoy this product because I have another author's book. Since I'd forgotten I'dordered it from this service, I think it took something like four to six months to get it. ItSeems a fairly accurate study of the present conditions of the US government. In a paraphrase, it is important to know who are controlling the secret societies.
very relevant info

Derived From Web

, Jan 2, 2022

If you want to know who is running the world, you have to read this book. The guy's book is well-researched and frightfully true, and he and his friends own 80% of everything with $20 trillion in holdings. Go home and check yourselves, because you think we're talking to someone else.
Essential reading after so much indoctrination.

Derived From Web

, Jan 9, 2021

I completed the book before Christmas in 2020. The contents of this book reinforced what other books contend and it was the opposite of what I had thought. The Pollyanna view that we are conditioned to in school and the media is not criminal, but how could it be?
Good Primer or Review

Derived From Web

, Oct 3, 2020

Other authors can be summarized with Marrs' books. The initial part of this book is pretty fascinating, if anyone has never heard of pre- and post- WW II history. There will be a good review for anyone who's already read a lot of original literature. Joseph P. Farrell was quoted a lot by Marrs. There are lots of theories about the world in the second half of this book. There are no solutions left to assist the general population. You can find a number of free books at the Gutenberg history shelf.
Think about everything that is going on in America Today ...

Derived From Web

, Jul 13, 2018

It would be helpful not to think of America Today as anything other than a random, unreliable place. Jim Marrs just told a story about how we got here. . Yepworthy! is what she said. Hitler is still alive and well.
More Truth and Facts than Assumptions and Theories = Scary

Derived From Web

, Jan 18, 2018

Affirmative: The book will show how America stole from other nations and used them to create, and become, powerful. If you were to look at what happened 70 years before, you'll see it is still going on today. The Nazis have been around and have found a way to blend in with the rich global elite and secret societies. It was amazing how well everyone loved every page.
... off however when I purchased the CD I was amazed at the information contained in it

Derived From Web

, Oct 20, 2017

When I first heard of the book and CD, I brushed it off, but I was amazed at the information contained in it. The information made me think that the history of Hitler and the Nazis World War 2 was different from what I was taught in school.
Excellent research by the always thorough Jim Marrs

Derived From Web

, Oct 6, 2017

Jim Marrs is always thorough in his research. His books stand head and shoulders above the rest. Mr. Marrs, please rest in peace.