Buy 3 Get 1 Free
Our Best Sale Yet! Add 4 Books Priced Under $5 To Your Cart     Learn more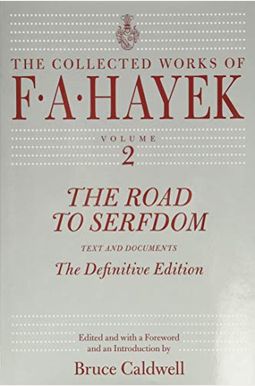 
 
The Road To Serfdom, 2: Text And Documents--The Definitive Edition
Product is currently Out of Stock.
You can add it to your wishlist and you will be notified once we receive a copy.
Frequently Asked Questions About The Road To Serfdom, 2: Text And Documents--The Definitive Edition
Books like The Road To Serfdom, 2: Text And Documents--The Definitive Edition
Book Reviews
(12)
Did you read The Road To Serfdom, 2: Text And Documents--The Definitive Edition? Please provide your feedback and rating to help other readers.
Eye opening, hard hitting and undeniably a game changer.

Derived From Web

, Apr 20, 2022

I was one of the first people to read a book that was even remotely related to economics. It's just that I was never told how to do math, and that economists were actually wizards. This book really played on my interest in philosophy and history, and helped tie together about a hundred or so concepts that I had floating around in the old noggin, he said. It did an equally efficient job at obliterating my preconceived ideas about the Austrian school of thought and the free markets. I'm not going to lie, I used to think that central planning could create a perfect utopia, he said. This book definitely wasn't the nail in the coffin for me, but it was the first book that had me looking at the central planning of economies in a whole new light. I can't believe that this book isn't more popular than it is!
Written like it was today

Derived From Web

, Apr 20, 2022

I'm astounded that Hayek was dealing with issues and causes back in the 30s and 40s that read like they were out of today's headlines, said Blair. The left's mindset never changes, Reagan said. The leftists are morally corrupt and hypocritical—it's all about money and governmental control by any means necessary to achieve their goals,' said Blair. The Beatles' fans are not the only people who despise this book.
Excellant reference

Derived From Web

, Apr 20, 2022

This book is a true reference to the utopian statist. It was a difficult read, at times even attempting to direct the reader to research. The book is structured around six sections: footnotes and appendices, introduction to politics and economics, and a glossary of terms. I highly recommend this book to anyone.
Must read, to further understand unique freedoms of a free society

Derived From Web

, Jun 27, 2021

Most people in a free society are familiar with F.A.'s work. It's just a matter of time, he said, "if we want to keep on fighting." While his thoughts are widely accepted, there are also those who argue that individual freedoms and responsibilities should be kept in check by the tightly disciplined and enforced central government. This is well presented through the easy study of history, as are the known and obvious results of turning lives over to state control, he said. The book deals with both the personal freedom versus the yielding of such citizenry toward a tightly governed society. It is a classic work of fiction that is relevant today as it was originally written in 1944. Whether the reader is from the left or right, the book is recommended.
Important book for today

Derived From Web

, Feb 25, 2021

This is the second time I have read this book and my admiration for Dr. Hayek has only increased. The book was published in late August, just a few weeks after the end of World War II. He is describing what we are seeing now, he said. I was raised in a Communist country where the government controlled virtually everything. Whether they identify themselves as Communists, Socialists, Nazis, Fascists, or Progressives, there is a substantial number of uneducated people who seek to return to the old Soviet or post-Soviet society or the past by propping up all-powerful centralized governments. He added that the French would have "every reason to believe" they would not be able to put the genie back in the bottle. If you want to understand the world of ancient Rome, you must read this book.
Poor print font/size

Derived From Web

, Feb 16, 2021

This book does not seem to have changed that much, Robin said. The layout is different and the typeface is not reader-friendly, in fact its very odd and over half the book is just footnotes and citations. i'm an avid reader, but very disappointed.
We are ON THAT ROAD

Derived From Web

, Dec 1, 2020

Collectives raise money by selling shares of warlords or oligarchs. Those warlords manage their collectives, their groups in such a manner that the written rule of law is subverted and the rule of law given over to oligarchswarlords, he said. At that point, the minions who support those oligarchs - are serfs, having abdicated their individual, inalienable rights to the group, the mob, he said. Democracy is the most direct route to communism, Mr. Rule told the judge. The Bolshevik Revolution's founder had been quoted as saying that the mobs being used to raise oligarchs and undermine the rule of law were akin to "throwing dynamite at the skulls of the dead." Leaving aside the safety concerns, we are on that road, Mr. Rule told the judge. What you need to understand about this book is that Hayek was a master of disguise.
As Relevant As Ever

Derived From Web

, Mar 7, 2019

With socialism gaining popularity again, it's important for liberals, conservatives, and everyone else to understand how even well-intentioned collectivist policies lead to a less free society, and open the door to totalitarianism.
What more to say...It's a great work of economic and political thought...

Derived From Web

, Jun 11, 2018

I would recommend reading both books to better understand Hayek, but I would start with The Road to Serfdom.
How Collectivism and Planned Economies Inevitably Lead to Totalitarianism

Derived From Web

, Mar 2, 2018

In The Age of Revolution, Michael Schweer argues that socialist economies subvert the rights of the individual in favor of the state, which can only result in the loss of individual liberty and totalitarian rule. This is not an economic tome, although Hayek is a prominent figure of the Austrian wing of economics, but rather a political and social exploration. Hayek argues that the foundation of Nazism was socialism and a completely planned economy based on duty. It was a direct enemy of everything liberalism by 18th century and 19th century adherents based on the rights of the individual.