Buy 3 Get 1 Free
Our Best Sale Yet! Add 4 Books Priced Under $5 To Your Cart     Learn more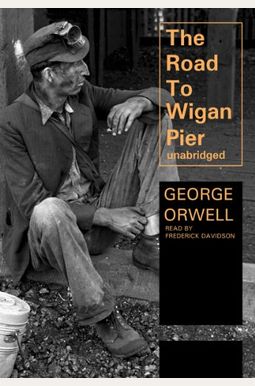 
 
Product is currently Out of Stock.
You can add it to your wishlist and you will be notified once we receive a copy.
Book Overview
This Description may be from another edition of this product.
When Orwell went to the north of England in the thirties to find out how industrial workers lived, he not only observed but shared in their experience. He stayed in cramped, dreary lodgings and subsisted on the scant, cheerless diet of the poor. He went down into the coal mines and walked crouching, as the miners did, through a one- to three-mile passage too low to stand up in. He watched the back-breaking, dangerous labor of men whose net pay then averaged $575 a year. And he knew the unemployed, those who had been out of work for so long they had sunk beyond despair into an inhuman apathy. In his searing yet beautiful account of life on the bottom rung, Orwell asks himself why socialism--which alone, he felt, could conserve human values from the ravages of industrialism--had so little appeal. His answer was a harsh critique of the socialism and socialists of his time.
Frequently Asked Questions About The Road To Wigan Pier
Book Reviews
(9)
Did you read The Road To Wigan Pier? Please provide your feedback and rating to help other readers.
Why are there so many typos?

Derived From Web

, May 9, 2022

It's an excellent book, but I wonder why nobody checked it for the many, many typos. It looked like it was just scanned in and never checked.
Orwell's Road to Wigan Pier

Derived From Web

, May 9, 2022

A very moving account of a man who died too young to influence journalists other than Christopher Hitchens. I miss them both.
What a waste of time to read this book.......don't bother.

Derived From Web

, Jan 4, 2022

I did not like the book and the more I read it the more anger swelled inside me. If Socialism is so great why are people from Socialist countries trying to get into the U.S.? Thomas Jefferson said, "All are entitled to the pursuit of happiness." However, the come out of that pursuit remains each individual responsibility, We have enough socialism projects in the US. Thousands of people apply to these programs each year to go to college. We have low income housing to help people and families act to help disable people. If your child is having financial problems, you should consider helping them out of the house. But the Government can't do everything for people. We have food stamps and food markets where people can get free food, no questions asked. This book was a waste of my time to read.
An Insight To Industrialized Life

Derived From Web

, Sep 12, 2020

Another great autobiography story from a legendary writer. Orwell goes to live in the mining districts of Northern England that were all over during his time. This book shows that the employment of all the figures that Orwell encounters, that doesn't mean they were all living healthily. The people that Orwell meets are virtually homeless. The environments they sleep in are incredibly dirty with poor hygiene and long hours of being on your feet just to survive. Orwell eventually goes in the advocation of Socialism towards the last half of the book and as boring as that may sound, I can tell you that the way he writes keeps you intrigued on what he has to say about it. There is no doubt that a good majority of the problems Orwell complains about are slightly dated but there are still some aspects of the world that can be applied to the modern day's world. If you're a fan of Orwell, you probably already know that this book is for you.
Read it.

Derived From Web

, Dec 16, 2018

The first half of the book contains some great descriptions of what it was like to work in a coal mine in the early 1900s. Now it's worth reading just for that, but that's mostly in the second and third chapters. He says they used to work naked. I thought that was awesome. But the whole second half of the book is basically an essay on the workers parties of his day. He says they appeared to outsiders as if they were from another planet. The ordinary man may not flinch from a dictatorship of the proletariat, if you offer it tactfully. He has a dictatorship of the prigs, and he is ready to fight. Every revolutionary opinion draws part of its strength from a secret conviction that nothing can be changed, it said.
Kindle version very defective

Derived From Web

, Nov 8, 2018

Since Orwell never copyrighted his works, this book is free on the internet. The Kindle edition is a mess, loaded with defects. The worst part is that it doesn't sych across devices. No pick up where you left off in another device, highlighting does not sync, no sync farthest page read appears as an option on the Kindle Fire or my Oasis but does on my iPhone. It should be removed from the Amazon store. My time is too valuable to have to call support and go over all this and demand a refund, Mr. Dhaliwal said. It should also review its products for obvious defects before putting them in the marketplace.
Still Relevant

Derived From Web

, Jun 3, 2018

The book, describing the conditions of the lower classes in the North of England in 1937, is a sensitive contribution to a voluminous tradition. The second book, which details the class prejudices impeding socialism, is truly original and quite relevant to today's America. His pretensions linger despite a three-pound-a-week income and occasional hunger. He captures the animus of a larger group of teachers, clerks and civil servants who have petty proletarian incomes but cling to a Tory identity. His conclusion that social identity must be subordinated to common economic interests anticipates the most bitter debates between progressives today.
Essential for all fans of the great Orwell

Derived From Web

, May 25, 2018

Most folks only know the great through Animal Farm and 1984 but his earlier material is essential reading for insight to his socialist beliefs. His colorful, honest style of reportage whilst lodging, eating, working and living amongst the coal miners in England's north country provides a harrowing account of workers' struggles and tragedies and a scathing rebuke of capitalist greed and apathy toward it's labor force. You could almost taste the coal dust and breathe the fetid air with his descriptive detail.
A bit boring at times

Derived From Web

, Dec 14, 2017

It's interesting but jst dragged on at times. I had bought his book on living in Paris at the same time and I kept putting this down to read the Paris book.