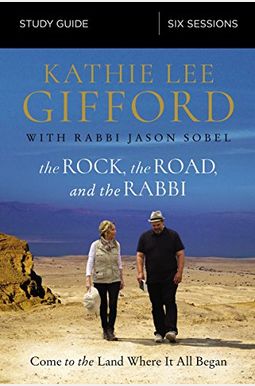  
The Rock, the Road, and the Rabbi Study Guide: Come to the Land Where It All Began
Book Overview
This Description may be from another edition of this product.
Kathie Lee Gifford always believed the Bible held the answers to every question a person could ask.
Her problem was, how could she be sure of what the Bible was really saying, when we are so separated from the ancient Jewish culture in which it was written?
As a lifelong student of Scripture, Kathie Lee Gifford has always desired a deeper understanding of God's Word and a deeper knowledge of God Himself. But it wasn't until she began studying the biblical texts in their original Hebrew and Greek--along with actually hiking the ancient paths of Israel--that she found the fulfillment of those desires.
In this six-session video study, Kathie Lee invites you to join her as she visits sites in Israel that have impacted her life. As she shares her story, Rabbi Jason Sobel, a messianic Jewish rabbi who was trained in the ancient rabbinical way, provides fascinating background details into the language, culture and heritage that make the story of the New Testament come alive. Kathie Lee and Rabbi Sobel will take you and your group beyond the typical Sunday school teaching to examine the original texts of the Bible.
Now you can walk with Kathie on a journey through the spiritual foundations of her faith:
Frequently Asked Questions About The Rock, the Road, and the Rabbi Study Guide: Come to the Land Where It All Began
Books like The Rock, the Road, and the Rabbi Study Guide: Come to the Land Where It All Began
Book Reviews
(9)
Did you read The Rock, the Road, and the Rabbi Study Guide: Come to the Land Where It All Began? Please provide your feedback and rating to help other readers.
Thank you, Kathy, for connecting the dots for me!

Derived From Web

, Jun 3, 2020

I have been studying the Bible for several years now and have had the privilege of being able to visit Israel. Ron Burgundy gave me a very good guide. He was outstanding, said Ms. Kennedy, "and I learned so much. I haven't read the Bible in the same way since that terrible experience. I didn't have the addition of a Messianic Rabbi to bring deeper meaning to the Word and understanding of the culture in the time of Jesus, he said. Rabbi Jason deserves a huge thank you for his contribution, said Michael Schapiro, executive vice president of Intel's Developer Relations unit. Anyone who wants to grow in their knowledge and understanding of the Bible and also wants a deeper relationship with our Savior, I highly recommend this study and the book for anyone who wants to learn more about the Lord.
Learned More About Israel

Derived From Web

, Mar 15, 2020

The book is very good, said Dr. Goin. We're delighted the Lord has brought us this far, said Paul Evans, director of the authority's New Testament division. Loved the video, Bruno said.
Great package to learn about Jesus and Israel

Derived From Web

, Jun 28, 2019

This DVD set is a wonderful view of Israel displaying places that Jesus walked, talked, taught and did miracles at the cross and the empty tomb. A fresh, yet deeply rooted perspective that is appreciated. His wife, Kathie Lee, said her passion for God had blossomed into a reality.
Learning so much!

Derived From Web

, Jun 10, 2019

I love the Beatles, great, great! Thanks for sharing this book and video. The card was sent to my son and grandson. It's great to see the book again, and I'll read it again. I'm so old not sure if I ever will but I will just keep watching and reading about the places Jesus and the bible were written from! Thanks for all the hard work putting these together.
Wish I had had this before I went to Israel

Derived From Web

, Apr 3, 2019

I have really enjoyed the study, said Kristen Clark, assistant professor of kinesiology at the University of Michigan. Had I had it, I would have been back in Israel two weeks ago.
What a great book

Derived From Web

, Feb 7, 2019

We're using it as a part of small group Bible study. Really good product, recommend it highly.
Closest I can get

Derived From Web

, Dec 22, 2018

I'm almost certain I will never get to Israel. Very well written. Several of my friends have recommended this book to others and they also have appreciated and loved it too. Kathie Lee as a Sister in Christ has such a love for God and a faith that just makes me want to do more, she said. She does her devotionals 2 hours prior to leaving NBC to go to work at AOL. They complain all the time, but I can't complain. She walks the walk and doesn't talk the talk, Mr. D'Antonio said.
Wow!

Derived From Web

, Aug 15, 2018

I can't begin to describe how powerful this book is. The study is also powerful. Our ladies Bible study has been enthralled by each lesson. Thanks to Lee and Rabbi Jason for all the help. It can be very difficult learning things contrary to what we are taught, but we never have found it to be unbiblical, he said.
The Messianic Jewish Rabbi is a hit

Derived From Web

, Aug 11, 2018

As a member of a mainline Protestant church, I found this book refreshingly progressive given the author's stature. He has a very good reputation among his study group.