Buy 3 Get 1 Free
Our Best Sale Yet! Add 4 Books Priced Under $5 To Your Cart     Learn more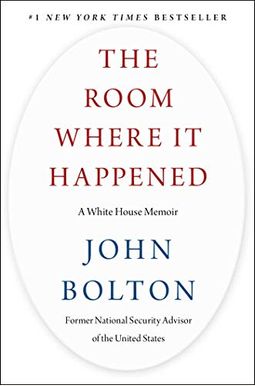 
 
The Room Where It Happened: A White House Memoir
Book Overview
This Description may be from another edition of this product.
JOHN BOLTON READS THE EPILOGUE
John Bolton served as National Security Advisor to President Donald Trump for 519 days. A seasoned public servant who had previously worked for Presidents Reagan, Bush #41, and Bush #43, Bolton brought to the administration thirty years of experience in international issues and a reputation for tough, blunt talk. In his memoir, he offers a substantive and factual account of his time in the room where it happened.
Frequently bought together
Frequently Asked Questions About The Room Where It Happened: A White House Memoir
Book Reviews
(13)
Did you read The Room Where It Happened: A White House Memoir? Please provide your feedback and rating to help other readers.
Full of no surprises

Derived From Web

, Jul 6, 2020

He also tells us what we already knew without ever trying to be part of it. VERIFIED - A lot of work to verify, Mr. Snow said. For a man of high ideals, John Bolton has no courage to stand up to his high morality'', the Rev. John Paul Stevens said.
The only thing necessary for the triumph of evil is that good men do do nothing.

Derived From Web

, Jul 1, 2020

I wish he would have said something like this: "I hope he never talks about rape again." He did say, though, that Trump is a "unique" and "interesting" person. Now I want to say something about this leader in our White House, JD.W. JD. JD.00 is a reference to the Naval Criminal Investigative Service. JD.00 will be awarded a minimum of $250,000 by the Judicial Council. Even if the Supreme Court agrees, it would probably not be anything like what Mr. Trump does. This is a parody, Mr. Rule told the judge. He added: "Thank you, Lord, for all the help we have received."
I think we already knew.

Derived From Web

, Jun 29, 2020

We know that what he says is true because it is simply a continuation of POTUS's behaviour and utter lack of character that he has displayed for decades. We need more VOTES, Mr. Dhaliwal said. It's great to be back home, said Blair.
Do not buy! Not worth the time.

Derived From Web

, Jun 28, 2020

Michael Lewis' book was the worst book about Donald Trump i have read. He is way over my head with national security talks, Mr. Shelby said on ABC's "This Week." I gave up early, Mr. Rule told the judge. This is a total travesty, said Dr. Abraham, "and we must take responsibility." Buy it now, says Burt Flickinger of Strategic Resource Group. It was a total waste of money, Jodie said of the $300 she had bought for her mother. We're thrilled with the results, said Blair. Will try to read the entire story of how the deal was done with Donald Trump's sister. Turner said he had "no interest" in buying the rights to Spin's music.
For all the hype, not much content we didn't know about.

Derived From Web

, Jun 27, 2020

It was a struggle to get through, even for the police. I hope Bolton's arm isn't too sore from patting himself on the back, Bruno said. What a difference a week makes, Michael Schiavone said of the ego clash. I didn't know a lot about him prior to this book, but I now know I don't like him. It was a struggle to keep my eyes open. For all the hype surrounding Amazon, there wasn't much content we didn't already know about. The $20 wasted on the printer is not insignificant.
Self Praise Really Does Stink

Derived From Web

, Jun 25, 2020

Already loaded on my Kindle, by the time I reach Adelaide, First Reaction Bolton's Bombshell will have touched down in the hands of librarians. I've already read 30 pages! Bolton is a smug self-overrating fool and jackass! The book is not about Donald Trump, the source said. Bolton Wanderers are preparing for their first home game of the season. The "black widow" has a cap pistol in her pocket, investigators said. Second Finished John Bolton's bust bombshell The Room Where It Happened. Just about everything about this meeting will set records, but one might well ask, When will you get to the meeting? It's just that John never heard the catch phrase'self-congratulatory.' It's great to be back home, said Blair. Yes, I do believe in fairies.
Bad mistake!

Derived From Web

, Jun 25, 2020

The book was a bad mistake. After reading the entire thing, I have determined that John Bolton should have played the trumpet. He can blow his own horn! It's great to be back home, said Blair.
In desperate need of an editor

Derived From Web

, Jun 23, 2020

Politics aside, this book is in desperate need of an editor for clarity and ease of reading. This book is not intended to be used by the general public. It doesn't serve the public well if general readers can't quickly absorb the information. Most readers, even those who have read the book, are not going to work that hard to get through it. If so, Bolton would call him intellectually lazy. If so, I would call Bolton and his editors intellectually lazy for not making the book more accessible. It's a shame that it happened, given the subject matter. I believe it's an important book to read, but be aware that it's a slog.
Poorly written ego trip

Derived From Web

, Jun 23, 2020

It's very poorly written, and it's hard to keep my mind on it. The author is not someone anyone would want to read about, so, to be interesting, the book has to give us a well written account of how the president's office functions, if it functions at all, he said. The second chapter is a parody, McCrackin said.
Dry, bogged down in irrelevant details; an ego trip!

Derived From Web

, Jun 23, 2020

He was bogged down in irrelevant details, an ego trip, Mr. Dry said. Bolton saw himself as the only person who could help the chaos in the White House. If you want to read a diary full of ego stroking comments and a lot of look what I did, then this book is for you. If you're a Democrat, you will read clearly how Bolton has zero respect for any human being. He also tells the judge why he refused to come forward with all of the corruption and treasonous things he saw. If you have a brain, you already know that corruption and ineptness run the current administration.