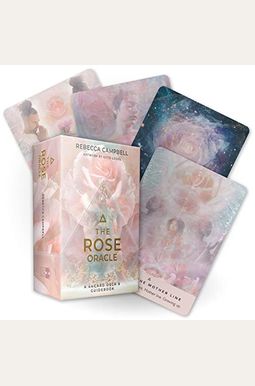 
 
The Rose Oracle: A 44-Card Deck and Guidebook
Frequently Asked Questions About The Rose Oracle: A 44-Card Deck and Guidebook
Book Reviews
(7)
Did you read The Rose Oracle: A 44-Card Deck and Guidebook? Please provide your feedback and rating to help other readers.
Didn't connect with the cards

Derived From Web

, Mar 18, 2022

I didn't connect with these cards in the way I was expecting. The paper is thick, making it hard to shuffle. The illustrations look the same. When looking up their descriptions, these cards don't have numbers, which would be helpful. I was expecting this deck to be better than the author's previous ones, but it seems as though this is the worst one yet. I didn't find myself connecting with their energy, and they just lacked substance. I feel like they are made for the aesthetic rather than the actual purpose of the oracle card. They are rated highly by other reviewers. If you want an oracle deck, get it. I would recommend finding something else if you want something with more depth and guidance.
Beautiful and Powerful Oracle Deck

Derived From Web

, Mar 10, 2022

This is the third deck oracle I have purchased from Rebecca Campbell. Rebecca's oracle decks are so inspiring! I use her oracle decks for my own healing work, but I have also used them in many readings for my own clients and Facebook and other social media groups. When I use her decks to receive messages from my higher self, guides and the decks themselves, I find myself in a loving and peaceful place, because the artwork is so beautiful. I highly recommend purchasing this deck oracle and all of her others as well.
Sincere, authentic, & moving.

Derived From Web

, Mar 10, 2022

A loving deck. The guidance and sincerity of the messaging is touching. The look and feel is similar to Rebecca Campbell's The StarSeed Oracle deck, but the resonance and subject of the messages are unique to the deck. I think this deck and the StarSeed deck compliment each other. It's highly recommended. .
A beautiful oracle, both the written and the artwork, for deep soul inquiry

Derived From Web

, Mar 9, 2022

I have all of Rebecca Campbell's decks, and the Rose Oracle is her most recent. She brought the many aspects of the rose to our attention and helped guide us in our lives. A beautiful gift to the world! Each time I pull a card and read it, I feel like I'm in a personal conversation with the wisdom, that the deck was created just for me, but it was created for the world and it's this personal connection that makes it so special.
She does it again!

Derived From Web

, Mar 7, 2022

I own dozens of different Oracle decks and Rebecca Campbell's is my favorite. I was very excited to get my hands on her newest deck as soon as I found out it was available, and it definitely did not disappoint! The art work is stunning and the messages are powerful, so happy with this and can't wait to use it. It is!
My book is missing pages

Derived From Web

, Mar 3, 2022

Send me a new book! I can't find the card descriptions after page 122. I would like to know what the cards mean, so please replace my book for free, you pay the shipping, thank you very much.
Gorgeous and powerful cards!

Derived From Web

, Mar 3, 2022

These cards are very powerful and beautiful. They make me feel like I am in a loving circle of ancient sisters or a divine mother. I feel loved and appreciated by every message I've received so far, and I'm looking forward to getting to know them better as time goes on. Thank you Rebecca Campbell for helping others heal.