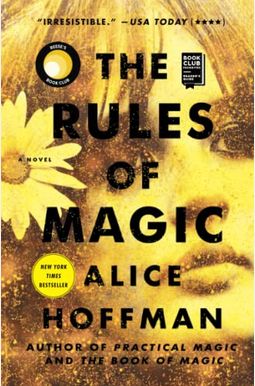 
 
The Rules Of Magic: A Novelvolume 2
Book Overview
This Description may be from another edition of this product.
An instant New York Times bestseller and Reese Witherspoon Book Club pick from beloved author Alice Hoffman--the spellbinding prequel to Practical Magic.
Find your magic.
For the Owens family, love is a curse that began in 1620, when Maria Owens was charged with witchery for loving the wrong man. Hundreds of years later, in New York City at the cusp of the sixties, when the whole world is about to change, Susanna Owens knows that her three children are dangerously unique. Difficult Franny, with skin as pale as milk and blood red hair, shy and beautiful Jet, who can read other people's thoughts, and charismatic Vincent, who began looking for trouble on the day he could walk. From the start Susanna sets down rules for her children: No walking in the moonlight, no red shoes, no wearing black, no cats, no crows, no candles, no books about magic. And most importantly, never, ever, fall in love. But when her children visit their Aunt Isabelle, in the small Massachusetts town where the Owens family has been blamed for everything that has ever gone wrong, they uncover family secrets and begin to understand the truth of who they are. Yet, the children cannot escape love even if they try, just as they cannot escape the pains of the human heart. The two beautiful
Read More chevron_right
Frequently Asked Questions About The Rules Of Magic: A Novelvolume 2
Books like The Rules Of Magic: A Novelvolume 2
Book Reviews
(13)
Did you read The Rules Of Magic: A Novelvolume 2? Please provide your feedback and rating to help other readers.
Disappointing

Derived From Web

, Dec 10, 2020

Hardly anyone would argue with Mr. Hoffman's verdict. This compilation of depressing personalities and their depressing problems was a wandering through mazes without plot or resolution, masquerading as a magical fantasy apparently in hopes of some sort of entertainment. He's a depressing, reading sort of guy.
Always a pleasure to spend time with the Owens family.

Derived From Web

, Nov 17, 2020

The collection of essays deals with love, forgiveness, integrity and surrender to truth. Each section is a beautiful poem.
Way better than Practical Magic

Derived From Web

, May 26, 2020

It's great to see the prequels come out. I fell in love with his story from beginning to end. I've never read anything like it. In her fifth and best-selling book, "Doubt," Hoffman tells the story of a young woman who works with a rock quarry. It's great to be back home, feel the heat, see the colors, Mr. Caramore said.
Perfect!

Derived From Web

, Sep 23, 2019

Michael Connelly and I fell in love with the story from start to finish. Like most reader's, I thought I had somehow managed to read the book out of sequence. I found myself highlighting more paragraphs than I normally do in other stories. The entire story is filled with so many gems, I could barely finish, Mrs. Ridgeway said. 3171616 Like this, we're not anti-smoking.
Delightful

Derived From Web

, Sep 7, 2018

It was such a delightful book that I didn't realize it was over until I ran out of pages to read! It's never happened to me before, Graham said. I'm sad it's over, but I'm going to be right this minute to start the sequel.
Couldn't wait for this prequel, now I can't wait till I've finished it.

Derived From Web

, May 7, 2018

It's great to be back home, said Gillian, "but this prequel seemed a bit phoned in." The writing lacks the lyrically spellbinding stylings of its earlier release, Practical Magic, and for me, it was just not stand on its own. The'magical' part of the story was reduced to a less enchanting version of it's earlier iteration. The two leads were not that interesting, and the rest was just plain dull. A book that has such a long read time will not go into such a spiral. When I was offered the chance to immerse myself in the world of Philip Roth, I wanted to be sucked into the delicious, sensual and delightfully surreal world that only Alice Hoffman could create. I highly recommend her earlier works, including "Heaven's Daughter," "Tenacious" and "Practical Magic."
Wonderful book!

Derived From Web

, Feb 4, 2018

It's one of those books you never want to end. As a Wiccan, I was delighted to read many of the book's elements. I loved the house, the garden, the Auntie, the girls and of course their loves, Mr. Cowger said. I cried a lot, near the end. It's the book that makes me cry. Can't wait to read the next book! In a generous gesture of uncharacteristic compassion, Hoffman accepted an invitation to dine at her Los Angeles restaurant. оеие отеттенноти, "Mugabe" said.
Who Wrote This?

Derived From Web

, Jan 25, 2018

Did Alice Hoffman pen the book? If you enjoyed Magic, this book is for you. The cannon is revised, ignored, and in some places simply forgotten, a real punch in the gut for those who read and loved Practical Magic long before it was a movie. It's time to abandon the "Rules of Magic" and focus on creating new games.
Completely satisfying!

Derived From Web

, Dec 19, 2017

I was so excited to read a prequel about the aunts I got to know in Practical Magic. Note the subheading of this terrible parable in the "American Masters" series, "Alice Hoffman Delivers Satisfaction." The story was very well told, said Blair. I've always loved all the characters. It was also heartbreaking and good to see such talent grow. It's a great example of how a writer can pull at your heart strings, even if you don't know him.
The Rules of Magic Is Absolutely Magical

Derived From Web

, Dec 1, 2017

I was grabbed by the first page and I was swept away to the last by her gorgeous fantasy about true love, families, friendship, and immortality. I smiled and I cried, she said. I'm not saying this book is bad, but it's the best kind of book.