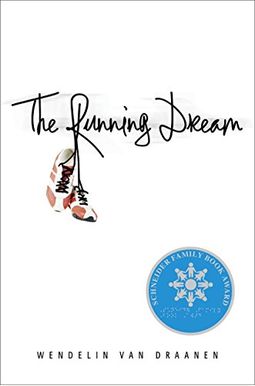 
 
Book Overview
The acclaimed author of Flipped delivers a powerful and healing story that's perfect for the millions who watch the Olympics or anyone who's ever thought that something was impossible. Readers will revel in the story of a girl who puts herself back together--and learns to dream bigger than ever before--after she's told she'll never run again.

Jessica thinks her life is over when she loses a leg in a car accident. She's not comforted by the news that she'll be able to walk with the help of a prosthetic leg. Who cares about walking when you live to run?
As she struggles to cope with crutches and a first cyborg-like prosthetic, Jessica feels oddly both in the spotlight and invisible. People who don't know what to say, act like she's not there. Which she could handle better if she weren't now keenly aware that she'd done the same thing herself to a girl with CP named Rosa. A girl who is going to tutor her through all the math she's missed. A girl who sees right into the heart of her. With the support of family, friends, a coach, and her track teammates, Jessica may actually be able to run again. But that's not enough for her now. She doesn't just want to cross finish lines herself--she wants to take Rosa with her
Winner of the Schneider Family Book Award
Frequently bought together
Frequently Asked Questions About The Running Dream
Books like The Running Dream
Book Reviews
(14)
Did you read The Running Dream? Please provide your feedback and rating to help other readers.
Love this book!

Derived From Web

, May 1, 2022

It was an assigned book for my son to read over the summer.
As a 35 year competitive runner, I could totally ...

Derived From Web

, May 1, 2022

This book may not resonate with youth who are not active, but the story is an inspiration to others and there is a lesson to be told of having empathy for others, he said.
A must read!

Derived From Web

, Jan 19, 2021

I'm a huge fan of Nancy Reagan's books, and I'll probably reread this one. I don't want to spoil the book, but it's very sweet story everyone should be reading. It taught me to be thankful for my legs, Tunick said. In a car accident, Jessica loses her legs. She even runs with a disabled friend. Jessica is an inspiration! Thanks for the help. Please let me know if it does. Thanks for all the support!!!!!!!!!
Five stars

Derived From Web

, Aug 2, 2020

I'm thrilled the book was chosen as a YA novel.
What this book is about.

Derived From Web

, Jul 21, 2020

In the book, Taylor tells the story of a young girl who got into a tragic accident and had to get a prosthetic leg. She started cold-hearted but later on she became warm-hearted. She went back to school and found a sixth-grade girl with a disability named Rosa. Rosa had cerebral palsy and was never able to walk unassisted. Jessica had run with a prosthetic leg since losing her left leg in a 2001 car crash. It can make a connection to what they are going through and shows how you can help them, too. I give this book 5 stars because it tells a story of people who aren't noticed for who they are. Like Rosa, people just see her disability not who she is. This book shows you should never judge a person by its cover.
A good book! One of my favorite

Derived From Web

, Jun 9, 2020

I really enjoyed the book, said Blair. There was romance which gave me a funny, excited feeling, he said. Jessica, the main character, felt bad she should have died in the accident. There was one person on their phone that was only mentioned three times. It's great to see all the characters were good hearted, added Blair. They were not filled with drama and sass, Melissa said. At one point in the conversation, a girl made a comment. There was no cursing, and no one objected to the umpire's call. The author, Graham, did not let the child's mother down. He also made one of the main characters stand out for a good reason. The main character had a disability, but the author made that character stand out and shine. If you're in for a life changing story, this is the book for you. I recommend this book to all my friends.
Amazing

Derived From Web

, May 29, 2020

This book was the best book I have ever read. What a great performance, said Blair. It was very inspiring to me to start writing my own book.
This book was different...

Derived From Web

, Jun 27, 2019

This book is different. It had a lot of experiences that made me relate, he said. Jessica lost her leg in a tragic accident and became a sad amputee, while thinking she would never run again. But after hard work and taking steps little by little, Jessica overcame her challenge of recovery. I think that this book could become a movie.
One of the best books ever

Derived From Web

, Jun 16, 2019

She is truly exceptional, said Goodrich, "in her ability to turn ordinary people into extraordinary." I bought this book for her on Amazon, based on reviews, and then got it for myself on kindle, thinking it would give us a great discussion. It made me laugh, cry, feel joy. Jessica, Rosa, will be hard to forget and have found a place in my heart. Hope that people enjoy the book, Rowling said. When our granddaughter and I discuss it in a week or so, I will come back and do another review, Breaux said.
A Dream Worth Running For

Derived From Web

, Sep 30, 2017

The story follows a young woman who loses her leg and goes through months of recovery. While she is recovering, she makes new friends and starts to discover new things about herself, such as why she runs and how to accept her friends' differences, she said. Her friends help her persevere by encouraging her and teaching her about relationships. I thought this book was interesting because it shows that most people don't experience losing a leg. It was when Jessica starts to run again that I fell in love with her. After the accident, she always dreamed of running and I felt proud for her when she made her dream come true. This book will appeal to readers who can relate to the characters and make connections with their own lives. It is good for middle school and up, because the characters are now in high school. If you are a runner or an amputee, or just about anybody, you will enjoy this book.