Buy 3 Get 1 Free
Our Best Sale Yet! Add 4 Books Priced Under $5 To Your Cart Learn more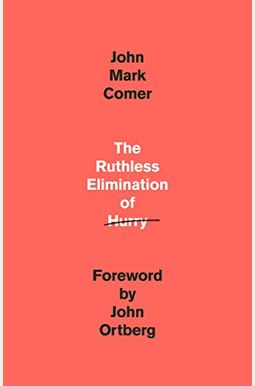  
The Ruthless Elimination Of Hurry: How To Stay Emotionally Healthy And Spiritually Alive In The Chaos Of The Modern World
Book Overview
Who are you becoming? That was the question nagging pastor and author John Mark Comer. By outward metrics, everything appeared successful. But inwardly, things weren't pretty. So he turned to a trusted mentor for guidance and heard these words: Ruthlessly eliminate hurry from your life. Hurry is the great enemy of the spiritual life. It wasn't the response he expected, but it continues to be the answer he needs.
Too often we treat the symptoms of toxicity in our modern world instead of trying to pinpoint the cause. A growing number of voices are pointing at hurry, or busyness as a root of much evil. Within the pages of this book, you'll find a compelling emotional and spiritual case against hurry and in favor of a slower, simpler way of life.
Frequently Asked Questions About The Ruthless Elimination Of Hurry: How To Stay Emotionally Healthy And Spiritually Alive In The Chaos Of The Modern World
Books like The Ruthless Elimination Of Hurry: How To Stay Emotionally Healthy And Spiritually Alive In The Chaos Of The Modern World
Book Reviews
(15)
Did you read The Ruthless Elimination Of Hurry: How To Stay Emotionally Healthy And Spiritually Alive In The Chaos Of The Modern World? Please provide your feedback and rating to help other readers.
Insightful, creative and moving!

Derived From Web

, Dec 31, 2021

It made me think about slowing down. We can either let the world carry us away in conjunction with our own will or we can connect with the spiritual world. Which was what it was intended to be. It works. Thank you for sharing!
Great practical concepts to put into practice

Derived From Web

, Nov 26, 2021

John Mark Comer's book shows a number of practical ideas that we can put into place to simplify our lives and find rest. I thought his book gave a number of things to consider as we all try to slow down and increase the quality of our time on Earth in the presence of our God. This approach is different to the worldly way of living. Thank you for sharing your knowledge about finding rest and peace as well as great family time. I'm still working toward the Sabbath goal, but this provides a clear path.
A seriously needed read for overly busy Bostonians

Derived From Web

, Oct 16, 2021

The concepts in this book are helpful for people like me who are constantly struck with "hurry sickness." The depth of thought on the topic of rest and the countercultural ideas are thought provoking. The concept of an easy yoke is what Jesus gives us to live a life like. Many people in my group can relate to some of the things I shared in this book.
Don't waste your time

Derived From Web

, Jun 14, 2021

I don't recommend this book. I was disappointed that it was just another useless book for people who don't know what is biblically sound and what is not. A pastor who drinks beer thinks he's tired. Boo hoo. It seems like he didn't think that pastors have to work for their money. When I read he was from Portland, I knew all I needed to know. The most pro-Christian President we have had is Donald Trump. John, great Christian respect you have there. The book is full. Is this guy a Christian? There are moments. Save money. Don't rush to buy this book.
Waste of my time and money

Derived From Web

, Nov 30, 2020

The author writes in a series of text messages. My teen writes better that way. The style of writing distracts from the point the author is attempting to make. The book was a lot of other people's quotes and he repeated what they said in his own words. While reading this, it was obvious that the author is not really an author, but a pastor who wanted to make an easy money off of me. If I sound harsh, it's because of the price I paid for the content. He irked me with his hip demeanor that made me want to puke more, so I decided to give it only 1 star. Imagine a person in Starbucks giving you life advice about how to enjoy your coffee in moderation.
The One Book you Should Read this Year!

Derived From Web

, Sep 10, 2020

I love John Mark Comers. If you want to add more meaning and less busyness to your life, this is the book to read. This has been recommended to everyone.
The best book of the decade!!

Derived From Web

, Apr 6, 2020

This book changed my life. John Mark shows how to eliminate hurry and bring back the balance that God has for us. It was a high recommend! You will not regret reading this book!
Lite wisdom

Derived From Web

, Feb 17, 2020

The title is all you need to know. And in the book. The book gives a lot of information about our lifestyles and needs to relax. How many times a day do we touch our phones? I don't like the style of writing. Why do so many Christian authors feel they need to use a language that is not real? Jesus is being imagined as a stressed out celeb. Big, no. Why do you use language that won't work in 20 years? Have we become that stupid? That is hard to engage? It seems like so. This is a book to read over your coffee while you post on Facebook and plan on going on a vacation, or just maybe some of us will actually hear the call, throw down the phone and start living.
A Book All of Us Should Read and Heed !

Derived From Web

, Jan 15, 2020

I have been worried about my life speed for a long time. I did not know what to do. The book laid out a plan for gradual changes and sanity, which was what I was feeling.
It's okay to HURRY over to buy this book!

Derived From Web

, Nov 19, 2019

I've read one of the best books this year. I am grateful for the message. John Mark talks about the problems we face in a hurry-filled life and how we can combat it. I'm thankful for his wisdom and words. This book has a lot of useful information. His notes in the back are my favorites. I keep my bookmarks in the back so I can easily read his footnotes. You will not regret buying this book.