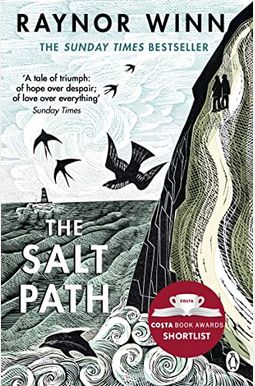  
The Salt Path: The Uplifting True Story. A Sunday Times Bestseller. Shortlisted For The Wainwright Prize
Book Overview
This Description may be from another edition of this product.
_________
The uplifting true story of the couple who lost everything and embarked on a journey of salvation across the windswept South West coastline.
THE SUNDAY TIMES BESTSELER & SHORTLISTED FOR THE 2018 COSTA BIOGRAPHY AWARD & WAINWRIGHT GOLDEN BER BOK PRIZE 2018
'A beautiful, thoughtful, lyrical story of homelessness, human strength and endurance'
Guardian
_________
Just days after Raynor learns that Moth, her husband of 32 years, is terminally ill, their home is taken away and they lose their livelihood. With nothing left and little time, they make the brave and impulsive decision to walk the 630 miles of the sea-swept South West Coast Path, from Somerset to Dorset, via Devon and Cornwall.
Carrying only the essentials for survival on their backs, they live wild in the ancient, weathered landscape of cliffs, sea and sky. Yet through every step, every encounter and every test along the way, their walk becomes a remarkable journey.
The Salt Path is an honest and life-affirming true story of coming to terms with grief and the healing power of the natural world. Ultimately, it is a portrayal of home, and how it can be lost, rebuilt and rediscovered in the most unexpected Read More chevron_right
Frequently Asked Questions About The Salt Path: The Uplifting True Story. A Sunday Times Bestseller. Shortlisted For The Wainwright Prize
Books like The Salt Path: The Uplifting True Story. A Sunday Times Bestseller. Shortlisted For The Wainwright Prize
Book Reviews
(10)
Did you read The Salt Path: The Uplifting True Story. A Sunday Times Bestseller. Shortlisted For The Wainwright Prize? Please provide your feedback and rating to help other readers.
Really a story about someone without any sense

Derived From Web

, Sep 6, 2021

I did not like the book, as I could not get past the circumstances in which she and her husband found themselves in a way that could easily have been avoided with a little sense. The poor business investment, the poor legal help and embarking on a journey for which they were poorly prepared. In the end, they seemed to be fine, but only because someone donated a home, but I wonder that her husband's medical condition could have been more terrible after the conditions they choose.
Something's fishy....

Derived From Web

, Oct 21, 2020

Something does not sound right. I agree that the tone of the author is narcissistic and self-titled. I too would like to know the other side of the court case and why she found the evidence four days before the decision '' after 3 years. Don 't waste your money. I won 't be buying the sequel.
Walk on So strong

Derived From Web

, Aug 19, 2020

No fluff needed to tell this story in real life. What life is truly about or should mean to us all.
The STUPIDEST woman in the world

Derived From Web

, Jul 29, 2020

I made it through 35% of this book and read it only because I agreed to read it with a friend. It is awful and I can 't take it anymore. It is a story of an immensely stupid woman and the poor choices she makes on the way to every decision point. From her decision to embark on a 600+ mile hike with her desperately ill husband without preparation, to her lack of understanding of the bare minimum requirements for this type of effort, to her frequent choices of sweets or beer versus actual food when deciding how to spend their small amounts of money. . It is no wonder that they got into this kind of bind in the first place and I have no sympathy for them at all. It's just plain annoying to hear the next dumb thing they do page after page.
No highlites, no notes in the margins

Derived From Web

, Jan 7, 2020

On page 256, I finally realized what annoyed me about this book, not a single highlight, scribbled note in the margin, nothing. I found not a single bit of inspiration. I purchased this book due to a 5-star review by a friend, whose Sci-Fii recommendations are spot on. I wish I had saved my time and money instead. For a lengthy 1-star review that goes in more detail for why you should save your time and money, see this review by Spartan 6. *Yes, I completed the remaining 14 pages... over the course of two days, which would have taken me 20 minutes if the book was good.
Compelling in ways hard to describe

Derived From Web

, May 30, 2019

As an American, some things in this book were incomprehensible, apparently the differences between us and Britain are larger than I knew. I googled a lot, like "wine gums ", but the essence is there. It helps to do it with someone you love dearly. Bad people who do not turn on each other, blaming each other for the memorable decisions that lead to the loss of their home. I know that I will offer many more meals to the people I come across. Who would I be stripped of everything and try to survive? Especially in the appalling English weather. I hope they thrive and that the book is a big success. I ate it in two nights.
Most mesmerizing read of the year

Derived From Web

, May 27, 2019

Ray Winn and her husband Moth built their farm and a bed and breakfast in Wales, raised a family there, made it their home for two decades, then lost it all through a bad investment with an extremely bad friend. The book opens with them hiding under the stairs because the bailiffs are at the door ready to take it all away. They put on backpacks and start walking just. That is the premise of this memoir, which details a journey on foot, without any money for camping or showers or often even for food, along all 630 miles of the South West Coast Path in Wales. It should be sad with this kind of setup. It should be depressing. It is mesmerizing and engrossing instead. This is a true testament to the human spirit, dealing with adversity and what happens when you really hit the bottom and comes out on the other side.
Great read

Derived From Web

, May 15, 2019

Insights on the plight of the homeless.
What a wonderful book!

Derived From Web

, May 5, 2019

I have enjoyed reading this book so much! Whenever I had to shut it down, I couldn t wait to get back on the path with Ray and Moth. The style of writing by Ray is both excellent and understated, especially in her descriptions of the coast and water. The story itself is one of great emotional and physical hardship, but not without great doses of wry humor and the simple enjoyment of the little things, like a hot cup of tea or a day without rain. While driving one foot in front of the other for over 600 miles, Ray and Moth enter a Zen-like zone of living each day as it comes and appreciates the joy of being together in the moment. As the old saying goes, it's the journey, not the destination, and this book is a shining example of this. My deepest wishes to Ray and Moth and my grateful thanks for sharing with you this incredible part of your lives.
Uplifting ... and True Tale of Survival, with Grace

Derived From Web

, Jan 18, 2019

An acquaintance in Devon recommended this book, so I ordered it and started reading right away. I compelled something just like that. I read it the last night and finished it saying that it is the best memoir I ever finished. Moth writes about injustice, loss, homelessness and illness that she and her husband Raynor Winn were confronted at once with - all. What they decided to do 630 miles along the southwest coast of England because it was either brave or irresponsible. They knew that Moth might die on the way. Fortunately, they did not give up. Storytelling, adventure story, survival saga. The natural world and society up close and personal.