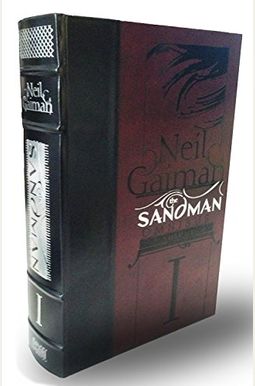  
The Sandman Omnibus Vol. 1
Product is currently Out of Stock.
You can add it to your wishlist and you will be notified once we receive a copy.
Book Overview
A New York Times Bestseller
The Sandman is the universally lauded masterwork following Morpheus, Lord of the Dreaming--a vast hallucinatory landscape housing all the dreams of any and everyone who's ever existed. Regardless of cultures or historical eras, all dreamers visit Morpheus' realm--be they gods, demons, muses, mythical creatures, or simply humans who teach Morpheus some surprising lessons. Upon his escape from an embarrassing captivity at the hands of a mere mortal, Morpheus finds himself at a crossroads, forced to deal with the enormous changes within both himself and his realm. His journey to find his place in a world that's drastically changed takes him through mythical worlds to retrieve his old heirlooms, the back roads of America for a twisted reunion, and even Hell itself--to receive the dubious honor of picking the next Devil. But he'll learn his greatest lessons at the hands of his own family, the Endless, who--like him--are walking embodiments of the most influential aspects of existence. This massive hardcover tome, over 1000 pages, collects the first 37 issues of Neil Gaiman's groundbreaking series
Frequently Asked Questions About The Sandman Omnibus Vol. 1

Book Reviews
(10)
Did you read The Sandman Omnibus Vol. 1? Please provide your feedback and rating to help other readers.
Outstanding Omnibus

Derived From Web

, May 31, 2022

This omnibus is designed and bound beautifully and is a must have for any sandman fanatic. Despite the price, I am extremely glad that I added it to my collection.
Outstanding "Funny Book"

Derived From Web

, May 31, 2022

This was given to me for Christmas as a gift from my mother. Can 't wait to receive the second volume for my upcoming birthday.
I really wish there was more in it. I ...

Derived From Web

, May 31, 2022

I really wish there was more in it ''. I received it because I heard it was a classic in both comic books and literature in general.
This book is Heh-VEE.

Derived From Web

, Nov 4, 2020

I heard so much about the Sandman series and enjoyed other works by Gaiman, so I thought it was time to see what the fuss was about. After reviewing my options, it seemed economical to buy the omnibus rather than so many smaller collections and end up paying much more for the same content. Other reviewers took objection to the binding, but I had no trouble there. What I say is that this may not be the best option if you actually want to read it cover to cover. The size and weight is awkward if you want to read in bed or really anywhere else than a table. I ended up using my keyboard arm as a bookcase. That said, the writing was more than worth the effort! This is a graphic novel that crosses the medium. It is just great storytelling. Be warned about weight just by the weight. The 3 volume omnibus may be more interesting for the collector than for the avid reader!
Great series. Minor binding flaw.

Derived From Web

, Feb 10, 2019

Content gets 5 stars for content. If you are not already in love with the content, there are cheaper ways to get wet with TheSandman. I 'll then skip a content review and go straight to packaging. The cover and paper are all nice in stock and weight. The quality of the print is fantastic and the pages feel like the separates evenly without weird spinal bending. The only flaw is that the material used to cover the spine is down too low and shows like a slip from under a skirt at the bottom. It is not a huge flaw, but makes one wonder if some material is missing at the top, unseen. And one would expect better for a retail volume of 150. I purchased the second volume as well, and it does not have this issue.
great price! Great shape with one minnor soft spot ...

Derived From Web

, Jul 10, 2018

Great shape with a delicate spot on the spine. Recommendation looks great on the shelf, I have it. It is a heavy book, as most omnibuses are.
Amazing on the inside! Seller stinks.

Derived From Web

, Jun 26, 2018

As long as you don 't mind the weight of the book, it is absolutely fantastic! The only reason I gave it less than 5 stars is that if you pay a three digit number for a BOOK, you expect that the seller will have taken care of it. If you're like me and actually take care of your comicsbooks, this will kind of peeve you. My issue isn't with what is in the book or how it is made, those I give a 5 star to. It is the seller and their ability to take care of their product, which is very expensive for a book.
This is the thing for any true Sandman fan

Derived From Web

, Jun 8, 2018

This omnibus is offered at a discounted price on Amazon, though it seems really expensive once you look around, this is actually a really good price for a near-complete leather bound collection by Sandman.
Verify binding quality upon receipt

Derived From Web

, Mar 17, 2018

We ordered volumes 1 and 2, never having read either before, but hearing that the series was really good. Volume 1 arrived in great shape and stayed that way as my wife and I read each other through it. It felt open and it would easily lays durable. But from the very first time we opened Volume 2, the binding has been creaking and cracking and feels fragile. Unfortunately, the return window had ended by the time we finished Volume 1 and discovered the problems with Volume 2. I did not even compare our copy to a friend's publication that had the first ten comics, and this publication has a little too large and too heavy, which makes it both more beautiful and easier to absorb.
Best Possible Sandman Edition

Derived From Web

, Feb 18, 2017

I have always been a fan of Sandman and the Gaiman series. It's a classic, very attractive with a beautiful look. It is quite heavy, so that you can not really read it standing up. On the contrary, I do not mind that at all, it adds to the intensity of the experience. The tome makes me feel like Destiny of the endless reading of my Book of Fortunes.