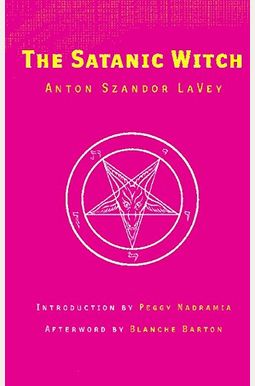 
 
Book Overview
Undiluted Romani lore regarding the forbidden knowledge of seduction and manipulation. The late Anton Szandor LaVey, founder of the Church of Satan, may be the most notoriously familiar for his Satanic Bible, but The Satanic Witch best reflects the discoveries Anton made in his younger days working the carny shows and Mitt Camps. This is undiluted Romani lore regarding the forbidden knowledge of seduction and manipulation.
The Satanic Witch is not designed for Barbie Dolls, but women cunning and crafty enough to employ the workable formulas within, which instantly surpass the entire catalogue of self-help tomes and New Age idiocies.
The Introduction -- Peggy Nadramia, High Priestess of the Church of Satan, tells us how this book changed her life.
The Afterword -- Blanche Barton, Anton LaVey's biographer, Chairmistress of the Council of Nine, and mother of Satan Xerxes Carnacki LaVey, Anton's third child, informs us how The Satanic Witch came to pass and influence the behavior of so many women.

Frequently bought together
Frequently Asked Questions About The Satanic Witch
Books like The Satanic Witch
Book Reviews
(9)
Did you read The Satanic Witch? Please provide your feedback and rating to help other readers.
Extremely informative, no-nonsense practical information that can help in many different areas of life

Derived From Web

, May 25, 2022

The information in this book is eye-opening and informative. This can be applied to so many different areas of life of a person, one of which is creative. I use this previously taken to much success and am glad that I have used it again. I am reminded that everyone's ego can be satisfied and the skill comes with practice. I advise this not only for women, but also for men. This is a true magical practice at its best because it works really well. It would be especially helpful to those in sales, especially if you need to meet clients in person. However, everyone can be charmed.
Better than I expected...

Derived From Web

, May 25, 2022

Many people won 't read this book simply because of who wrote it, but it is actually a very good book on psychology and how to use it for your benefit. Some of the things that LaVey suggests are a bit odd, but is to be expected. LaVey gives clear instructions on how any woman can get more attention from men and admiration. He calls it like it is so that those looking for a touchy feely book on witchcraft about unicorns and fairies should look elsewhere.
meh

Derived From Web

, May 25, 2022

I was hoping for more, however. I was just not impressed. I mean that some stuff is not completely false, but... still. It was not quite what I expected.
Really put me off

Derived From Web

, May 25, 2022

You can tell that this book was written by someone who clearly dislikes people... At first, I felt connected with the basic foundation of the message that the writerwriters were trying to convey. But as the book went on, it seemed to get darker and that all the writer was looking for the negative in people who truly over clouded what seemed to be the premise of the book. Don 't let the sample fool you... It certainly changes as you get into the book and after a few chapters, I felt regret for the purchase.
A good book for women (and men too for that matter)

Derived From Web

, Dec 20, 2021

A book by the late Anton LaVey. In order to find it useful, you don 't necessarily have to be a witchsatanist. I intend to give my daughter a copy when she is old enough. Some of these informative guys will find some. Also some guys will find some useful things : The Satanic warlock should also be checked out by the guys.
The Satanic (Complete) Witch

Derived From Web

, Feb 14, 2021

Love this book, Anton Lavey has a very slick way of going over information and provides both resources to do your own research as well as removing bits of history as well as applications one can use in real life, including making love potions aka strong mixed drinks.
So many grammatical errors

Derived From Web

, Sep 30, 2020

Just a few pages in and I close the book and threw it on the shelf! There are so many grammatical errors that I could not put myself through the torture of reading! Worst 20 some odd dollars I spent!
Good guide to becoming a satanic witch. See title.

Derived From Web

, Aug 7, 2020

You know that sometimes a book says Satan in the title, but after reading it you realize that there were only a few references to Satan. Happy to say that this book is chock full of Satan!
Forbidden Knowledge

Derived From Web

, Nov 27, 2019

If you want to read this book only if you want to improve your life as a woman. While the more interesting topics are near the end, it is crucial to take time to understand the concepts that begin this work. Without this information, the rest of the book will not make much sense.