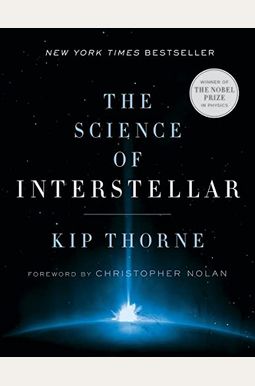 
 
The Science Of Interstellar
Book Overview
Interstellar, from acclaimed filmmaker Christopher Nolan, takes us on a fantastic voyage far beyond our solar system. Yet in The Science of Interstellar, Kip Thorne, the Nobel prize-winning physicist who assisted Nolan on the scientific aspects of Interstellar, shows us that the movie's jaw-dropping events and stunning, never-before-attempted visuals are grounded in real science. Thorne shares his experiences working as the science adviser on the film and then moves on to the science itself. In chapters on wormholes, black holes, interstellar travel, and much more, Thorne's scientific insights--many of them triggered during the actual scripting and shooting of Interstellar--describe the physical laws that govern our universe and the truly astounding phenomena that those laws make possible.
Interstellar and all related characters and elements are trademarks of and (c) Warner Bros. Entertainment Inc. (s14).
Frequently Asked Questions About The Science Of Interstellar
Books like The Science Of Interstellar
Book Reviews
(15)
Did you read The Science Of Interstellar? Please provide your feedback and rating to help other readers.
It defies gravity...you won't be able to put it down...

Derived From Web

, May 10, 2022

Kip Thorne's science of Interstellar answers just about all the questions one could have after seeing the incredible film. From the simple law of gravity to the insanely complex ideas of space warping, the Tesseract and gravitational anomalies, Kip takes his incredible knowledge of the universes and translates it into a language we can understand. The only complaint I have is that Thorne does not dedicate a specific chapter or section to explain the complex timeline that occurs throughout Interstellar. There is a chapter on the climax of the movie, where I believed that section would be, however, there was nothing on the crazy timeline of events that would have been quite helpful in understanding this incredible film.
A very good story, too

Derived From Web

, May 10, 2022

Very readable without mastering the complex math that goes with this kind of science. A very good story, too, about how everything came to happen and how and where film makers had to compromise science for the sake of storytelling and when they hewed closer to science. And in the course of the book you learn quite a bit of science. Thorne is an obvious and unapologetic Einstein fan, so that you get an enthusiastic argument for his uneniable brilliance as the guy who unlocked all this, assuming that Thorne and others are smart enough to figure it out.
True science projected on the screen

Derived From Web

, May 10, 2022

When it came out, I was intrigued by the science of this movie. Every time I watched it, I was a blue to pick up more and more scientific concepts. Reading this book multiplied my understanding exponentially. I love that Kip was the scientific advisor for this movie and that he worked so hard to make sure that science was as genuine and true as he could advise. When science is based on truth, it brings validation for the movie. I love his little pictures and drawings, which helped me conceptualize what he is teaching. He moves slowly through concepts, so that your understanding is added throughout the book all the way through. After reading this book, watching the movie again made the movie much more believable and understandable. But the only real thing in this very long movie that caught my attention was trying to understand science and believe it. Book is awesome!
Excellent When Paired With the Greg Keyes Novelization. Get Both!

Derived From Web

, May 10, 2022

He breaks some rules, bends a few, but mostly sets this up as a plausible story if far enough in our future to allow for some of the technology to be developed. He also clearly states when stuff is at this time fantasy. If paired with the novelization of the film's script by Greg Keyes, it is very engrossing. If you read the film, read the novelization next so that you fully understand what is supposed to happen on the screen, then watch this. Here is a link to the novel, available on Amazon httpwww. amazon. comgpproduct1783293691?psc 1&redirect true&ref oh_aui_detailpage_o05_s00
Excellent book

Derived From Web

, May 10, 2022

Book is excellent, but dives deep in the physics of the movie. Opened my eyes to areas of physics that I thought I understood, but really didn 't.
As a physics student who has taken relativity classes, ...

Derived From Web

, May 10, 2022

As a physics student who has taken relativity classes, this helps explain the subject and expand. Huge fan of The Huge.
For those who love science or the movie

Derived From Web

, May 10, 2022

A gift, one that keeps giving. For those who love science or film, this book is definitely necessary!
Good Present

Derived From Web

, May 10, 2022

This was a gift for my brother, he is a serious science fan and takes it all very seriously, so this was just the perfect present. It arrived on time and was in good condition. Thank you for the kind words.
then no one can explain things better than the Physicist Kip Thorne

Derived From Web

, May 10, 2022

If you wanted to know what parts were fictional or based on science, then no one could explain things better than the physicist Kip Thorne. From beginning to end, the book flows very well. I was not bored at all.
Great!

Derived From Web

, May 10, 2022

I bought this book because I was gonna sign it and wanted to meet him. A+ is an important part of the equation.