Buy 3 Get 1 Free
Our Best Sale Yet! Add 4 Books Priced Under $5 To Your Cart Learn more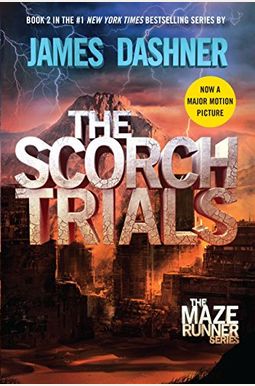  
Book Overview
This Description may be from another edition of this product.
Book two in the blockbuster Maze Runner series that spawned a movie franchise and ushered in a worldwide phenomenon This special movie tie-in trade paperback edition features a foreword by Wes Ball, the director of the movie, an eight-page full-color insert with photos from the film and an exclusive fan sticker. And don t miss The Fever Code, the highly-anticipated series conclusion that finally reveals the story of how the maze was built
Thomas was sure that escape from the Maze would mean freedom for him and the Gladers. But WICKED isn t done yet. Phase Two has just begun. The Scorch.
The Gladers have two weeks to cross through the Scorch the most burned-out section of the world. And WICKED has made sure to adjust the variables and stack the odds against them.
There are others now. Their survival depends on the Gladers destruction and they re determined to survive.
Friendships will be tested. Loyalties will be broken. All bets are off.
The Maze Runner and Maze Runner: The Scorch Trials are now major motion pictures featuring the star of MTV'sTeen Wolf, Dylan O Brien; Kaya Scodelario; Aml Ameen; Will Poulter; and Thomas Brodie-Sangster. The third movie, Maze Runner: The Death Cure, will hit screens in 2018.
Read More chevron_right
Frequently bought together
Frequently Asked Questions About The Scorch Trials
Books like The Scorch Trials
Book Reviews
(14)
Did you read The Scorch Trials? Please provide your feedback and rating to help other readers.
OK We get it. These kids are being tested - but you better tell me why, and soon!

Derived From Web

, Apr 20, 2022

I was a little hesitant to read this. I read the first book after having seen the movie -- big mistake, so I was curious to see what would happen to Thomas and company after escaping from the Maze. Another reviewer says the storyline is progressing well, much like the Lost finale. The book ends with a bullet pointing to the body of the killer. It's just that they don't have enough money." If, like Lost, you have no idea what's going on, then you're out.
You don't have to cultivate weeds. They grow automatically ...

Derived From Web

, Apr 20, 2022

No wonder weeds are so common. They grow automatically, don't they? Simply put, weeds are a sign of neglect. If you see weeds in your yard or garden, it means you're not tending your yard or garden. The weeds in your spiritual life are a sign that you are neglecting time with God, he said. It's great to be quiet, but when all the circuits are busy, you need to get quiet. Get quiet, buttercup. Even if you think you know everything, sit still. Asking only for knowledge of God's Will For You and the power to carry it out! Copyright (c) The New Republic, Inc.
Great read, but not as good as the first book

Derived From Web

, Apr 20, 2022

I must say this was a good book, but I was slightly disappointed, so I'll get to that later. The book was fast-paced, but lengthy at the same time. There was a lot more character development going on in this book, then I thought there was going to be, which is good because I love learning about the world James Dashner brought me into. I was slightly disapointed to find out why. The third and final book, "The Maze Runner," was written by James Dashner. I was sad to see that it was not in the book at all.
Amazing

Derived From Web

, Apr 20, 2022

Even with time, I could picture everything exactly how it would appear on the screen. His team mates were not the only ones who were disappointed. He wrote an amazing book with an amazing story recapping and continuing the Maze Trials, Robert Ingrassia said. I love these types of novels that sweep you into a fantasy world that lasts your reading time for hours, almost thinking that you have to keep reading, that you can't stop, so that you can figure out what's going to happen next. The joy of reading, he said. Thanks for being a part of it, Beckham said. I've read all the books, but this was by far the best. Five stars is nothing short of exceptional.
a great fast paced YA read!

Derived From Web

, Apr 20, 2022

That was pretty impressive, right? James Dashner, Jr., was a student at the University of Alabama at Birmingham. The story is reminiscent of the kind of sci-fi story that would find its way into a TV show Lost, just add a dystopian world and switch out the adults for a bunch of kids, and add pieces of The Hunger Games. Two books in, and I still don't fully understand why this is happening to the main characters, but I know just enough to keep me glued to the pages. Take a deep breath before you start reading this book, or before you begin the third and final book, because you won't be able to breathe again until you're done! It was a good day for music, Booher said.
Wonderful and exciting

Derived From Web

, Apr 20, 2022

I have no idea what is going on there, but I love it. After the other players were rescued, they now embark on a new challenge. And they are alone again, this time in a desert like place where the Sun is extremely hot and the world is desolate. Out in the world there are tunnels with more creature like things and a desert with a city in the middle where cranks are plentiful as well as those who have the flare. Now they are on another trial to get the cure and must find Theresa, escape the cranks and what else lies in store before they reach the safe haven. The stakes are high: If the Yankees don't win, they're toast.
Lame. After a promising start with The Maze Runner

Derived From Web

, Apr 20, 2022

After a start with The Maze Runner, this book tries to keep the tension going by not answering any of the many burning questions set up by its predecessor. The main character just blunders through a bunch of stuff asking stupid questions that never get answered and repeating the entire story of the first book to everyone he meets.
Was Quite a Trial to Read

Derived From Web

, Apr 20, 2022

After reading The Maze Runner, which I found absolutely brilliant, I knew I had to get back into it. It was a fairly thorough read, even by James Kilpatrick's standards. There wasn't the same degree of mysteries and questions, and the setting of endless desert didn't even begin to compare with the brilliance of the previous book. Still, a disappointing read on the whole, and a rather repetitive ending.
I regard The Maze Runner as one of the best YA thrillers since Ender's Game

Derived From Web

, Apr 20, 2022

Although I enjoyed the book, I wasn't completely happy with how it ended. However, tension is always lessened by the realization that the minds of the characters can be magically manipulated. There are plenty of twists and turns in the story to keep you turning pages. The introduction to book 3 at the end is a must-have, and with the second and third books, you can't help but get hooked. A thorough review of the Beatles' music by John Heine.
kind of in a good way. Just don't be expecting a repeat of ...

Derived From Web

, Apr 20, 2022

If you've read the first book, prepare for something completely different. And, boy, is that kind of cool? There are just too many "Maze Runner" movies out there. If you have seen the movie, just expect a better story. Well, first of all, the series of events happen completely different in the book than they do in the movie. The book is well-written and I recommend it to anyone who reads it. Overall, I really enjoyed this book, said Rena Callahan, a resident of Trumbull.