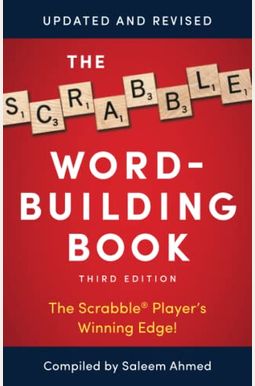 
 
The Scrabble Word-Building Book: 3rd Edition
Frequently Asked Questions About The Scrabble Word-Building Book: 3rd Edition
Book Reviews
(12)
Did you read The Scrabble Word-Building Book: 3rd Edition? Please provide your feedback and rating to help other readers.
An Immensely Helpful Tool.

Derived From Web

, May 24, 2022

This book will help you find your spelling and show various versions of each word and lists approved prefixes, suffixes and plurals. You can also find similar words that could be a better fit for your tiles. It is an invaluable resource.
A must for word fans

Derived From Web

, May 24, 2022

It is alphabetized well by both the number of letters and the alphabetic order. All of these words add to a high scoring bonanza. It also helps in increasing the verbal skills. This keeps my brain in a top condition. It is almost as if a part of my brain that had not exploded at full speed had a jolt of espresso.
Very Abridged

Derived From Web

, May 24, 2022

Although this is a fine product, especially for a new scrabble player, and we have used it intensively for many years of play, a more advanced player will probably not want to use it without a copy of a better abridged English dictionary on hand. At least two dozen times of play, many relatively short, perfectly acceptable English scrabble words have caused our games that were not contained within the Scrabble Word Building Book, but the official rules of the game could stand some revision. If MARTIAN is a valid Scrabble word, why isn 't JOVIAN or PARISIAN or AMERICAN? Evidently, the rules of Scrabble are much more sophisticated and language-dependent than those of more wishy-washy games like chess.
Good resource for Scrabble

Derived From Web

, May 24, 2022

I wish the words had definitions, but I appreciate the work that went into this book. The author's foreword is very interesting.
Scrabble Word-Building Book (07)

Derived From Web

, May 24, 2022

The book has two and 3 letter words in the for a quick reference.
Scrabble

Derived From Web

, May 24, 2022

This book is compact and handy. Aides one in building off of words that have already been played. To have such a handy tool it is very handy.
Good for 'Words With Friends' fans

Derived From Web

, Jan 18, 2022

This isn 't a dictionary scrabble. Instead, it helps to build up words. For example, if "car " was already played, it might recommend "scar " to build the word. Good gift for Scabble and WWF fans.
A must!

Derived From Web

, Sep 4, 2021

When you release it, you really need to get the updated one because they add so many new words. It is good to know if a word can be extended with an additional letter on the front or back of the word you play in scrabble. This is a must have book SO ''.
Good for Learning Scrabble Words

Derived From Web

, May 7, 2021

We cheat a lot because we want to learn words, and it has been very effective at helping. It is good for building words from words already on the board. For example, you find out bout and you look like, etc. Very helpful and very comfortable. Of course, you wouldn 't put it in a tournament, but that isn 't our intention. We have also bought the most recent Scrabble dictionary, and by using the two of them we learn a lot of new words.
Grandma has an advantage

Derived From Web

, May 15, 2020

My mom cheats in online scrabble by using an app. I received this to help Grandma stay even on the playing field. She is 93 and now excited about 2 letter words. This will be updated if it helps Grandma win.