CYBER MONDAY SALE - SAVE 20% AT CHECKOUT WITH CODE CYBERBOOK. Learn more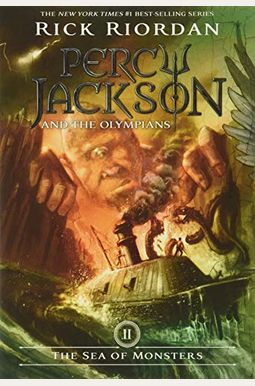 
 
The Sea Of Monsters (Percy Jackson And The Olympians, Book 2)
Book Overview
Percy Jackson and his friends undertake a perilous voyage to save their summer camp in this modern-day adventure with a Greek mythology twist.
* In a feat worthy of his heroic subjects, Riordan crafts a sequel stronger than his compelling debut.
--Publishers Weekly (starred review)
New York Times best-selling series by an author beloved the world over
Makes Greek mythology relevant and fun for modern readers
Useful for classroom discussions
Features a main character with learning differences
An exciting adventure quest full of monsters and gods
Ideal for middle schoolers but can be enjoyed by older readers, too
Adapted into a feature film
Soon to be a series on Disney+
After a summer spent trying to prevent a catastrophic war among the Greek gods, Percy Jackson finds his seventh-grade school year unnervingly quiet. His biggest problem is dealing with his new friend, Tyson--a six-foot-three, mentally challenged homeless kid who follows Percy everywhere, making it hard for Percy to have any normal friends. But things don't stay quiet for long. Percy soon discovers there is trouble at Camp Half-Blood: the magical borders that protect Half-Blood Hill have been poisoned by a mysterious enemy, and the only safe haven for demigods is on the verge of being overrun by
Read More chevron_right
Frequently Asked Questions About The Sea Of Monsters (Percy Jackson And The Olympians, Book 2)
Books like The Sea Of Monsters (Percy Jackson And The Olympians, Book 2)
Book Reviews
(8)
Did you read The Sea Of Monsters (Percy Jackson And The Olympians, Book 2)? Please provide your feedback and rating to help other readers.
Very good

The 2nd book keeps the journeys and the excitement of the 1st book. It was a good read and I look forward to rereading later.
obsessed

Not my first time reading this book and definitely not my last but after years i decided to buy it and read it again, and i have no regrets
I first thought it was going to be dull, but as I read it it was more ...

Derived From Web

, Feb 8, 2022

The first book lighting thief is the starting point for the second book of Jackson. I thought it was going to be dull, but as I read it, it was more interesting and I wanted more. I just received a second one that explains who from the first book is mentioned. If you enjoy stories of mythology, it holds you attention. There are other people following this one and it's written well. There are five books with this This may be what you' re looking for if you' re looking for adventure in a book. I cannot wait for the other ones.
My FAVORITE😜💙💙💙

Derived From Web

, Feb 8, 2022

When I was a second graders, a little girl with ponytails who had just barely overcome her dyslexia and started reading books, was my favorite thing on the planet, and that was the Percy Jackson series. It's perfect for middle school kids. I remember that when I was a kid, I wanted them to be a couple, so all the scenes that they had together are my favorites. The book was very easy to read and hilarious, and the storyline was very interesting and creative. I liked the characters, especially the one named Percy.
I love it !

Derived From Web

, Feb 8, 2022

I am the biggest fan of the boy. The book is perfect for all ages. There is a balance of adventure, humor and thrill. This is the third time I have read this book and I still love it. The books in this series were all read by me. I recommend it for everyone. The book has a lot of Greek characters and you can learn them all in a fun way. This book is hard to keep down. I am an 11 year old girl and I love this. Please try. You won't know anything if you only read one chapter and don't read the rest. Thank you Rick Riordan.
My 9 yo is obsessed with these

Derived From Web

, Feb 8, 2022

Greek mythology and its beasts, gods, etc. are the basis of the series. They are actually true. It's a fun fact. The plot of the series continues to evolve. There are reminders of past facts around. I have read them with my 9 year old. We had cool chats from it.
I LOVE THE AUDIO CD

Derived From Web

, Jun 7, 2020

I enjoy reading and listening to children's fantasy novels. Most of the other fantasy series written by Mr. Riordan have been read in book form by me. This audio series was offered in physical form. I prefer my entertainment media in a physical format. Jesse Bernstein is the perfect reader for this type of story. I enjoy listening to his auration, as he can distinguish voices. It was very entertaining. Bernstein was chosen by the publisher to read all the books in the series.
Party Ponies in Miami! So fun!! GREAT BOOK

Derived From Web

, Jul 8, 2018

I received this in the mail the day after I finished the first book because I wanted to go back in. I ordered the next two books in the series before I finished the first book. I liked the new characters we were introduced to in this book, like Tyson, and they were my favorites along with our three main characters. I didn't mind that the novel size was shorter than the first one. It was still full of adventure, mythology, humor, and friendship. The third novel is being started. Will need to order the last two in a few days. The best series I have read thus far. It's a great series for anyone.