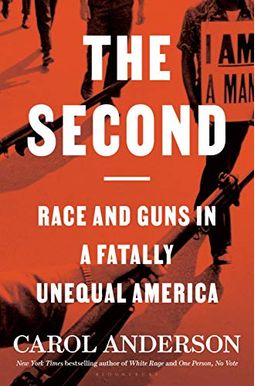 
 
The Second: Race and Guns in a Fatally Unequal America
Frequently Asked Questions About The Second: Race and Guns in a Fatally Unequal America
Book Reviews
(6)
Did you read The Second: Race and Guns in a Fatally Unequal America? Please provide your feedback and rating to help other readers.
The Second by Carol Anderson

Derived From Web

, Aug 19, 2021

The more you read history, one discovers that the history taught to formative minds in the USA is an astoundingly different version of fact. Carol Anderson presents quite a patriotic version of the Second Amendment that contradicts the remarkable aura, touted by many on the subject. According to Anderson, the second amendment is not what it claims to be and does not apply to all citizens of the United States, and certainly not by primary documents. I highly recommend '' this book.
The Pain of American Self-reflection

Derived From Web

, Jun 16, 2021

Anderson '' points out hard to admit historical facts. Given the theme, this book is politically a lightning rod. It should therefore be carefully read. If we could only agree on a few definitions of RACIST, which supports racist policies or ideas that normalize racism. RACISM is a powerful collection of racial policies that lead to racial inequity. If INEQUITY is not on equal footing, we can make an argument that the second amendment is indeed racist, as it was originally written, because it produces inequity. Rittenhouse vs Rice is just one example of blatant inequity. Rice won the praises of the president, while Rittenhouse was filled with bullets. Further proof that racism is institutional, structural, and systemic.
The Second

Derived From Web

, Jun 16, 2021

Informative introduction into the origins of the second amendment and how it was birthed and sustained in anti-blackness. It was as painful to read as it was informative in that you can 't learn about such things without being confronted with the legacy of white supremacy rooted in our laws that breed so much death.
A wonderful balance of gripping storytelling and historical fact finding.

Derived From Web

, Jun 6, 2021

The book unfolds as a historical balance of gripping storytelling and wonderful fact finding. In this way, her style is very balanced. The author uncovers some great gems of American history that have been elided by those who seek to keep the American narrative pristine and unblemished by the stain of brutality, disenfranchisement, and subjugation. At times she jumps without smooth transitions from one historical event to the next, but these instances are limited and don 't detract from the overall value of this work. If you are interested in understanding the relationship between African Americans, the 2nd Amendment, their self-defense and the statefederal complicity in denying the exercise of this right, this is the book for you.
Tulsa Massacre

Derived From Web

, Jun 4, 2021

If I had more blacks a hundred years ago, we would not be talking about the Tulsa Massacre. The Jews in Nazi Germany would have been much better if they owned guns. You can relate many such circumstances, where an armed militia would have saved lives. But it would probably have appeared so in Nazi Germany and Tulsa 100 years ago.
This work is largely fiction.

Derived From Web

, Jun 3, 2021

From their arrival on the continent right up to today, free blacks were allowed to own and even manufacture firearms in America. The exceptions were slaves and the Jim Crow laws, which never existed in much of the country. The rest is just a summation full of errors, which has been written more accurately elsewhere.