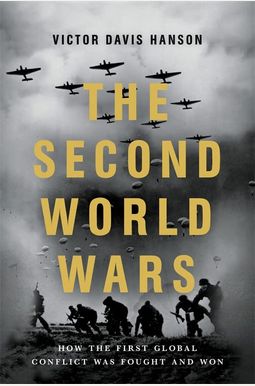  
The Second World Wars: How the First Global Conflict Was Fought and Won
Book Overview
This Description may be from another edition of this product.
A definitive account of World War I by America's preeminent military historian.
World War I was the most lethal conflict in human history. Never before had a war been fought on so many diverse landscapes and in so many different ways, from rocket attacks in London to jungle fighting in Burma to armor strikes in Libya.
The Second World Wars
examines how combat unfolded in the air, at sea, and on land to show how distinct conflicts among disparate combatants coalesced into one interconnected global war. Drawing on 3,000 years of military history, bestselling author Victor Davis Hanson argues that despite its novel industrial barbarity, neither the war's origins nor its geography were unusual. Nor was its ultimate outcome surprising. The Axis powers were well prepared to win limited border conflicts, but once they blundered into global war, they had no hope of victory. An authoritative new history of astonishing breadth,
The Second World Wars
offers a stunning reinterpretation of history's deadliest conflict.
Frequently bought together
Frequently Asked Questions About The Second World Wars: How the First Global Conflict Was Fought and Won
Books like The Second World Wars: How the First Global Conflict Was Fought and Won
Book Reviews
(12)
Did you read The Second World Wars: How the First Global Conflict Was Fought and Won? Please provide your feedback and rating to help other readers.
Great book on World War II. This is not a narrative.

Derived From Web

, Feb 11, 2021

This is a breakdown of how the allied powers defeat the Axis powers through overwhelmingly better training, better equipment and better officers. As usual, Victor Davis Hanson's writing is lucid and compelling.
Enlightening Re-appraisal

Derived From Web

, Jul 15, 2020

Not a battle chronology, but a catagorical overview of the many fronts and antagonists. This large book is a special pleasure for those who are already familiar with the main issues and timelines of war, providing fresh insights on old controversies and a new light on a multitude of overlooked considerations.
Themes of World War 2

Derived From Web

, Jul 9, 2020

This book provides a thematic review of the Second World War. Rather than specific facts about battles or even entire theaters of conflict, the book gives us different themes to help us understand the war. If you have read as many books about the war as I have this book, it may come as a welcome change. A long book about the Pacific War is better known.
One of the best books on WW2 I've ever read

Derived From Web

, May 18, 2020

Recommended reading for any World War 2 or history buff.
Meticulous World War Two Presentation

Derived From Web

, Dec 14, 2019

Initially, I thought the book would be about the concept of the first world war and the second. It is actually a great analysis or breakdown of the myriad of Second World War theaters and time periods. Besides being easy to read, I also enjoyed reading the notes and bibliography, which I will use as a reference moving forward.
Really Excellent Explanation for Our First Global World War

Derived From Web

, Oct 22, 2018

Dr. Hansen explains the circumstances, qualities and limitations of the combatants in the various conflicts that constitute the World War 2. I thought I knew the why, how, when and where but turns out, I didn 't after all. My understanding of the period 1939-1946 is now much greater!
Thorough without being boring -- very readable

Derived From Web

, Sep 9, 2018

I'm only about 100 pages in and it is one of the best history books I have seen. I like it because it is not dry -- VDH includes lots of quotes from major players to show where their thinking went when they made a decision. The delivery was right on time.
A big picture account of WW2

Derived From Web

, Mar 29, 2018

Victor Davis Hanson writes a topical overview of the multiple wars fought between 1939 and 1945. He is impressed with how ignorant the Axis powers of Germany, Italy and Japan were to start such wars and how impossible it was for them to win a war on a global scale. Hanson also argues that the war in Europe and Asia could have been prevented in the first place if Britain, the United States, and the Soviet Union followed different policies in deterrence. He gives Britain special credit for having stood against Hitler alone in 1939, preventing the Nazi victory long enough for a victorious coalition to turn the tide.
Organized and clear history of the 2nd World Wars

Derived From Web

, Feb 26, 2018

It is clear that there were many wars between 1939 and 1945 with at least 60 million dead. The stories of the Axis and the Allies are told with clarity and precision, so that crucial battles and decisions provide a clearer understanding of what happened. The best of these are in depth histories that reveal the strengths and weaknesses of men and their leaders.
Well written

Derived From Web

, Feb 23, 2018

Mr Hanson has written a fantastic book. I read many books, articles etc. on WWII and consider this the best I have read in depth.