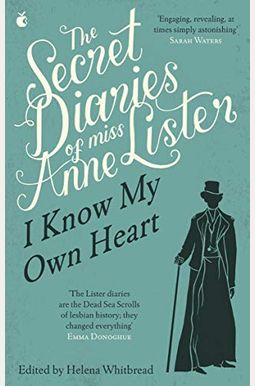 
 
The Secret Diaries of Miss Anne Lister
Book Overview
ANE LISTER IS THE INSPIRATION FOR GENTLEMAN JACK, A NEW BC/HBO SERIES BY SALY WAINWRIGHT, STARING SURANE JONES.
'Engaging, revealing, at times simply astonishing: Anne Lister's diaries are an indispensable read for anyone interested in the history of gender, sexuality, and the intimate lives of women' SARAH WATERS
'The Lister diaries are the Dead Sea Scrolls of lesbian history; they changed everything. By resurrecting them and editing them with such loving attention and intelligence, Helena Whitbread has earned the gratitude of a whole generation' EMA DONOGHUE
When this volume of Anne Lister's diaries was first published in 1988, it was hailed as a vital piece of lost lesbian history. The editor, Helena Whitbread, had spent years painstakingly researching and transcribing Lister's extensive journals, much of which were written in an elaborate code - what Lister called her 'crypthand', which allowed her to record her life in intimate, and at times, explicit, detail. Until then, Anne Lister's lesbianism had been supressed or hinted at; this was the first time her story had been told. Anne Lister defied the role of nineteenth-century womanhood: she was bold, fiercely independent, a landowner, industrialist, traveller and lesbian - a woman who lived her life on her own terms.
' Anne Lister's] sense of self, and Read More chevron_right
Frequently bought together
Frequently Asked Questions About The Secret Diaries of Miss Anne Lister
Book Reviews
(8)
Did you read The Secret Diaries of Miss Anne Lister? Please provide your feedback and rating to help other readers.
wonderful content, but covers only 1816-1825

Derived From Web

, May 24, 2022

This book contains only excerpts from Lister's remarkable diary for the period of 1816-1825. It is a snapshot of a specific period and does not attempt to act as a biography. The title of the book might have included these dates to help readers know what they are getting. A casual perusal turned 3 different mistakes up with obvious misspellings. It is also very short. Also, for the reader who jumps around, you can not find out what year you are in without paging back to the beginning of the chapter. You have to go back one page at a time since there are no page headings telling what chapter we are in. I am grateful that the book exists and respects the work of Whitbread, but the mechanics of the book are not great.
Meh

Derived From Web

, Dec 24, 2019

Jack bought it because I simply loved the show's gentleman Bought. And I am not talking about the coded text! It is interesting if you are looking at learning more about Ms. Lister, but be warned that it is not a biography nor a story. It is a record of quasi-combobulated entries. This is a case where the movie is much better than the book.
What an amazing woman.

Derived From Web

, Oct 2, 2019

Once you get past the way Anne Lister uses the English language, this is a really interesting read. Anne kept intimate journals detailing her every day travels, from the weather, politics of the day, where she went, to what women she was sleeping with at that time, etc. She cleverly designed a secret code when she was writing about her lesbian liaisons, calling it crypt code. I really enjoyed reading this book and have since looked into other books about her. A very wise lady, before her time.
Unbiased insight into a fascinating historical person

Derived From Web

, Sep 5, 2019

I must say that I have never read a book like this before, probably because it is moreso a journal than an authored book. It was different to read, but I found it quite fascinating, even the more mundane entries on daily life. While Anne Lister is best known for being the world's first modern lesbian, this book offers an insight into what people thought about and what life was like 200 years ago without all the romanticizing of the time period that modern artistic works often spin into it. It was well edited, indicating the passages Anne wrote in crypthand-some sexual, but also many on clothing or money. There were occasional notes from the editor that gave a brief overview of the larger picture and context of what was going on in her life as well as being helpful.
Detailed But Didn't Hold My Interest

Derived From Web

, Jul 17, 2019

After watching Gentleman Jack, I was interested in learning more about Anne Lister. This book provides in tedious detail more. I appreciate the author's thoroughness, but found the style too dry and pedestrian. This may be more of my fault as a reader than the author's. I would suggest that if you want a very detailed biography of someone's life, written in a rather dry, factual way, you would enjoy this book.
Lesbian propriety and history

Derived From Web

, Jun 15, 2019

If you really want to know what lesbian life was like in the 1800s for a woman who would not compromise her sexual orientation with marriage to a man, this is the book for you. While Miss Lister was very frank in her diaries about her sexual experiences, if you are not a history - buff like me and looking for constant hot lesbian encounters, this is not the book for you.
Just watch the HBO series

Derived From Web

, Jun 9, 2019

I could have chosen the wrong book about Anne Lister, but a listing of times when she left the house and arrived elsewhere and how long she stayed is not what I wanted to know about her.
Disappointed

Derived From Web

, Aug 20, 2018

I feel disappointed in her finding a new companion, no details of her finding a new companion, leaving a lot of details about her eventually finding a companion left out. Streamed movie that had a scene of her final companion and how came to be but book nothing of coal mining and how she met her final companion. What also happened after her death to her companion?