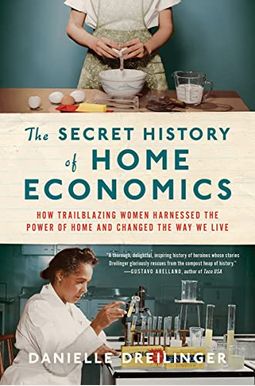  
The Secret History of Home Economics: How Trailblazing Women Harnessed the Power of Home and Changed the Way We Live
Book Overview
The term home economics may conjure traumatic memories of lopsided hand-sewn pillows or sunken muffins. But common conception obscures the story of the revolutionary science of better living. The field exploded opportunities for women in the twentieth century by reducing domestic work and providing jobs as professors, engineers, chemists, and businesspeople. And it has something to teach us today.
In the surprising, often fiercely feminist and always fascinating The Secret History of Home Economics, Danielle Dreilinger traces the field's history from Black colleges to Eleanor Roosevelt to Okinawa, from a Betty Crocker brigade to DIY techies. These women--and they were mostly women--became chemists and marketers, studied nutrition, health, and exercise, tested parachutes, created astronaut food, and took bold steps in childhood development and education.
Home economics followed the currents of American culture even as it shaped them. Dreilinger brings forward the racism within the movement along with the strides taken by women of color who were influential leaders and innovators. She also looks at the personal lives of home economics' women, as they chose to be single, share lives with other women, or try for egalitarian marriages.
This groundbreaking and engaging history restores a denigrated subject to its rightful importance, as it reminds us that everyone should learn how to cook a meal, balance their account, and fight for a better world.
Frequently Asked Questions About The Secret History of Home Economics: How Trailblazing Women Harnessed the Power of Home and Changed the Way We Live
Book Reviews
(7)
Did you read The Secret History of Home Economics: How Trailblazing Women Harnessed the Power of Home and Changed the Way We Live? Please provide your feedback and rating to help other readers.
Hindsight is 20/20

Derived From Web

, Oct 23, 2021

Unfortunately, the author shows the very same degree of high-handed judgment in the past, especially 1950s-60 homemakers, that she condemns in them. A fair amount of cherry-picking was also present in the cited material. I have original knowledge of some of the previous Docs, having been an adult in that period. Just presenting the facts and letting the readers draw their own conclusions must be outdated, but I really miss them.
Amazing story of women changing society!

Derived From Web

, Oct 16, 2021

This is one of the best non-fiction books I have ever read in a long time. Like many women growing up in the 1950s and '60s, Home Ec '' was a required high school for all female students, while only boys took business. I learned to sew and loved it. Not so much cooking. And I can still make a bed with "hospital corners ", I never knew about home economics as a movement to improve women's lives and open educational and professional opportunities for us. The author has provided an entertaining and very important account of the struggles and triumphs for women's rights that are still ongoing in American society.
WOW! Must read and share!

Derived From Web

, Sep 22, 2021

As a Ph.D. in Human Ecology from 1988, I am impressed and further inspired by the work of many of my peers and predecessors. This book shows how many women, through the stigma of home economic, reached big issues in the daily lives of us all. Thank you for sharing the importance of this blazing trail profession with you.
Fascinating

Derived From Web

, Jul 10, 2021

Just thought about home economics beyond my required high school class never. Brava is a fictional character from Brava.
home Economics to Family and Consumer Sciences

Derived From Web

, Jul 1, 2021

Great history lesson on the beginning of Home eEonomics and the importance of this profession for communities and people.
Home Ec Rocks!

Derived From Web

, Jun 5, 2021

Of course, I had to read it. I am a home economist. That doesn 't mean that I teach and sew and also cook. This history was provoking and anger-causing. The things I have done in the past made me angry, but I am glad that things have changed. A great read for anyone, so we can use the knowledge that home economists provide.
Surprising

Derived From Web

, May 31, 2021

I am really surprised! To learn the perspectives and activism of home economists. I wonder how many other areas of society I am mistaken about...