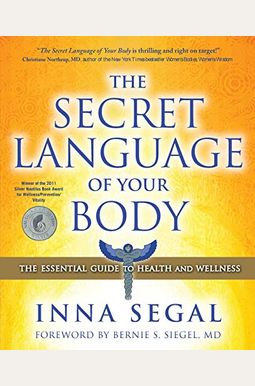 
 
The Secret Language Of Your Body: The Essential Guide To Health And Wellness
Book Overview
The Secret Language of Your Body unveils the secrets to understanding the messages of your body, revealing the underlying causes of symptoms and medical conditions, and offers processes for healing. Foreword by Bernie Siegel, M.D.
This inspiring handbook delves deeply into the possible reasons for health issues in all areas of your body. Author Inna Segal offers a unique, step-by-step method to assist your body in returning to its natural state of health, including a free thirty-five minute audio download where Inna helps you tune into your body for a powerful healing experience. By encouraging you to connect with your innate healing intelligence and calling on your body's built-in ability to heal itself, Inna gently guides you on a journey of life-changing transformation and empowerment where you will: - heal the mental, emotional, and energetic causes of physical ailments
- use easy, quick, practical exercises to heal your organs
- learn the secret language of disease and powerful processes for healing
- understand and release limiting thoughts and emotions
- discover how to use color to heal your life
- uncover and apply the messages your body has to teach you
Frequently Asked Questions About The Secret Language Of Your Body: The Essential Guide To Health And Wellness
Books like The Secret Language Of Your Body: The Essential Guide To Health And Wellness
Book Reviews
(11)
Did you read The Secret Language Of Your Body: The Essential Guide To Health And Wellness? Please provide your feedback and rating to help other readers.
Amazing guide to the issues behind your body's problems

Derived From Web

, Apr 20, 2022

In his book, The Road Map to Health, Douglas reveals the real source of the many physical problems and ailments that plague us all. Direct and to the point, this is a great introduction to the book. The layout is in reference to the pages you're looking for, making it easy to find what you're looking for. On the left is a photo of the infamous "section on knees" sign. Expand your understanding of how the physical and mental worlds come together by reading this book.
Great book! The exercises are easy to follow

Derived From Web

, Apr 20, 2022

A great book, Gillian. Easy to follow, the exercises are designed to help you build muscle and get stronger. It's just a matter of making a commitment to your health.
This is a book which one should have on a shelf at home.

Derived From Web

, Apr 20, 2022

The book is very good. If someone likes Louise Hay's book Heal your body, then Segal's The Secret Language of Your Body would like even more. In "Take Responsibility for Our Life and Health," Segalna is teaching us to take responsibility for our lives and our health.
Wonderful information

Derived From Web

, Apr 20, 2022

Barrenas' book is a great introduction to the human body. What makes illness happen is what emotions help create it and best of all, what to do about it.
Well written

Derived From Web

, Aug 15, 2021

The Harrisons were apparently disappointed when Amazon didn't pick up the paperback edition. I am reading it on a Kindle, which is a lot more expensive than paperback. It's hard to refer back to a section or look ahead to a future book. Before you can properly refer back to this document, you must first determine what you are referring to.
The Essential Guide to Health and Wellness

Derived From Web

, Oct 13, 2019

The second most popular book is "The Language Secret of the Body." I have found the book to be the most thorough on the subject I have come across. transformational healing. It's the essential guide to health and wellness. No practice or home should be without it.
Its true...you can get rid of your pain by addressing emotions

Derived From Web

, Jun 19, 2019

I use this book in my work. To determine the cause of cliens pain and how to treat it. Before I do the massage, I have my clients do a DIY technique that releases the emo pain and their physical pain dissipates! I even do this on skype with my clients. so this book very useful for my work and my self-esteem.
Add it to your "Reference Book" space on your bookshelf

Derived From Web

, Apr 26, 2019

This book was highly recommended by a friend who had cancer. I use it in my work and in my energy work, and it's great to have it with my clients. It is a must have for anyone who believes in affirmations, hypnotherapy, or some form of energy work. It's great for teens and up. It is a great book for parents of ill children. This book can be used by those who are open to the belief. Since my purchase, I have bought yet another book and given it as a present.
Amazing insight into the emotions and healing of the body.

Derived From Web

, Dec 20, 2017

Emotions disrupt the energetic pathways of our bodies and make us susceptible to dis-ease, so Clear Your Feelings is an amazing guide to not only identifying those emotions but clearing them through light visualizations and affirmations. I have used this book almost daily in my energy healing practice with amazing results for my clients, said Blair. This works in teaching them not only what emotions have been affecting their bodies, but that they have the power to heal themselves.
I loved the author's Secret Language of Color Cards set

Derived From Web

, Jun 21, 2017

It's just that the second one was a little disappointing. A slightly similar book to Louise Hay's You Can Heal Your Life.. But layout is more encyclopedic. I'm not a big fan of the second set, because I think the first was a letdown from that.