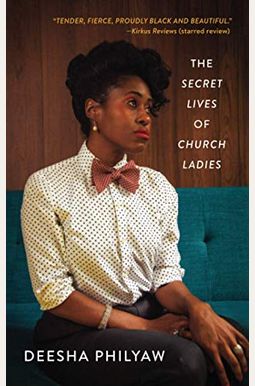 
 
The Secret Lives Of Church Ladies
Book Overview
*FINALIST for the 2020 National Book Award for Fiction*
*WINER of the 2021 PEN/Faulkner Award*
*WINER of the 2020 Story Prize*
*WINER of the 2020 L.A. Times Book Prize, Art Seidenbaum Award for First Fiction*
Tender, fierce, proudly black and beautiful, these stories will sneak inside you and take root. --Kirkus Reviews (starred review)
Triumphant.
--Publishers Weekly
Cheeky, insightful, and irresistible. --​​​​​​​Ms. Magazine
This collection marks the emergence of a bona fide literary treasure. --Minneapolis Star Tribune
Full of lived-in humanity, warmth, and compassion. --Pittsburgh Current
These are stories about Black women that haven't been told with this level of depth, wit, or insight before, so it will not shock me if Oprah gets around to selecting it before the end of the year.​​​​​​​
--Pittsburgh Post-Gazette
The Secret Lives of Church Ladies
explores the raw and tender places where Black women and girls dare to follow their desires and pursue a momentary reprieve from being good. The nine stories in this collection feature four generations of characters grappling with who they want to be in the world, caught as they are between the
Read More chevron_right
Frequently bought together
Frequently Asked Questions About The Secret Lives Of Church Ladies
Book Reviews
(15)
Did you read The Secret Lives Of Church Ladies? Please provide your feedback and rating to help other readers.
Dive into a slice of black female culture

Derived From Web

, Aug 22, 2021

The patronizing never happens. The full of empathy is full. Both creative and humorous are poignant. The Church Ladies, their Daughters, Grandchildren and the Great Grandchildren are a revelation.
A Must Read!

Derived From Web

, Jul 13, 2021

This book made me laugh, cry and think all at once. I can not choose a favorite story from this collection.
Good Beach Book

Derived From Web

, Jun 7, 2021

This book was a quick read and quite entertaining. My book club was able to get some niggets out of it. If you like reading beach reading!
Excellent Read!

Derived From Web

, Jun 2, 2021

This strikes home in so many ways... the lives of African American women growing up in religious christian homes.
Church life exposed

Derived From Web

, Apr 16, 2021

Intergenerational trauma talks about Phew's collection. What I have to say is that these women have the gusto to find a way out of terrible circumstances to rewrite their own narratives. At the core of each story is Love, whether romantic or familial and how Christianity is weaponized to keep them in their place. We are confronted by how can God be a perfect God who deny to one his children safety, security and love. We see women separated for their queerness, their sexual desires and their lack of agency. In short, we read the hypocrisy of the message on the page. My favorite 3 stories were Dear Sister Snowfall : How to Love a Physicist CW - Domestic Violence, Compassion, Finesse, Spiritual Sexism, Heartache, Vertical Shamaning, Religious manipulation, Sexual Hygiene, Disappointment, Domestic Violence, and Religious Manipulation.
Interesting to say the

Derived From Web

, Apr 11, 2021

This collection of stories enriched me. I look forward to reading other books by you authored.
Decent book

Derived From Web

, Jan 26, 2021

Kinda salacious, but that is why i liked it... more raw words on the page coupled with the many facets of Church - hypocrisy lol.
Each story is a gem

Derived From Web

, Jan 19, 2021

Normally, I don 't like outstanding story collections, but The Secret Lives of Church Ladies is short. The first and last stories have moved me most. The opening story, Eula, speaks so beautiful of love that I had to reread it before proceeding. The distant story, When Eddie Levert comes, talks about a daughter's love of a final mother who is now afflicted with dementia. The final act of the daughter in the story is so loving and physical that you are in awe of her. This collection is worth the time spent on it.
Great collection.

Derived From Web

, Dec 27, 2020

The author goes beyond race and gender preference to bring out stories that show the intrinsic humanity of characters. They seem like good people with both vibrant qualities and flaws. I particularly loved the last story when Eddie Levert comes about a woman whose Alzheimer's added mother waits for the lead singer of the O 'Jays to visit her daily. Here the characters feel a lot of pain and struggle to overcome being discounted by others.
Awesome collection 🥳

Derived From Web

, Dec 22, 2020

LOVED IT! I wanted to feel more The stories were woven beautifully together and I felt a connection to almost all characters in these stories.