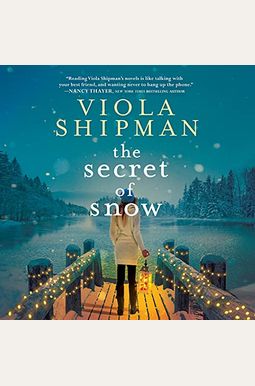  
Product is currently Out of Stock.
You can add it to your wishlist and you will be notified once we receive a copy.
Book Overview
This Description may be from another edition of this product.
As comforting and familiar as a favorite sweater, Viola Shipman's first holiday novel is a promise of heartfelt family traditions, humorously real experience, and the enduring power of love and friendship.
Sonny Dunes, a SoCal meteorologist who knows only sunshine and seventy-two-degree days, is being replaced by an AI meteorologist, which the youthful station manager reasons will never age, gain weight or renegotiate its contract. The only station willing to give the fifty-year-old another shot is one in a famously nontropical place--her northern Michigan hometown. Unearthing her carefully laid California roots, Sonny returns home and reacclimates to the painfully long, dark winters dominated by a Michigan phenomenon known as lake-effect snow. But beyond the complete physical shock to her system, she's also forced to confront her past: her new boss, a former journalism classmate and mortal frenemy; more keenly, the death of a younger sister who loved the snow; and the mother who caused Sonny to leave. To distract herself from the unwelcome memories, Sonny decides to throw herself headfirst into all things winter to woo viewers and reclaim her success. From sledding and ice fishing to skiing and winter festivals, the merrymaking culminates with the town's famed Winter Ice Sculpture Contest. Running the events is a widowed father and chamber director, whose genuine love of Michigan, winter
and
Sonny just might thaw her heart and restart her life in a way she never could have predicted.
Frequently Asked Questions About The Secret Of Snow
Book Reviews
(9)
Did you read The Secret Of Snow? Please provide your feedback and rating to help other readers.
Finally! A woman's book about a woman at least 50 years old!

Derived From Web

, Jan 3, 2022

Personal struggles aren 't easy to decipher and even after you are well into middle age. I get so darn tired of reading novels about 20 and 30 something younger women... many written by authors who are themselves in middle age! Just look how many of us alive today and reading books are over 55+ for goodness sake! Viola, thank you for a beautiful authentic story that I, and probably countless other women, often related to easily and often. It may take a village to raise a child, but it can also take a small village '' to help women realize their value, strength, potential and self-esteem.
A wonderful read

Derived From Web

, Jan 3, 2022

I will be saving this book for my first snow day, which was today. This was accomplished in a day! As a Michigan native, this book resonated with me. The love of northern Michigan reflects in the descriptions as well as a reverence for the winter season. Such developed and relatable characters are well developed. As a child, Sonny loved the winter, but a tragedy changed that perspective and she fled from Michigan to sunny California. When she has to return home to her childhood home, memories surround her. A story of overcoming grief, forgiveness and love of family.
This author has never let me down!

Derived From Web

, Dec 2, 2021

It is more about what drove her to make that her life and go so far away from her home in snowy Michigan. It is about ill-conceived guilt, loss and how fate can have a hand in cracking the protective shell that she developed to escape it all. The empathy that the author, Viola Shipman, carries in his writing of this story is so real that you feel it in the descriptions of what the main character, Amberrose, AKA Sonny Dunes, is trying to block out. By bringing together these two characters, the author gives us heartfelt lessons on handling grief and moving forward. This author never let me down. In fact, he has always lifted me with his words!
Airy and light like a hallmark movie.

Derived From Web

, Nov 28, 2021

Not my kind of book, but I was asked to read it for the book club. It is corny. If you like hallmark films, you will like this. It had some great nuggets of personal reflection, but overall there was not much character development that was believable, the author's reason for writing the book is beautiful and heartfelt. Then I loved learning about it at the end. I realized that the parts of the book that were the most meaningful were the pieces she took from her personal sorrow and experience. Here and there she took a personal story and plopped her hallmark experience and nuggets of truth. It felt out of place to me. Her personal story... now that is my kind of book.
Love Family and starting over

Derived From Web

, Nov 20, 2021

Have you ever read a book that resonated with you? One that leaves an impact on your heart? Well, all of Viola Shipman's novels do with me. You never want them to end. It has touched my heart especially. The way she draws, she writes until you are right there with the characters. The way things are described, you can see them, touch them, like you are there right! The Secret of Snow shows you that when things go wrong, always look up. It will make you laugh, it will make you cry. It will make you realize that it is ok to live after a terrible loss. It has a way to make you reflect on your life, your past life, your future. A good story to feel. We could all use a little bit of happiness.
Family problems

Derived From Web

, Nov 10, 2021

A great story of family and problems with lives as they try to get better. When a meteorologist who was born here comes home to try and put her life back together after living in warm weather, it is full of problems with her mother, who has missed her and her friends who have been left behind for years. A real page turner that keeps you rooting for the underdog and makes you pray that she finds her back home, again at home. A book worth reading is a book worth mentioning.
New to this author

Derived From Web

, Nov 1, 2021

I was recommended to me by a friend. Much like reading a Hallmark movie, Yes, that is what I meant. As I read the book, the Hallmark movie played in my head along!
Viola Shipman!

Derived From Web

, Nov 1, 2021

I love Viola Shipman books absolutely! Can 't wait to read this one! I am sure that it will not disappoint! , ''
Fabulous Winter Novel

Derived From Web

, Oct 29, 2021

A rich read with beautiful characters. So much more than a Christmas book! The Secret of Life : The Secret of Snow?