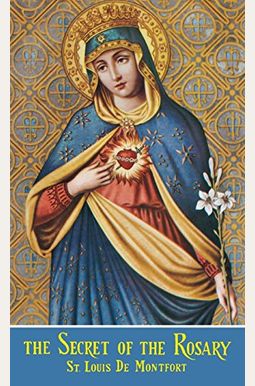 
 
Book Overview
This Description may be from another edition of this product.
Born in 1673, at Montfort sur Meu in north-west France, St Louis Marie Grignion de Montfort was trained under the Jesuits, became a priest in 1700, and was later appointed an Apostolic Missionary by Pope Clement XI. He preached predominantly in Western France, and his teaching emphasized the importance of Mary as the Co-Redemptrix of humanity: It was through the blessed Virgin Mary that Jesus Christ came into the world, and it is also through her that He must reign in the world. 'The Secret of the Rosary' is an early 'how to' book, written to help the ordinary person discover the efficacy of rosary prayer. St Louis gives many examples of its power for good, but he is not insensible of the challenges faced by those who accept this discipline. He gives the reader methods by which feelings of tedium, of pointlessness, and of plain lack of motivation may all be overcome. The book is divided into short chapters or 'Roses' and can be read as a daily prayer book, one Rose at a time. An invaluable guide to all those interested in the rosary's place in Marian devotion.
Frequently bought together
Frequently Asked Questions About The Secret of the Rosary
Books like The Secret of the Rosary
Book Reviews
(15)
Did you read The Secret of the Rosary? Please provide your feedback and rating to help other readers.
Must have

Derived From Web

, May 31, 2022

This is a must for anyone who uses the Holy Rosary. Even if you have been prayerful for years to the Holy Rosary, you will learn something that is beneficial. I would also recommend this to anyone before they dedicate themselves to the Holy Rosary to ensure that they are doing it correctly.
Amazing

Derived From Web

, May 31, 2022

This great work increased my faith and trust in the Mercy of God and in our Blessed Mother Mary. I have joined the Confraternity of the Rosary through the Dominicans and pledge daily to say at least five decades. It is amazing how faith, hope, trust, faith, and love can grow and flourish. I never want to lose any of this.
I loved this book

Derived From Web

, May 31, 2022

I loved this book ''. Rosary made me more devoted to the. St. Monfort goes into details about how to recite the rosary and that it is a perfect form of prayer and the most superior veneration of Jesus and Mary.
Evangelical tool

Derived From Web

, May 31, 2022

Although it precedes the luminous mysteries, the writing retains a deep passion for the Rosary and its purpose for Catholic life. It can also enhance the evangelical insight for those who question Rosary's validity as a Christian prayer.
This book will open new sentiments and devotion to The ...

Derived From Web

, May 31, 2022

This book will open for you new sentiments and devotion to the Holy Rosary. St Louis de Montfort takes you deep into Marian spirituality.
Beautiful 😍

Derived From Web

, Dec 27, 2021

I have the more common version with the loving image of Mary pointing to her shornful and immaculate heart that you can get for $6.00! '' This is also very special! The format is really quite delightful! The book is grouped into decades, which is fun and makes the book more simple! It is beautiful to have these inscriptions in a great leather book, where they belong! Keep this exquisite book near you and let its words transform both your heart and the life of you! From the lips of a very important saint, you will receive many blessings and encouragements! This is really the best book you could ever read on the rosary! PrayTheRosary '', Saint Louise De Montfort Pray for Us!
I agree, this is the most important book on the Rosary

Derived From Web

, Jan 15, 2021

This is carried on with the Champions of the Rosary by Fr Donald Calloway and make the Rosary as the Lifeline and Weapon of Faith!
Almost perfect but......

Derived From Web

, May 14, 2020

I loved this little book so much! It has helped me greatly in praying my Rosary more devoutly. I am, however, shocked at a small paragraph on page 54 of this book. I 'll check it out yourself, but please. It is a vision that St. Gertrude had. Page 54 : I saw our Lord Counting Gold Coins and I asked him what he was doing. He replied : I am counting the Hail Marys, you have said. This is false and heretical down right. You can not pay your way to Heaven. The Bible does not teach that and the Catholic Church does not teach that and a Protestant can read it and be misguided and reject the Church and therefore lose a hid soul because of it. I don 't really know what to make of this because it is a saint seemingly praising another saint's vision. Other than that, the book is great.
Catholic Book Publishing edition: 3 star edition, 5 star book

Derived From Web

, Aug 21, 2019

This 3 star review is for the classic book publishing blue flexcover, not for de Montfort's blue work. I have added stars because the language has been modernized and CPB has added an appendix to this edition containing the Luminous Mysteries. I may be in the minority, but it drives me crazy when a publisher adds or changes a classic work. I realize that they meant well, but de Montfort's work did not need to be improved. Otherwise, it is a beautiful little book. If you want the updated language and don 't mind having the Luminous Mysteries added to a work that did not originally contain them, you will like the CPB edition. If you want an edition that has not been tampered with TAN, TAN has a flexcover edition, which uses the traditional language and has not been tampered with.
A must read!

Derived From Web

, Oct 18, 2018

I was worried that it would be difficult to read, but it was an easy read.