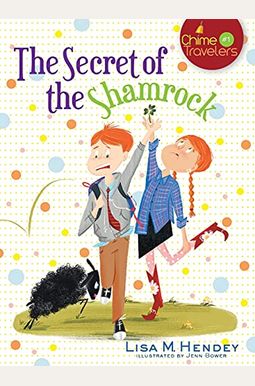 
 
The Secret of the Shamrock, 1
Book Overview
When Patrick has to work on his church's cleaning team on a Saturday, he thinks his weekend fun is ruined. But when the old church bells start chiming, Patrick and his pet frog, Francis, are suddenly taken back through time to ancient Ireland. Will the strange shepherd he meets be able to help him get home, or will Patrick be stuck taking care of sheep in the rain and mud forever? Find out in The Secret of the Shamrock.
Book 1 in the Chime Travelers series, exciting new chapter books ideal for children in grades 2-5.
Frequently Asked Questions About The Secret of the Shamrock, 1
Books like The Secret of the Shamrock, 1
Book Reviews
(10)
Did you read The Secret of the Shamrock, 1? Please provide your feedback and rating to help other readers.
Great CCD (RE) resource!

Derived From Web

, May 30, 2022

These books are a wonderful resource for me as a religious education teacher, as I keep them for the last part of the class and I look forward to each chapter. It has been my experience that their favorite part of the class and the first time that they are all quiet and attentive! Stories of the Saints inspire and teach so much about virtues, the journey to holiness and also about history... and so much more! I like to call them a Catholic alternative to the books of Magic Tree House. The protagonists are twins who must clean the parish and, well, let's say the confessional, like a certain wardrobe from a another series, becomes a door to another time in history. Each book brings a saint to learn and a lesson that they know. Add super adorable illustrations by Jenn Bower and we have a winning series!
Reluctant Readers - Check this Series out!

Derived From Web

, May 30, 2022

In your home is Reluctant Reader? Patrick introduces them to Katie and Katie!! They introduce them to a whole other time... and some incredibly fascinating people as well! I've been playing story and fantabulous illusions! All Right! ''
Powerful Lessons for Any Age!

Derived From Web

, May 30, 2022

My son and I had a blast reading this book together, though it took longer than normal. But this was because of two simple reasons. One, we would stop and talk about some really great concepts such as faith, friendship and our relationship with God... and two, because we were trying to master voices for each character. I loved the questions at the end of the book and can see how this could easily be used as a book club for students. They were great at generating discussion among the secondary school children. We are looking forward to reading the next one, and it appears that we have to brush up on our Italian accents as we venture through Assisi with St. Francis and St. Clare.
Good Book For Young Readers To Meet A Saint

Derived From Web

, May 30, 2022

Good book to introduce young readers to saints. It is also descriptive, so that the reader can imagine what it was like in Ireland at the time of St. Patrick. Though this is a time travel book, it is also a bit of a historical fiction book.
She requested another book for her birthday!

Derived From Web

, Jul 8, 2018

Finding my ten year old daughter to read by herself is a frustrating task. Bonus points because my five, three and two year olds like to read aloud when she listens. This will be a classic series on our bookshelf that will be passed for years to come! Thank you Lisa for making these books engaging, relatable and faith-filled. What a wonderful ministry to bring the interests of Catholic children to the forefront!
Loved the prayerfullness!

Derived From Web

, Mar 28, 2018

This book is so great! My son and my daughter loved it! What a wonderful story with such a great meaning behind it! It was very much in touch with children's feelings. Obviously we 'll purchase the others in the series.
It looks like it is a good book for when he is ...

Derived From Web

, Sep 28, 2017

In all honesty, I have not yet read the whole book, but I wanted to give a heads up to anyone looking into this series, because people compare it to Magic Tree House. It does seem to have a Magic Tree House type storyline with time travel and all, but is a much higher reading level. If you have kids reading MTH, these may be too advanced for them as far as reading level goes. I bought it for my 4 year old son as a read aloud because he loves to listen to MTH books, but I had to store this one for later because I don 't think he could understand or follow the storyline. It looks like a good book for when he is older, but be aware whether you are reading aloud or your children are reading on their own, this is a higher level than Magic Tree House. I'd say that I'd probably have a 4th reading level.
Super cute series

Derived From Web

, Sep 26, 2017

Both enjoyed these books considerably. My children describe them as different from the Magic Tree House series, but similar. I really enjoyed the reinforcement of the saints we have been working on.
Really, really great

Derived From Web

, Mar 29, 2017

This is a beautiful series of the books. They adore my children. Together with the Gospel Time - Trekkers, whom we also love, they offer beautiful stories with a Catholic theme that isn 't too heavy-handed. I owe you so much to the author, and I hope you write more!
I recommend this book if your child loves mysteries or other ...

Derived From Web

, Jan 9, 2017

My daughter and I are reading together. I recommend this book if your child loves mysteries or other travel stories from other times. I love that it brings in the stories of the saints into an adventure story that is easy to read for children.